Whatever you call them, polpette or meatballs, chances are you really love them. It's also likely that the only ones you have eaten are the Italian tomato ones. If that's so, this recipe will help you change that. You'll get to make and try another Italian  recipe without tomato that is as delicious as the famous one.
What to expect: a simple yet flavourful dish which makes a healthy comfort meal for cold or cool breezy nights. Adults and kids will love it. Imagine biting into a juicy chicken meatball with a bit of peas and onions to make the bite even more delicious. That bite tastes savoury but also a little sweet, very filling and somewhat nostalgic.
Ready to make it?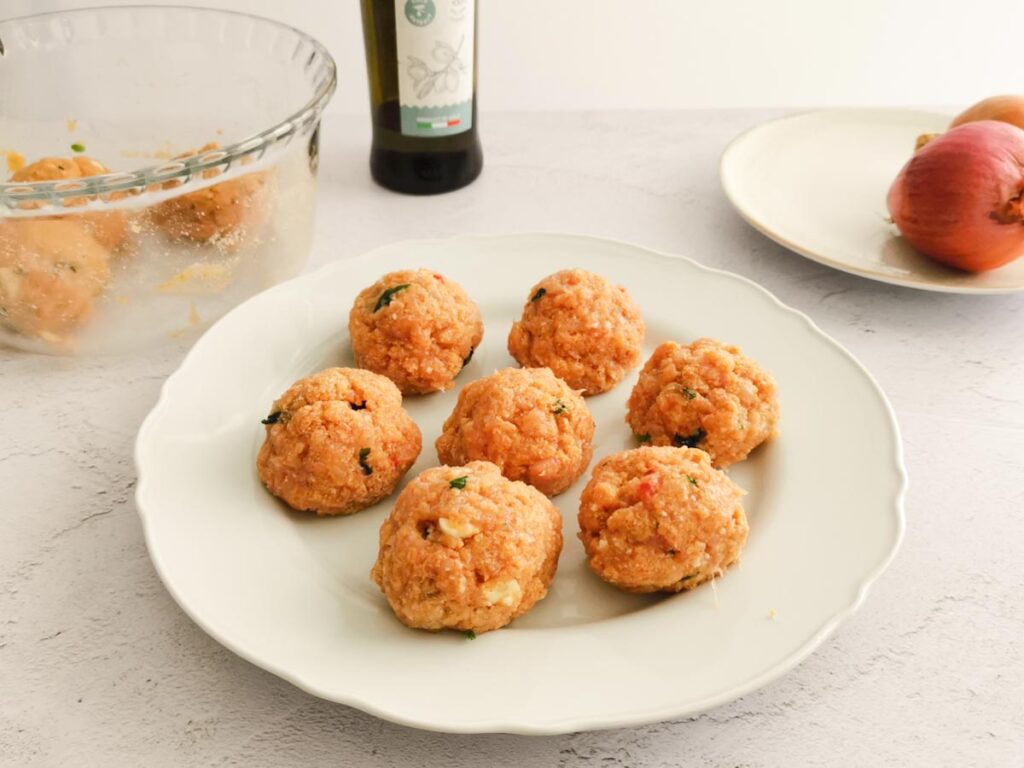 What is polpette?
The correct question is what are polpette, because polpette is the plural of polpetta.
So what is a polpetta?
Polpetta is the Italian word for meatball.
Yep, that yummy food that is so well known throughout the world for being quintessentially Italian, it's in reality called polpette.
You call them Italian tomato meatballs, us Italians call them polpette al sugo.
Independently of how one calls them, polpette are balls made of meat and other ingredients to bind them together. The other ingredients are usually garlic or onion to add aroma, seasoning and herbs, an egg or two depending on the quantity of meat (we suggest 1 egg per 400 gr of ground meat), and breadcrumbs.
What are polpette made of?
As I just hinted to, Italian meatballs can me made with any type of meat.
You can make them with beef or pork; we call those polpette di carne in Italian (carne means beef).
You can also be more specific and call them based on the type of meat they are made of – polpette di manzo (manzo means beef), polpette di maiale (maiale is pork), polpette di tacchino (tacchino means turkey), polpette di agnello (agnello is lamb).
When they are made with chicken we call them polpette di pollo. That's the kind of polpette we are making today.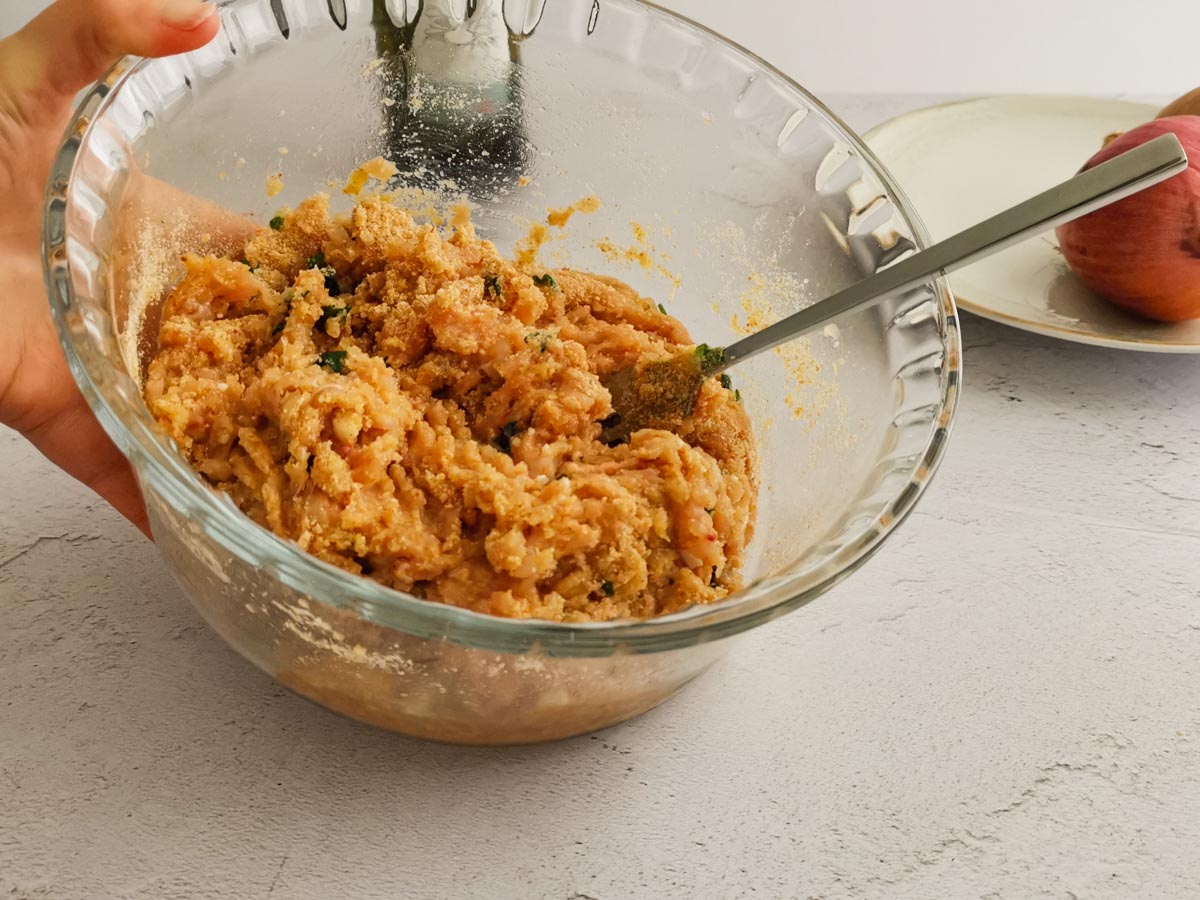 However, you can also make meatballs with fish. In that case, Italians call them polpette di pesce or using the specific name of the fish. Typical fish balls are polpette di merluzzo (merluzzo is cod) or polpette tonno e patate which is polpette made with tuna and potatoes. Ahh, that sounds delicious, doesn't it?
Vegetarians too can enjoy polpette. They can make polpette di melenzane (aubergines), polpette con quinoa, polpette zucca e ricotta (pumpkin and ricotta), polpette di lenticchie (lentils), di broccoli, cavolfiore (cauliflower), ceci e zucchine (chickpeas and courgettes).
Our vegan friends can make all of the vegetarian recipes I just mentioned but following a recipe for polpette senza uova which means eggless meatballs. They can also enjoy a vegan take on the classic tomato balls, which Italians call polpette vegane al sugo.
How to cook polpette?
There are different ways you can make Italian meatballs. Apart from the ingredients you use, the way you cook them can also differ.
You can cook your meatballs in a pan without or with the sauce.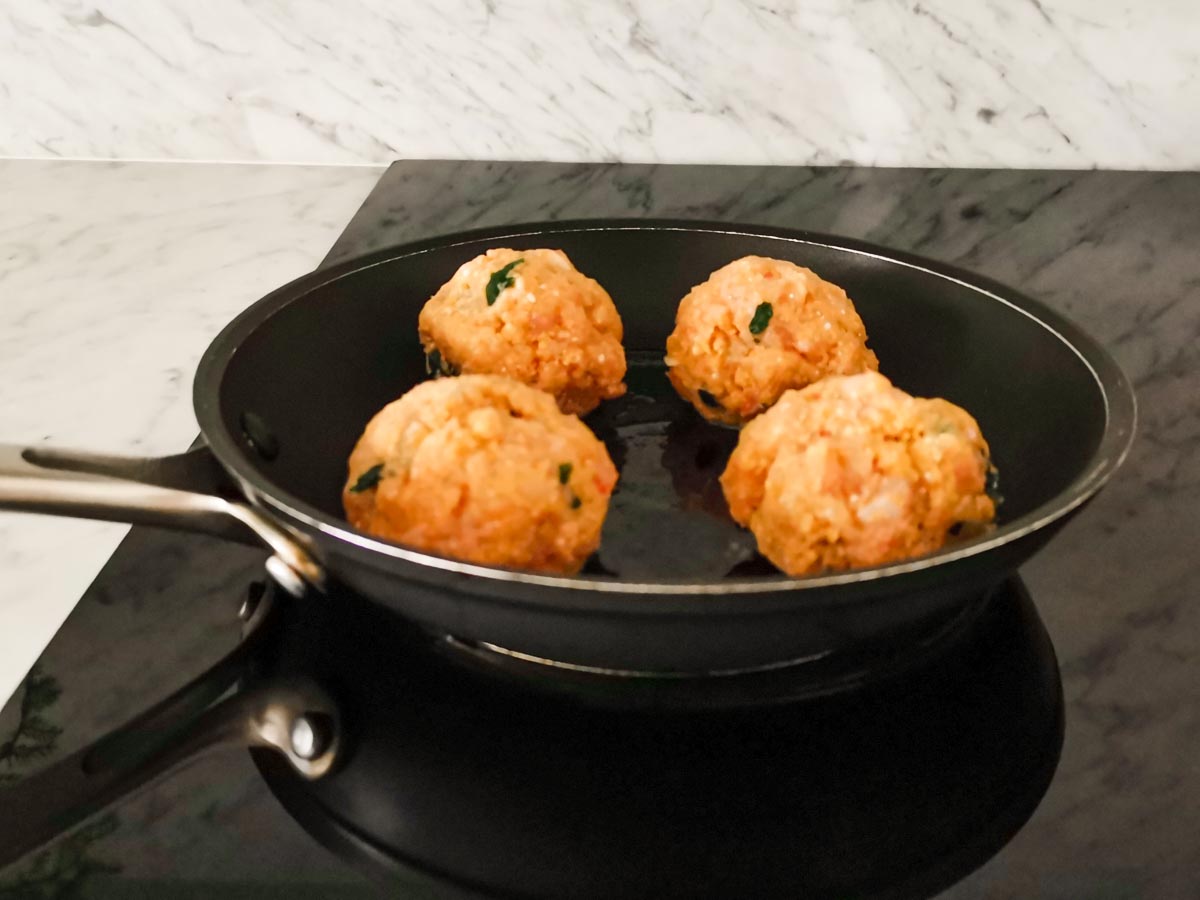 If they are surrounded by a delicious tomato sauce, Italians call them polpette al sugo.
The other classic way to make them is with a white wine sauce. That's the recipe we are making today and we call them polpette in bianco (in bianco indicates a white wine sauce).
You can also call them polpette in umido which means slightly wet. Italians call them that way to distinguish them from polpette served dry, for example those you would prepare for a homemade rustic burger. Dry polpette are also a great appetizer food to serve alongside a dip.
You can bake your polpette in the oven. In that case you would be making polpette al forno (al forno means in the oven).
Now that we know that polpette in English is meatballs, what they are made of,  and how to cook them, let's look back in time and see how they came to be.
What is the origin of polpette?
Like Gambero Rosso, I too believe we can't accredit Italians for the invention of the first meatballs. The credit goes to the Persians with their scrumptious kofta.
However, if we are talking about the Italian polpetta and strictly about the way we make them in Italy, then we should thank Marco Gavio Apicio. The Roman chef was cooking polpette di carne e pesce back in 35 AC, and we know it because he wrote his recipes into books which were preserved with time and discovered much later. Wikipedia goes more in depth about it, if you'd like to know more.
When it comes to the classic Italian tomato meatballs, it seems that the hero who coined that recipe is chef Maestro Martino and the proof is in his book Libro de Arte Coquinaria, written in the 15th century. That book marks the first official written appearance of the word polpetta.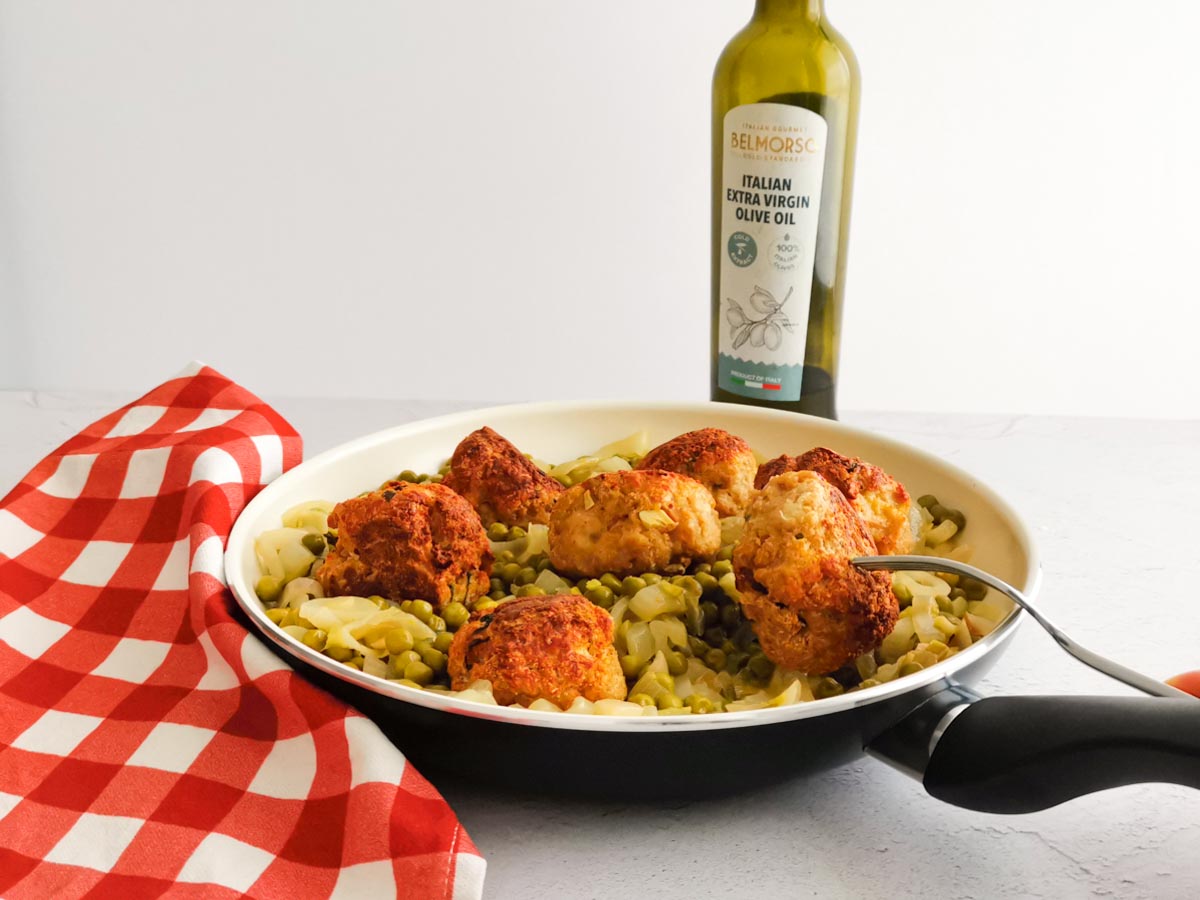 Recipe for polpette with onions and peas
Our take on this classic consists of chicken meatballs baked served on top of onions and peas cooked in white wine.
We are making the chicken balls with chicken mince aka ground chicken.
Please note that this recipe contains eggs and parmesan, and is not gluten free.
To make it gluten free you can substitute the breadcrumbs for a gluten free option.
Other things to note are that this recipe is relatively low calorie and easy to make.
The prep and cook time for the balls and the sauce is of around 1 hr.
The full chicken meatballs recipe follows. As usual, you can read the steps on your screen or print it out.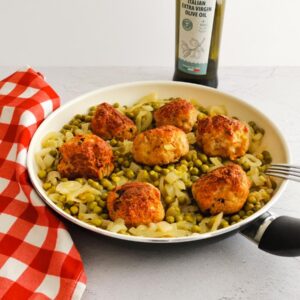 Polpette in bianco (Chicken Meatballs)
This is a simple yet flavourful chicken dish which makes a healthy comfort meal for cold or cool breezy nights. Adults and kids will love it.
Equipment
1 large bowl

for binding the ingredients

1 large pan

for cooking the side of the shaped balls

1 baking dish

for baking the balls

1 pot

for cooking the onions and peas with white wine

1 chopping board

1 chopping knife

1 small bowl

to beat the egg

1 pair of tongs

to pick up and turn the balls
Ingredients
400

gr

chicken mince or ground chicken

1

medium

egg

salt and pepper

for seasoning

2

garlic cloves

1

handful

fresh parsley

6

tbsp

breadcrumbs

or enough to bind

2

tbsp

grated parmesan cheese

4

medium

onions

300

gr

peas

I am using canned peas.

1/2

glass

white wine

Belmorso Extra Virgin Olive Oil
Instructions
Collect the ingredients you'll need to make this recipe.

Peel and mince the garlic cloves.

Add the ground chicken in a large bowl. Add the garlic too.

Beat the egg in a separate bowl and add it to the bowl.

Season with salt and pepper, and add the parsley.

Add the breadcrumbs and parmesan. Mix all the ingredients and add more breadcrumbs, one extra tablespoon at a time, if the mixture is too runny.

You can now take a large tablespoon of the mixture and shape it into a ball using your clean hands. Repeat until you have used up all the mixture.

Cook the sides of the meatballs in a hot pan.

Then transfer to your baking dish.

In the meantime, you can start chopping the onions.

When you've finished cooking all the meatballs in the pan, you can bake them in the oven for 20 minutes at 180 degrees Celsius. That time will be enough to cook your onions and peas.

Add the chopped onions in a pot with a generous drizze of Belmorso EVOO. Put on the stove to sauté.

After 5 minutes, you can add your peas, and season. Mix well and leave to sauté for another 5 minutes.

Then add the white wine, lower the heat, and leave to simmer for 10 to 15 minutes.

Your chicken balls should be ready to serve on top of the onions and peas you made. Buon appetito!
Video
Notes
If you prefer using fresh or frozen peas, allocate more cooking time before and after adding the white wine.
To add that Italian flavour to this classic dish, we suggest using a high quality extra virgin olive oil like Belmorso. If you want you can replace the breadcrumbs for crushed Tarallini. That's what we did when we made this recipe with the classic tomato sauce.
How to serve polpette in bianco?
If you want to enjoy this chicken meatballs dinner the Italian way, just serve them as they are with a side of rustic bread.
If you're not eating bread, you can substitute the bread for rice.
If you like to take Italian recipes and make them your own, by adding a bit of Irish cuisine, you can enjoy these similarly to meatballs in gravy with mash by serving them with mashed potatoes.
Finally, if you are wondering whether you can serve this dish with spaghetti, you can, but that's not how Italians eat it. That doesn't mean it won't taste delicious though.
Polpette and Chicken Meatballs Recipe Ideas
If you are looking for a different sauce for chicken meatballs for next time you make them, you can try chicken meatballs mushroom sauce.
You could also follow the instructions to make just the balls and use this other recipe for the red sauce. That way you'll be making chicken meatballs in tomato sauce.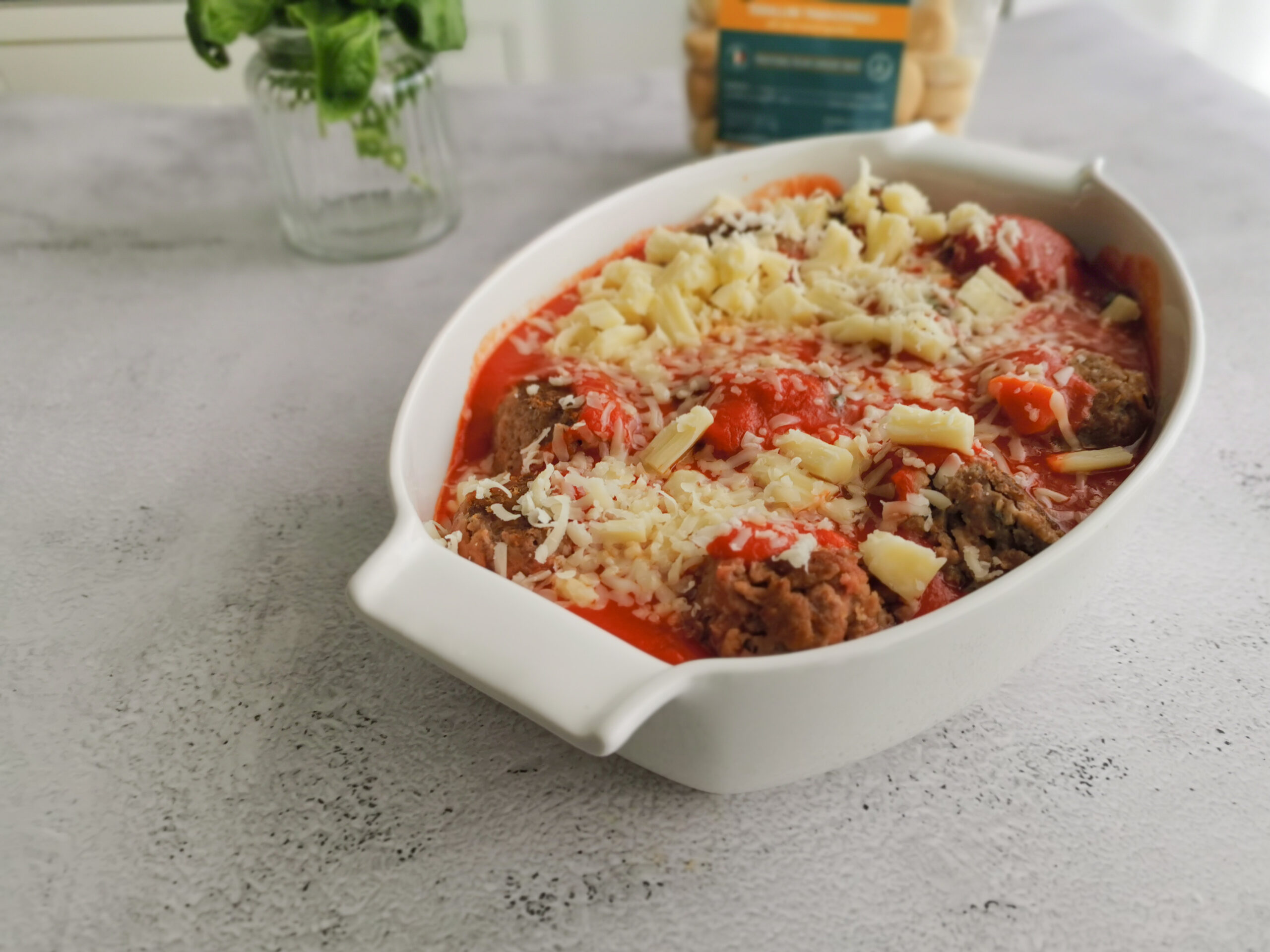 Whether you want to add a cheesy flavour to this recipe, the original one al sugo, or any other different variation feel free to add mozzarella inside your balls. Chicken meatballs with mozzarella is a great dish to serve as an appetizer.
Finally, if you'd like to replace the white wine in this recipe you can try chicken meatballs with cream sauce. Simply replace the white wine with the same quantity or more of cooking cream, depending on how creamy you want them to be.
Answering more questions on this dish
I have grouped the answers to other common questions below. If that still doesn't answer your question, simply ask  it in the comments and I will answer it as soon as I see it.