This potato gratin has all the classic Italian flavours from the North of Italy – ham, a rich cheese, and cream. It's a delicious side dish to make for Sunday lunch, including Sunday roasts, and special occasions too. As most of our recipes, it features very few ingredients, all high quality of course.
What to expect: when you bite into this potato dish your palate will be hugged by a creamy, cheesy and gooey mouthful  with a slightly salty taste, and a final crispy note.
Potato gratin origin
We are making this delicious side dish with all the Italian trimmings, yet that doesn't mean we can take credit for its origin.
For that, we have to thank our French neighbours. They really love making this recipe with lots of cream and cheese on top.
Apparently, this dish is a variation of the more popular one, potatoes dauphinoise. The latter, is heavier on cream.
The dauphinoise dish was first prepared in 1788 in the kitchen of the house of Clermont- Tonnerre in Dauphine', France. The Duke Charles Henri was hosting a special dinner when this iconic dish made its first official appearance in history.
Potato gratin meaning
In French, au gratin means with a crust. The word comes from the verb gratter which means to grate. The name is understandable considering that the crusty topping of this dish is usually a combination of grated cheese, breadcrumbs and herbs which help to form the famous and delicious crust.
What's potato gratin exactly?
If you have never had one, or maybe you just don't remember the name, you might still wondering what's this dish. It's simply a casserole filled with layers of potatoes, cream and cheese.
Following a similar process, you can make different types of this dish, including zucchini gratin, spud zucchini gratin, cauliflower and broccoli gratin, mixed vegetables gratin, and many more.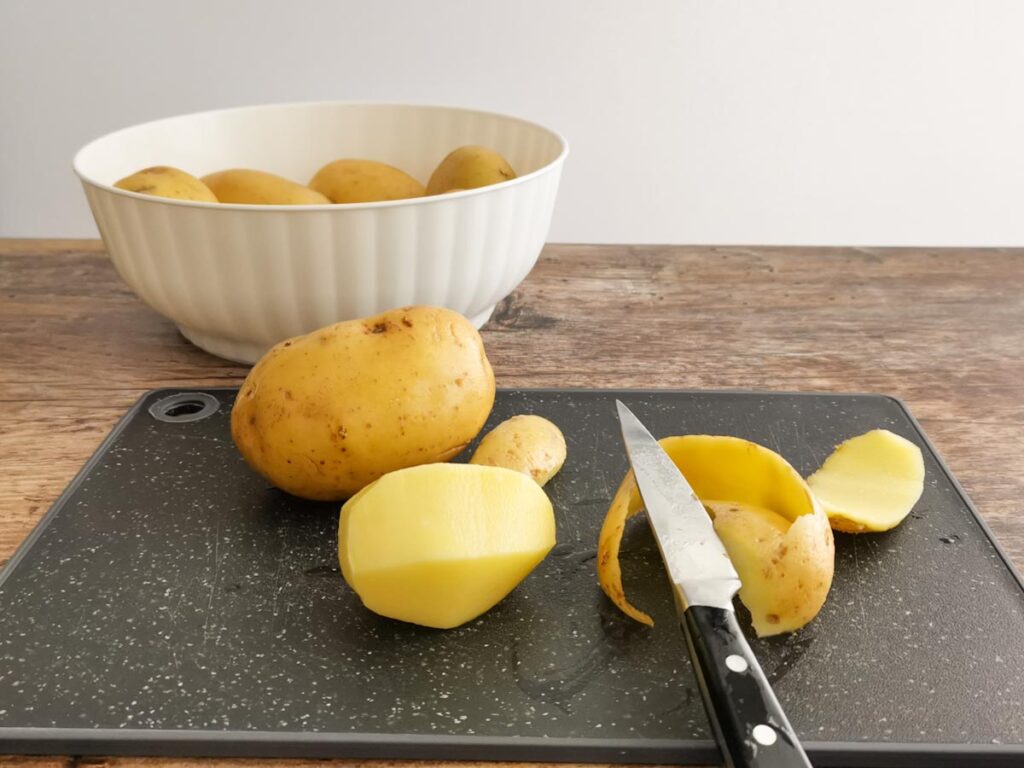 Potatoes for gratin
Since spuds are the start of this dish, it's important one uses the right type. A starchy variety like King Edward are the perfect kind to use in this recipe, plus they are widely available and economical.
Potato gratin cheese
After potatoes, cheese is the second most important ingredient in our version of the dish. You can use different types of Italian cheeses, including Galbanino, fontina, provolone and scamorza.
We are using Galbanino, which is a sticky cheese with a rich and sweet milk taste that comes in a wax protective case. We will also be using grated parmesan cheese for the crispy top.
If you don't want to use an Italian cheese, you can use a mild cheddar.
And, if you want to do it the French way, you can make yours with gruyere.
Potato gratin milk, cream or bechamel
Cream is the third most important ingredient in the Italian version of a this recipe. For the original French recipe, cream would be the second most important one.
Unless you are making this dish with homemade bechamel, which I am sure would taste as delicious, you don't need to use milk in this recipe.
A regular cooking cream is all you need. If you are intolerant to cream, opt for lactose free or dairy free.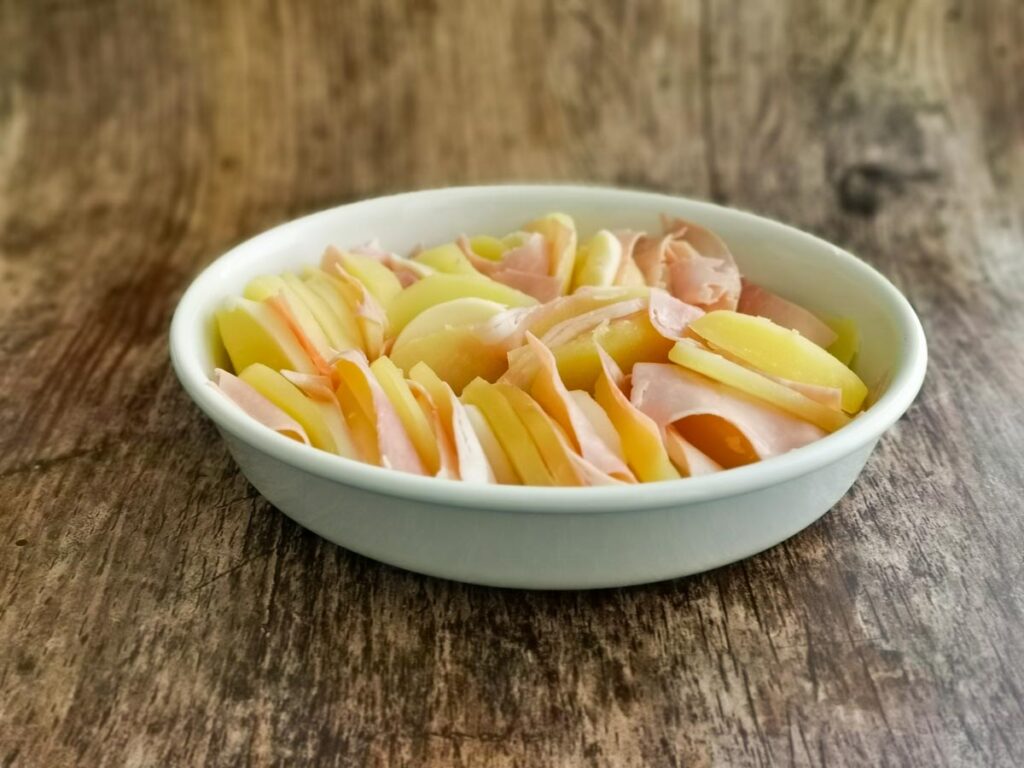 Potato au gratin recipe
Below you'll find the full recipe to make our Italian take on this French dish. Follow along on the screen, or feel free to print out the recipe card.
As for ingredients, you will find the ingredients we are using or any suggested alternative in your local supermarket. Make sure you are using a high quality extra virgin olive oil like Belmorso EVOO.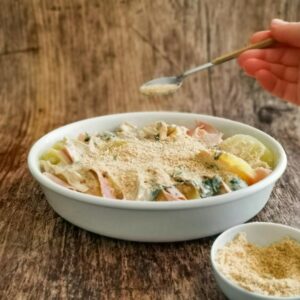 Italian Potato Gratin
This Italian potato gratin is the perfect side dish for Sunday lunch. Be prepared for a creamy, cheesy and gooey hug with every bite.
Equipment
1 chopping board

1 chopping knife

1 medium pot

1 medium pan

1 cooking spoon

1 medium sized casserole dish

preferably round or oval to achieve the circular design
Ingredients
7

medium sized King Edward spuds

or another starchy type

1

medium sized onion

300

gr

Galbanino cheese

or fontina, scamorza, provolone

200

gr

Italian cotto ham

150

ml

cooking cream

I am using Apro dairy free cooking cream

salt

to season

pepper

to season

1

pinch

nutmeg

1

handful

chopped parsley

fresh or frozen

2

tbsp

grated parmesan cheese

4

tbsp

breadcrumbs
Instructions
Prepare your ingredients for this recipe.

7 medium sized King Edward spuds,

1 medium sized onion,

300 gr Galbanino cheese,

200 gr Italian cotto ham,

150 ml cooking cream,

salt,

pepper,

1 pinch nutmeg,

1 handful chopped parsley,

2 tbsp grated parmesan cheese,

4 tbsp breadcrumbs

Peel the spuds but do not slice.

Peel and cut your onion into small pieces.

Add some water in a medium sized pot to boil, and boil the spuds whole for 15 minutes. It's better to set a timer so you don't overcook them.

Add the cut onion to a medium sized pan, with a generous drizzle of Belmorso extra virgin olive oil. Leave to sauté at low heat for 7 to 10 minutes.

Next, add the cooking cream with the onions, and season with salt and pepper, followed by a generous pinch of nutmeg. Leave to simmer for 5 minutes and then take off the heat.

Drain your spuds, leave them to cool for 15 minutes before slicing them. I have sliced mine sideways for a more elongated shape.

Slice all your Galbanino cheese. It's ok if you take one or two slices for your tasting :).

Cut each slice of cotto ham into 6 squares.

Prepare the breadcrumbs and parmesan mixture into a bowl, season with black pepper and mix.

Add a handful of parsley to your onions and cream, and mix.

You are now ready to assemble this dish. Prepare all the ingredients around you so they are easily reachable.

Take one slice of potato, top it with one slice of ham, and then one slice of cheese. Now layer it on the side of your dish.

Repeat the previous step until you have finished all your ingredients. Layer the mini potato sandwiches on the sides of your casserole, moving in a clockwise or anticlockwise direction. Once you have filled all the edges, move to the centre. You don't want to use a very large dish or you won't be able to create the desired layered circular effect.

Alternatively, you can also make this recipe the traditional way, and layer your ingredients flat. If so, start with the potatoes, then the ham, then the cheese, and repeat until you finish all the ingredients. It's best to end with a layer of potatoes on top.

Now, top your layered spuds with the onions cream mixture and spread using your cooking spoon.

Finally, top with the parmesan breadcrumbs mix, and bake in the oven for around 45 hr or until the spuds are cooked, at 180 degrees Celsius. You can use a fork or a poking stick to test them after 40 to 45 minutes.

Once ready, take out of the oven and serve alongside your protein of choice.
Video
If you want to make this recipe for one or for two, adjust the ingredients, and use a smaller dish.
Recipe variations
– Potato gratin without cream –
You can definitely make this recipe without cream, just expect a crispy result rather than a creamy one. If the issue is an intolerance to cream, you can do like us and use a vegan cream, or a lactose free one. It's delicious.
If you really want to skip the cream, you can check out this no cream recipe from Netmums.
– Potato gratin vegan –
To make this side dish vegan, you simply have to cut the ham or use a vegan alternative, and replace the cheese and cream with a vegan option. You can find plenty of vegan cheeses and parmesan options at larger supermarkets; the same holds for vegan cooking cream.
– Potato gratin vegetarian –
By just cutting the ham, this recipe quickly turns vegetarian.
For both vegan and vegetarian versions of this recipe, you can replace ham with a few artisan sundried tomatoes.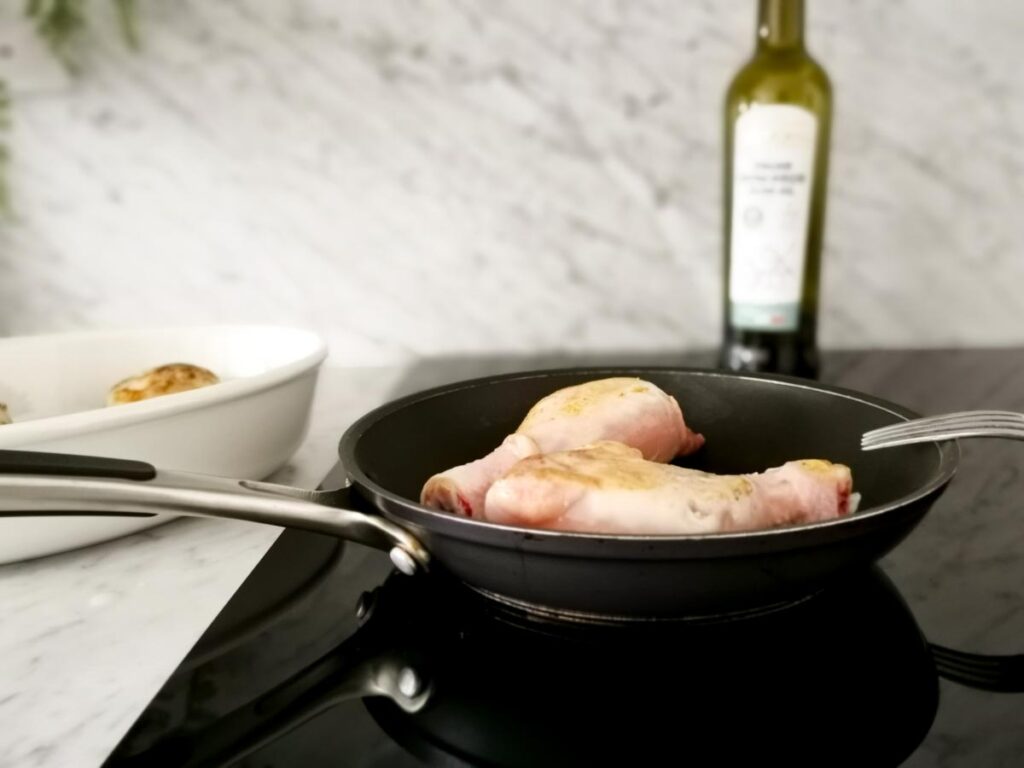 Potato Gratin Meal Ideas
You are probably thinking how can I serve potato this. Well, the options are nearly endless. The most obvious pairing is to have it with a protein. Below, I am listing different meal ideas.
Chicken with potato gratin (pair it with this chicken recipe instead of the mashed potatoes)
Salmon with potato gratin
Potato gratin and steak (try our take on Fiorentina steak)
Enjoy it with battered cod for a more elegant take on fish and chips
Serve it alongside a baked sea bream (get our baked fish from Puglia recipe, and leave out the potatoes)
Enjoy with grilled tofu for vegans and vegetarians
Eat it alongside a vegetarian crusty pie or tart
Is potato gratin healthy? and other questions
If you have other questions about this dish that I haven't already answered, you should find the answer in this section.