This creamy tomato pasta sauce is not just for vegans. Everyone can have it and I am pretty sure everyone will love it. It's that good they might even think it has dairy in it.
What to expect: a creamy tomato sauce that's fresh but still the right level of rich and cheesy, ready in under 20 minutes if you make your base sauce in advance, and delicious served with a rustic artisan shape like trofie or orecchiette.
What makes this creamy tomato pasta sauce vegan?
The only two ingredients that make this recipe vegan are the vegan bechamel and the vegan parmesan cheese.
This means that if you really don't want to give up your dairy, you can easily replace these two ingredients and make this recipe non vegan.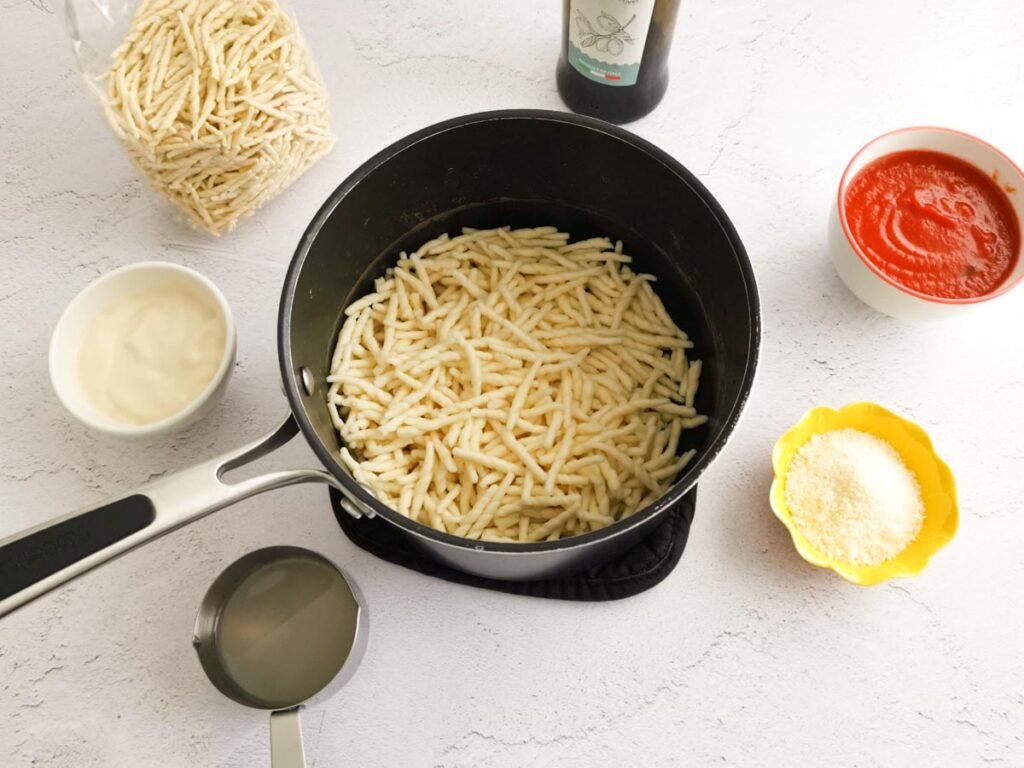 Is there cream in tomato pasta sauce?
We are making this sauce with bechamel but if you prefer you can replace it with cooking cream. The only difference is that the final result will be a little more liquid and, in my opinion, less creamy.
Can you make this creamy tomato pasta sauce with Greek yogurt?
I think you could make it but I wouldn't suggest cooking the Greek yogurt. I don't believe yogurt is meant to be cooked, but only mixed in at the end.
The end result would probably be fresh and very Summery, but not as rich as using a bechamel sauce.
If your concern is that bechamel is too rich and high in calories, using a dairy free bechamel will solve that. I am using Valsoia besciamella, and it's not high in calories.
Creamy tomato pasta sauce with cream cheese
You can substitute bechamel for cream cheese and still get a very rich and creamy sauce, especially if you like that fresh cheese / yogurt taste. Philadelphia is a good option, and they also have a vegan option. For a richer result you can opt for mascarpone cream cheese.
If you opt for this recipe variation, simply add the cream cheese at the step when we are adding the besciamella, and you can follow the rest of the recipe for a similar result.
Creamy tomato pasta sauce without cream or bechamel
If you stumbled upon this recipe looking for a tomato sauce without cream, I think you will enjoy this authentic Sicilian tomato pasta recipe. It's called Norma.
Is this recipe a truly homemade creamy tomato pasta sauce?
Yes, it is. We are making the tomato sauce from scratch and we are using trofie. The only think it's not homemade is our bechamel. If you prefer to make yours from scratch, you can. We don't have a vegan recipe for bechamel sauce. You can check out the regular bechamel recipe with dairy.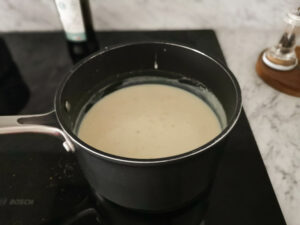 Creamy tomato pasta sauce with passata
The base for this delicious recipe is an authentic tomato sauce made with passata.
This is a staple in Italian cuisine, and I suggest making it in bulk, and storing some in the fridge and the rest in the freezer.
You can use this to make this recipe, but also the traditional tomato dish. Plus, it's delicious as a spread for Italian pizza, as a base for bruschetta, to spread on sandwiches, or to use for making Italian pies and calzone.
I also enjoy eating it as a dip.
If you are looking for variations of this tomato sauce, you can try making these changes:
replace garlic with onion
replace basil with oregano or chilli
add a teaspoon or two of Balsamic vinegar of Modena at the end
Vegan Creamy Tomato Pasta Sauce Recipe
It's finally time to make this recipe. I am pretty sure you are really craving it after all this talk :).
The main steps are the following:
make the base tomato sauce
cook the trofie
combine the trofie, cooked tomatoes, bechamel and cheese
The stars of this recipe are an exceptional Italian extra virgin olive oil like Belmorso EVOO and an authentic Italian artisan shape like Belmorso Trofie.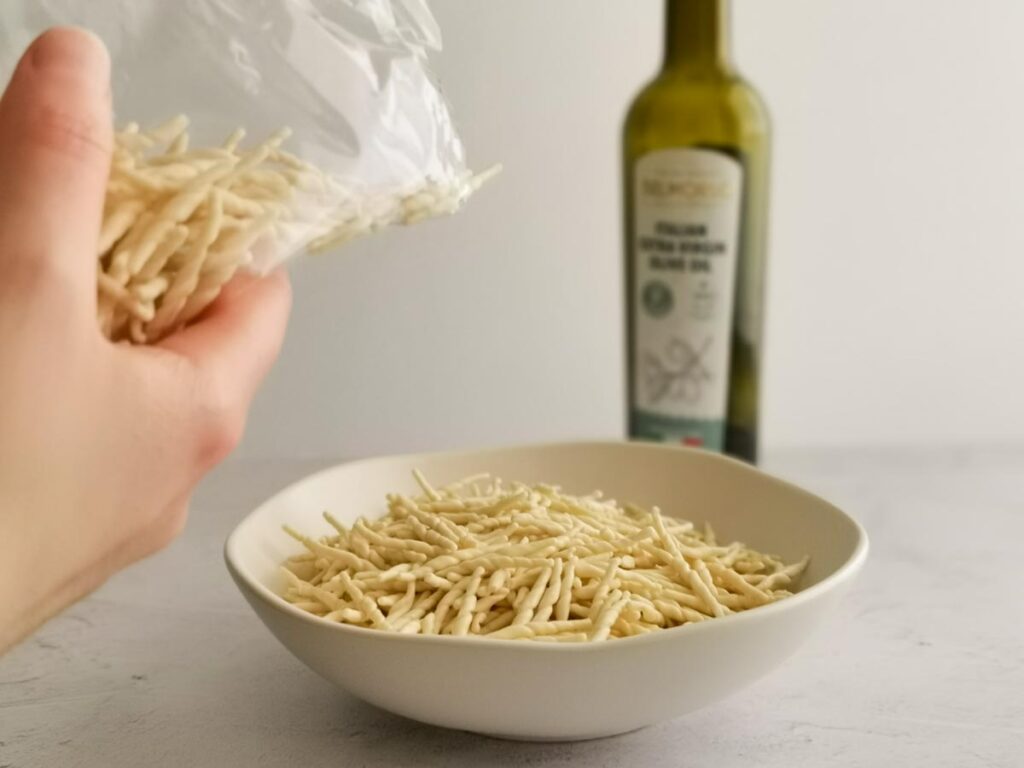 Using an extra virgin olive oil with an intense and genuine flavour will enhance the tomato flavour like no supermarket olive oil could.
In addition to that, you are not going to fully flavour this recipe if your pasta is blunt and doesn't hold its shape.
Below you'll find our full recipe with all the creamy pasta ingredients. You can follow on your screen or print it out.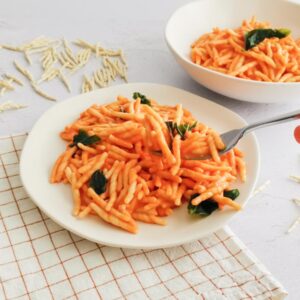 Vegan Creamy Tomato Pasta Sauce
A creamy tomato sauce that's fresh but still the right level of rich and cheesy, ready in under 20 minutes if you make your base sauce in advance, and delicious served with a rustic artisan shape like trofie or orecchiette.
Equipment
1 small pot

1 medium sized pot

1 chopping knife
Ingredients
2

medium garlic cloves

750

ml

tomato passata

2

tbsp

Belmorso Extra Virgin Olive Oil

salt, pepper and nutmeg

to taste

5

leaves

fresh or frozen basil

plus a few extra leaves to garnish

150

gr

Belmorso Trofie

100

ml

bechamel

we are using packed dairy free Valsoia besciamella

2

tbsp

vegan parmesan cheese

grated
Instructions
Take out all your ingredients before you start cooking.

Peel and cut the garlic cloves in half

Pour the passata into your small pot, season with salt and pepper, add the garlic and the handful of basil.

Mix and put on the stove to simmer for 30 minutes. Make sure to cover with a lid and lower the heat. You can mix from time to time. I didn't need to, but this might differ from the type of stove and pot being used.

After 20 minutes, fill a pot with water, season with plenty of salt, and let it boil.

Next, add your trofie to cook, following the packaging instructions. Belmorso trofie take about 13 minutes to cook and still stay aldente. However, if you like them extra aldente you can cook them for just 10 minutes.

Take the tomato passata off the heat, add the extra virgin olive oil and mix.

Drain the trofie and leave some water aside, about 1/4 of a glass.

Transfer the trofie in the same pot you cooked it. Add the cooked tomato passata, as much as you want. We added about 7 tablespoons.

Then add some trofie water, the bechamel, a pinch of nutmeg, and the grated parmesan cheese. Mix everything in the pot over low heat for a few minutes.

Take off the heat and serve. Drizzle some extra EVOO and finish with more basil.

You can store the rest of the tomato sauce in two separate containers; store one in the fridge and one in the freezer.
Video
Notes
If you want to cut the calories, just reduce the trofie to 100 gr and add mix in some vegetables. Boiled or roasted courgettes go really nice with this.
The sauce should be enough to make two more plates of this trofie, top one pizza, and make some bruschetta.
It lasts well for up to 3 days in the fridge, and for several weeks in the freezer.
Best Creamy Pasta Recipes
If creamy recipes are your thing, we get you, they are delicious. Here is a list of other recipes you should check out.
Bruschetta orecchiette Italiana
Creamy tomato rigatoni sauce with chicken
Quick creamy tomato sauce with ricotta
Tomato and vegetable orecchiette with cannonata
Answering your questions
I have already answered many of the common questions throughout the first part of this post. Any others I haven't answered  you will find the answer here. If you still have questions left, leave them in the comments and we'll answer them for you.
How do you make creamy tomato pasta sauce?
It's very simple. You add a creamy ingredient to your tomato pasta and mix everything together in the same pot before serving. We suggest using bechamel sauce or cream cheese.
Why isn't my pasta sauce creamy?
Your pasta sauce is not creamy probably because you added more liquid sauce than the creamy component. To quickly make it creamier, simply add slightly more of the creamy ingredient you used. Great ingredients to make a pasta creamy are bechamel sauce, cream cheese or a thicker cooking cream.
Do Italians use pasta cream?
Yes, they do but not the same kind as Americans or British would. We don't usually use something as heavy as half and half but more a cooking cream, which in Italian is called panna da cucina. Also, the number of pasta recipes featuring cream are higher in the Nord than in the South of Italy.
How can I thicken pasta without cream?
You can use bechamel sauce or cream cheese instead of cream; you can add a little bit of flour although we don't suggest it, or you can simply add a little of the pasta cooking water when mixing the pasta with the sauce.
What pasta shape is best for creamy sauce?
Larger pasta shapes are preferable to truly savour the taste of a creamy pasta sauce. That way the sauce has more grooves to get into, which means more flavour with every bite. Long pasta shapes are equally delicious, although we suggest thicker longer types like fusilli lunghi, tagliatelle and fettucce.
How do you make pasta more interesting with tomato sauce?
Simply adding grated cheese and some fresh herbs can take your simple tomato pasta to the next level. You can also add cream or bechamel. Make sure you are making your tomato sauce the right way so it tastes delicious both on its own and with other ingredients.
What is the secret to pasta sauce?
Using high quality ingredients is the secret to truly delicious Italian pasta sauces. Start with a high quality extra virgin olive oil like Belmorso, and make sure you are serving your pasta sauce with an authentic pasta that can hold its shape and is not blunt.
What pasta catches the most sauce?
The more grooves a pasta has the more it catches your sauce. In general, artisan pasta tends to be the best at catching sauces because it has more texture. The Sicilian cinque buchi is one of the best pasta shapes for catching the sauce because of all its holes. Other great pasta shapes that are also good at catching sauce are strozzapreti, casareccie, and fusilli.
How do you make tomato sauce taste richer?
Start with an exceptional tomato sauce made with a high quality extra virgin olive oil, fresh basil, and serve it with an Italian parmesan cheese. If you want to add even more richness you can turn your simple tomato pasta into a creamy tomato pasta by adding bechamel or cream cheese. And if that's not enough, you can also add a teaspoon of balsamic vinegar of Modena.