Today's recipe reminds me of special occasions and family. It's a Sicilian potato pie with broccoli, that we call scacciata di broccoli.
My grandma would make two or three for Christmas Eve or New Year's Eve to feed the entire family, about 20 people.
Along this broccoli scacciata with olives she would also make another two different fillings, so about 8 or 9 scacciate in total.
That's a lot I know, but don't worry as today we are only making one.
What to expect: a crunchy pie with a simple yet flavourful filling made with a few high quality ingredients, all vegetarian. When you take a bite you'll first be delighted by the crust crunch and then be embraced by the beautiful flavours that just taste like Italy, family and home.
Pie in Italy
Speaking of Italy, let's clarify a few things about this.
When you google pie in Italian, Google tells you that the Italian word for pie is torta. That's right, but we must distinguish between torta dolce (a cake) and torta salata which is a savoury one.
We then have focaccia ripiena, which you shouldn't confuse with the simple bread focaccia with a few toppings. Focaccia ripiena is focaccia dough at the bottom filled with whatever ingredients you'd like and then covered with another thin layer of focaccia dough. It's a special type of dough, different from the focaccia bread one.
And then there's scacciata in Sicilian, which we also call focaccia, because it's more likely that you'll find us eating focaccia ripiena than the plain one.
So what distinguishes a torta salata (savoury pie) from a focaccia ripiena (filled focaccia)?
The main distinction lies in the type of dough used.
Torta salata tends to be made with puff pastry, shortcrust pastry or brisée pastry. The latter is a type of shortcrust dough that is rich and buttery. Rolled sheets of brisée pastry are widely available in supermarkets. They make a great option for making delicious torte salate in less time.
Shortcrust pastry in Italian is called pasta frolla dolce o salata depending on whether it's sweet or not.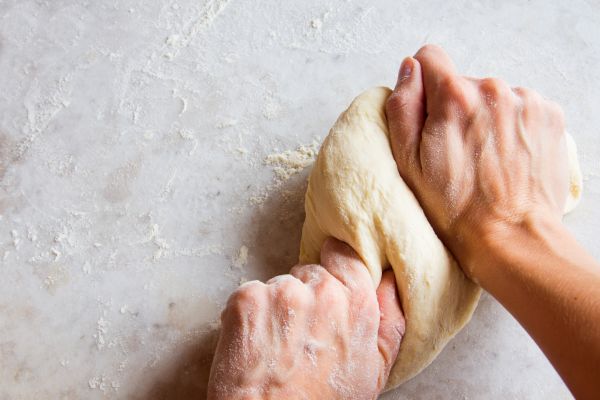 What dough do Sicilians use to make scacciata pie?
The dough is similar to the one made for pizza, but with two key differences. The one for scacciata uses durum wheat flour instead of flour 00 and it also uses lard. This gives it a rustic and rich consistency and taste.
We are not making this dough today, as I am pretty sure you'll appreciate a recipe that is as delicious but way quicker.
Instead, we'll be using a type of shortcrust ready rolled pastry you can find in supermarkets; it's called brisée.
If you can't find this, use shortcrust pastry instead, but make sure it's not sweetened.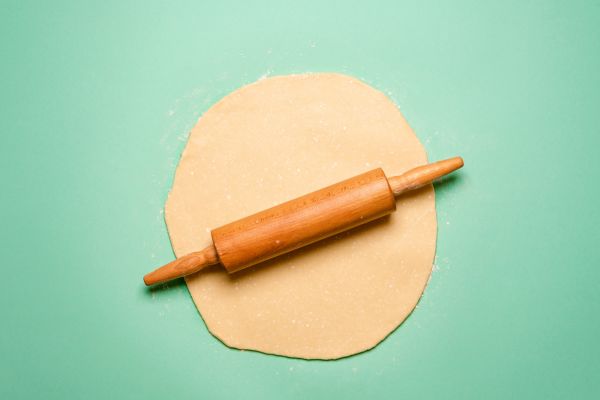 How to use Shortcrust Pastry from the supermarket?
Here are a few tips and tricks about using this type of pastry which can come handy if you haven't used it before, or have struggled working with it.
My top tip is to keep it refrigerated until the last minute. This is because since this dough contains butter it tends to melt quickly and become sticky, making it very difficult to take out of the paper without breaking it.
However, if you leave it in the fridge until you are ready to layer it or work with it, you'll be fine.
If you are using this to make a large scacciata, I suggest removing the sheet from the paper and layering on your dish with some parchment paper. I prefer using parchment paper than the paper the dough comes in because that paper is very greasy and will burn quickly in the oven.
When using the pastry to make mini tarts, you can leave the pastry on that paper; then, cut the strips of pastry in the size you need them to be, then fill them, and use another strip of pastry to close them. Once closed, you can lift the pie from the dough paper and transfer it to your dish with parchment paper.
Should your filling be relatively wet, I suggest pre-baking the pastry on its own for about 10 minutes before filling it. In case of the pie, you can skip this but you might then need to flip it so that it finishes cooking at the bottom. This obviously is not possible with an open tart.
Shortcrust Pastry Filling Ideas inspired by Italy
Potatoes pies are always a great idea and taste delicious with shortcrust pastry. The best part is that having a potato base just on top of the pastry locks in the moisture from the other ingredients. Plus, you can be creative topping the potatoes with different ingredients combinations. Here are a few potato pie topping ideas:
onions, ham and cheese
cherry tomatoes, onions and black olives
asparagus, boiled eggs, ham, and cheese
broccoli, black olives and cheese (the one we are making today)
ham, artichokes and cheese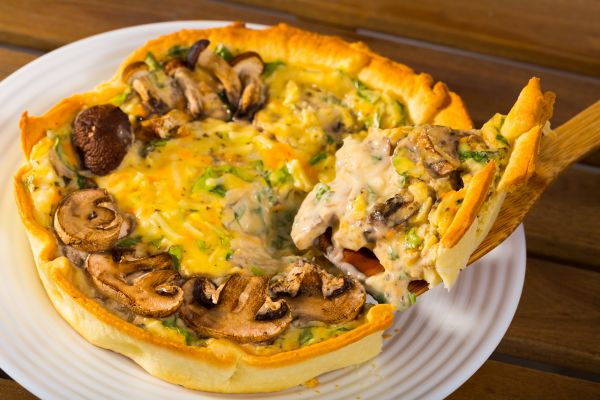 What about other filling ideas without the potatoes?
You can fill your torta salata with a quiche filling.
Top it with vegetables like aubergines, courgettes, spinach, and peppers.
Add ricotta cheese for a fresh taste.
For protein, you can choose between bacon, speck, sausage, beef or chicken mince, and smoked salmon.
How to Make Vegetarian Pie Delicious
As you can see from the ideas I shared above, and from this recipe we are making today, vegetarian pies are as delicious as pies with meat.
The key to making them delicious is to cook the dough well so it's crispy but not burnt, and definitely not soggy.
Another important aspect of making it taste great is the right amount of salt. If you are using salty ingredients like olives, make sure you use less salt; no one likes it when it's too salty, as you can barely taste the ingredients in it.
Don't be afraid to keep yours simple, as long as you add at least one but I suggest 2 flavourful ingredients. Examples of such ingredients are aged cheese, olives, sundried tomatoes, caramelised onions, caramelised peppers, roasted garlic and a selection of condiments like patés.
What cheese is best for pies?
Cheese is one of those ingredients that can give a lot of flavour to your recipe but it can also do nothing. It all depends on the type of cheese you use. If you are looking for a cheesy texture with a strong flavour, you might need to use two types of cheeses. I suggest using one that melts and another that packs a lot of flavour. For the latter type, I suggest using pecorino cheese.
You'll notice in the pictures we used parmesan cheese but yet I am suggesting you use pecorino cheese in the ingredients. That's because our earlier attempt to this recipe turned out much tastier and the only difference was that we used pecorino instead of parmesan.
If you can't find it, as a pecorino cheese substitute use any aged cheese with black pepper, preferably Italian but not necessary.
Vegetarian and Vegan pie filling ideas
You can make any of the filling ideas I have listed above and just remove the ham. Because the ham gives the recipe that salty rustic flavour, you'll need to make sure you have an ingredient in yours that can do the same while being vegetarian.
Sundried tomatoes, olives, roasted garlic, tofu marinated with paprika can give a similar flavour profile to your vegetarian scacciata.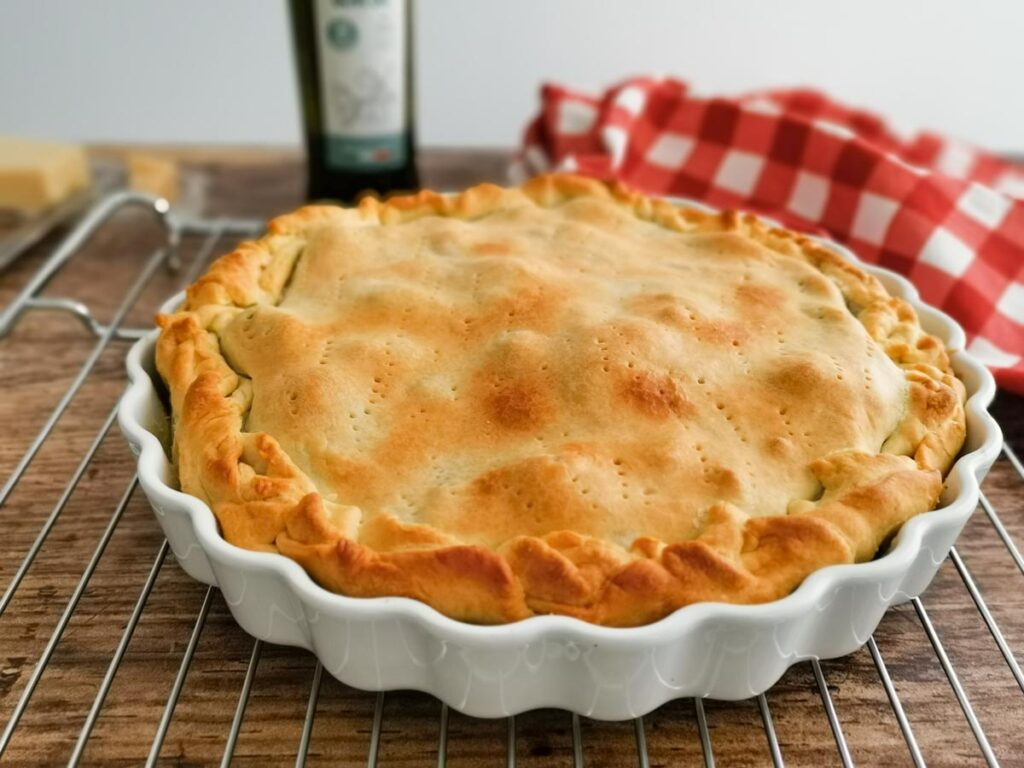 Savoury Pie Recipe with Broccoli
After all this talk about it, it's now time to start making our Sicilian potatoes pie with broccoli.
You'll find the full recipe below, and as usual you can choose to print it out or follow the instructions on your screen.
The key ingredients for this, apart from the pastry and pecorino  Italian cheese, are a high quality extra virgin olive oil and fresh and juicy black olives. We are using Belmorso EVOO and these pitted black olives in brine. You can also use this black olives tapenade to save time and add extra flavour.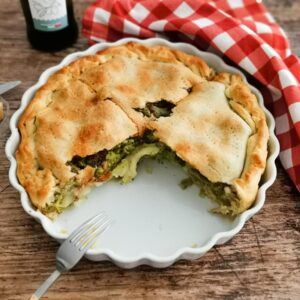 Sicilian Potatoes Pie with Broccoli
A slice of this Sicilian potato pie with broccoli is all you need to get a taste of what this incredible cuisine has to offer.
Equipment
1 pot

1 large dish

1 chopping board

1 chopping knife

1 blender

optional if you use the olives into pieces or the black tapenade

1 grater

1 knife
Ingredients
2

sheets

ready rolled shortcrust pastry or brisée pastry

I am using brisée

5

medium

potatoes

2

medium

broccoli heads

70

gr

pitted black olives

or black olive tapenade

Belmorso Extra Virgin Olive Oil

salt and pepper

pecorino cheese

or any aged cheese with black pepper
Instructions
Wash and chop your broccoli.

Boil your broccoli. I suggest doing steps 1 and 2 the day before you are making this. If not, you can also do them the morning of. The reason is that it's better to leave the vegetables cool and set overnight, or at least for few hours.

Wash and peel your potatoes. Leave them whole and boil them.

Once they cool down, you can slice them thickly.

For the olives, you have 3 options. You can do what I did and use the black olives and a little bit of water to create a paté. You can slice the olives and scatter those on top of the broccoli. Or you can use a black olive tapenade for extra flavour. Choose your option and prepare it.

Grease your dish with extra virgin olive oil.

Gather the ingredients for your scacciata.

When you are ready to start assembling the scacciata, take out only one sheet of pastry. Remove it from the paper and layer it on your greased dish.

Top the pastry with a thick layer of sliced potatoes, making sure there's still room for the broccoli layer. Season with salt and pepper.

Then follow with a tick layer of cooked broccoli, and season again lightly.

You can now add your black olives, whichever way you chose. I scattered small dollops of my homemade simple paté on top of the broccoli.

Then finish with a generous layer of grated pecorino cheese. And drizzle some EVOO.

Take out the other sheet of pastry from the fridge, remove it from the paper, and layer it on top of your ingredients.

Use your hands to twist together the top with the sides of the bottom pastry layer so that you seal the edges completely. If you see any holes, just patch them with a little bit of dough stolen from another corner.

Finally, drizzle a little bit of EVOO on top of the crust and use a clean napkin or a kitchen brush to spread it evenly.

Bake in a preheated oven at 190 degrees Celsius for 50 minutes.

Take out of the oven, flip the scacciata and bake the other side for another 15 minutes. Another option is to leave it to cool down, slice it into 4, and the flip each one before baking the other side. This way, you can just bake those slices you are going to eat right away, and then do the same when you are having the rest. This makes it easier to flip in case you find it difficult or you are worried your pie will break. Don't worry if a piece breaks, it's still so yummy.

Once you have baked the other side, you can enjoy your scacciata. It's delicious, isn't it?
Video
Notes
This should last well in your fridge for up to 3 days. We don't suggest freezing it but feel free to try and report back.
Other Delicious Broccoli Recipes You Need to Try
If you are looking for a baked broccoli recipe try this dish with baked broccoli and sausages.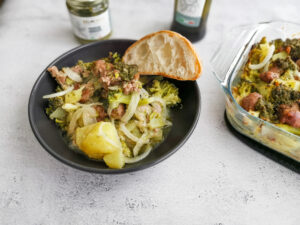 And if you like the taste of broccoli, you are likely to love the taste of broccoli rabe.
Here are two traditional recipes from Puglia featuring this beautiful vegetable.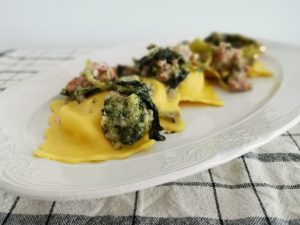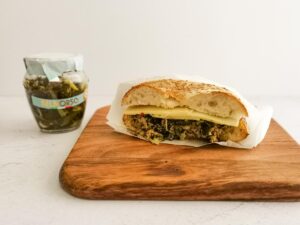 What pastry for savoury pie? and other questions about Italian pie
Scacciata or focaccia?
Scacciata is the Sicilian name for focaccia ripiena, which must not be confused with the popular focaccia bread with toppings. Scacciata is a meal on its own because of all the ingredients and flavours packed inside the stuffed dough. On the other hand, focaccia is mostly enjoyed as a side with salads, or a starter.
Is pizza a pie?
Pizza is pizza and pie is pie. However, you could technically consider calzone a hybrid between a pie and a pizza, simply because it's closed. Yet, the main distinctor between a pizza and a pie is the dough used. Pizza is made with pizza dough and pie can be made with a variety of doughs from bready doughs to more flaky ones.
What pastry for savoury pie?
The most common pastries used for savoury pie are puff pastry and shortcrust pastry. You can also try making a savoury pie using pizza or bread dough, just make sure you roll it very thin.
Is shortcrust pastry vegan?
Unless you manage to find a vegan version, the original shortcrust pastry is not vegan because it is made with a lot of dairy butter. If you can't find a vegan option, or if you don't like what you find, you can try making your own using vegan butter instead.
What can shortcrust pastry be used for?
If it's unsweetened, you can use shortcrust pastry to make savoury tarts and pies, as well as sweet tarts and other desserts that need a rich slightly flaky pastry like fruit, custard, and jam tarts or crostata. And if you are making a sweet pie you can also find sweet shortcrust pastry.
Can shortcrust pastry be used for pies?
Absolutely, yes. Shortcrust pastry is great for pies; just make sure your filling is not too liquid.
Where to buy shortcrust pastry?
Most supermarkets will have ready rolled shortcrust pastry in their fridge sections. Alternatively, you can find popular brands like Just-roll in the freezer section.
What is brisée pastry?
Brisée pastry is a type of shortcrust pastry that is crisp, rich and buttery. Although similar to puff pastry, brisée pastry has a firmer and less flakey texture than puff pastry, so it's a great option to use with pies.
How much shortcrust pastry for a pie?
Unless you are making a small pie, you'll need two rolls of shortcrust pastry to make a pie which is covered at the top. Use one roll at the bottom and one roll at the top.
Is shortcrust pastry sweet?
More commonly you'll find it unsweetened, but it's also available sweet. That's why it's very important to make sure you carefully pick the right one. Imagine making a savoury filling pie with sweet pastry :).
How long to cook shortcrust pastry?
How long to cook shortcrust pastry depends from the recipe you are making. If you are making an open tart, I suggest pre-baking the pastry without the filling for 10 minutes and then cooking the tart with the filling for another 30 minutes. If you are making a pie with pastry on top, you'll need to cook the pie for 30 minutes on one side and then 30 minutes on the other.
Can you buy shortcrust pastry?
Yes, you can buy shortcrust pastry in most supermarkets. Most large stores will have ready rolled shortcrust pastry in their fridge sections. Alternatively, you can find popular brands like Just-roll in the freezer section.
How long to boil broccoli?
I suggest boiling broccoli between 20 and 30 minutes depending on how soft you like them. If you are going to use them as a filling, make sure to squeeze the water out before using them. Other options for cooking them is to steam them or roast them.
What cheese goes best with pie?
Galbanino, fontina, scamorza are great Italian cheeses to make your pie cheesy. I suggest also grating some pecorino cheese or other mature cheese to give your pie more flavour, along with the stringy cheese texture.
What makes broccoli taste better?
If you like broccoli you'll love it with a little salt and extra virgin olive oil. The latter can instantly elevate the taste of broccoli, if it's a good quality EVOO like Belmorso. Three other ingredients that make broccoli immediately taste gourmet are onions, black olives and pecorino cheese.
Can I substitute pecorino for parmesan?
Yes, you can substitute pecorino with parmesan cheese. However, you must be aware that pecorino cheese has much more flavour than parmesan. So, if you are substituting it for the latter you'll want to ensure your recipe has other ingredients that are full of flavour.