If you've heard of Zizzi's restaurant in Dublin, I am sure you've also heard of its popular pasta. Today, we are taking that pasta and re-making it the Italian way. And although chicken is not something you would commonly find in Italian pasta, we can make an exception.
Here's what to expect: hot, fresh and zesty this pasta dish is as steamy as it is refreshing; the beautiful ingredients remind me of a peppery Calabrian pasta, and the chicken makes it a crowd pleaser.
Let's make it.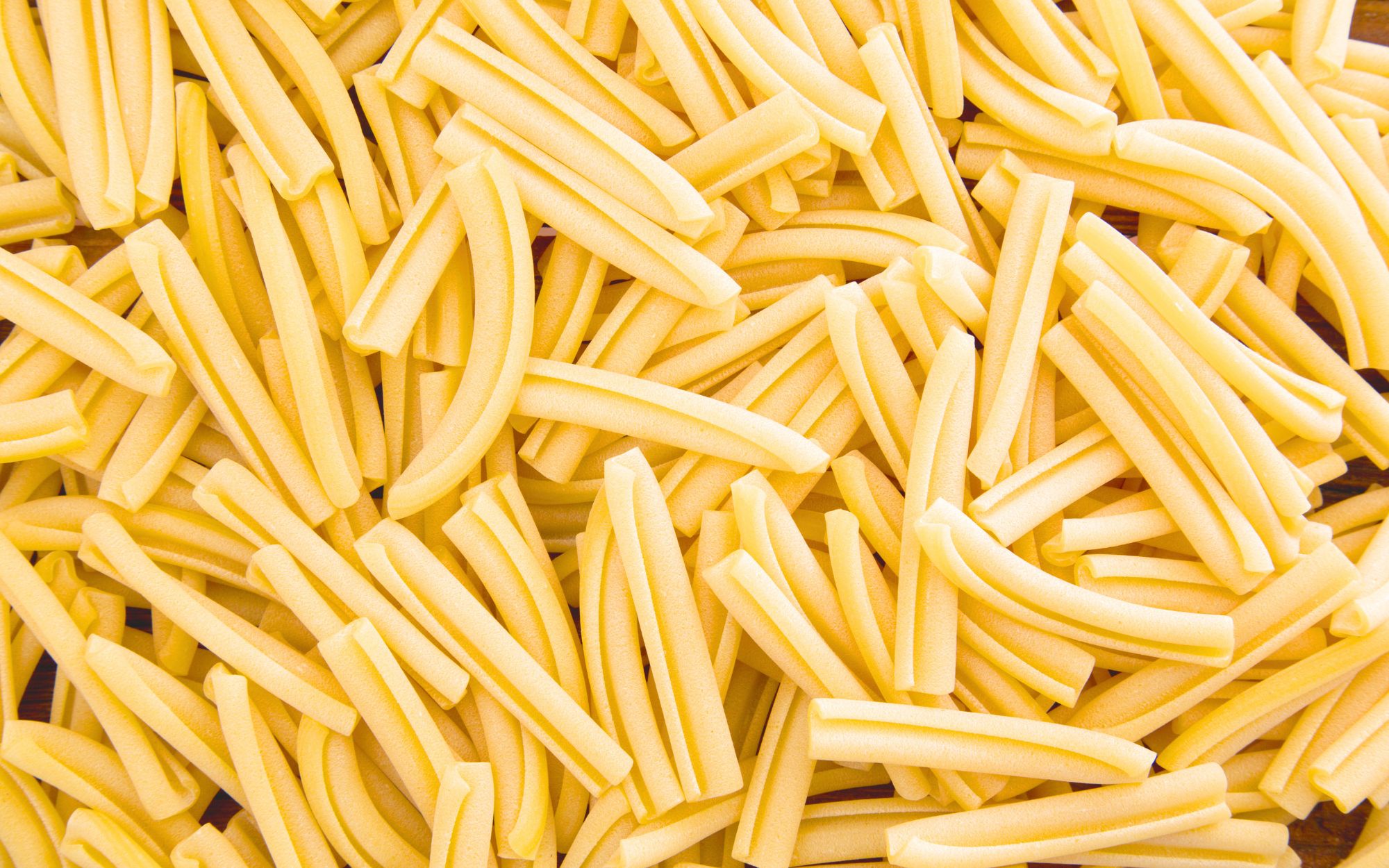 Casarecce Pasta Shape – Origin & Story
These delicious pieces of pasta come from the region of Sicily, where the Arab influence had its stronger effect. In fact, casarecce are inspired by busiate, an Arab dish made using a plant cane to twist together the different pieces of dough.
Nowadays, these are loved and enjoyed throughout Italy, especially in the South.
If you've ever seen a casareccia, you might have thought of how gorgeous and intricate its shape is. But have you ever realized that it's actually representative of a scroll? I am referring to the old roll of yellow parchment paper used in the past to write letters and important documents.
Well, it seems obvious that a pasta descending from Arab origins would have the shape of a scroll, since the latter was invented in Egypt to replace the papyrus.
If you are thinking that this fact makes this pasta less Sicilian, and less Italian, think again. Studying the history of Sicily and Southern Italy, you will start appreciating the Arab influence on Sicilian and Italian culture. After all, aren't we all the product of our past?
Casarecce Pollo Piccante Ingredients
Let me first tell you which ingredients Zizzi uses to make his pasta. These include:
Casarecce
Chicken breast
Harissa Paste
Double Cream
Cherry Tomatoes
Spinach
Salt and pepper
Olive Oil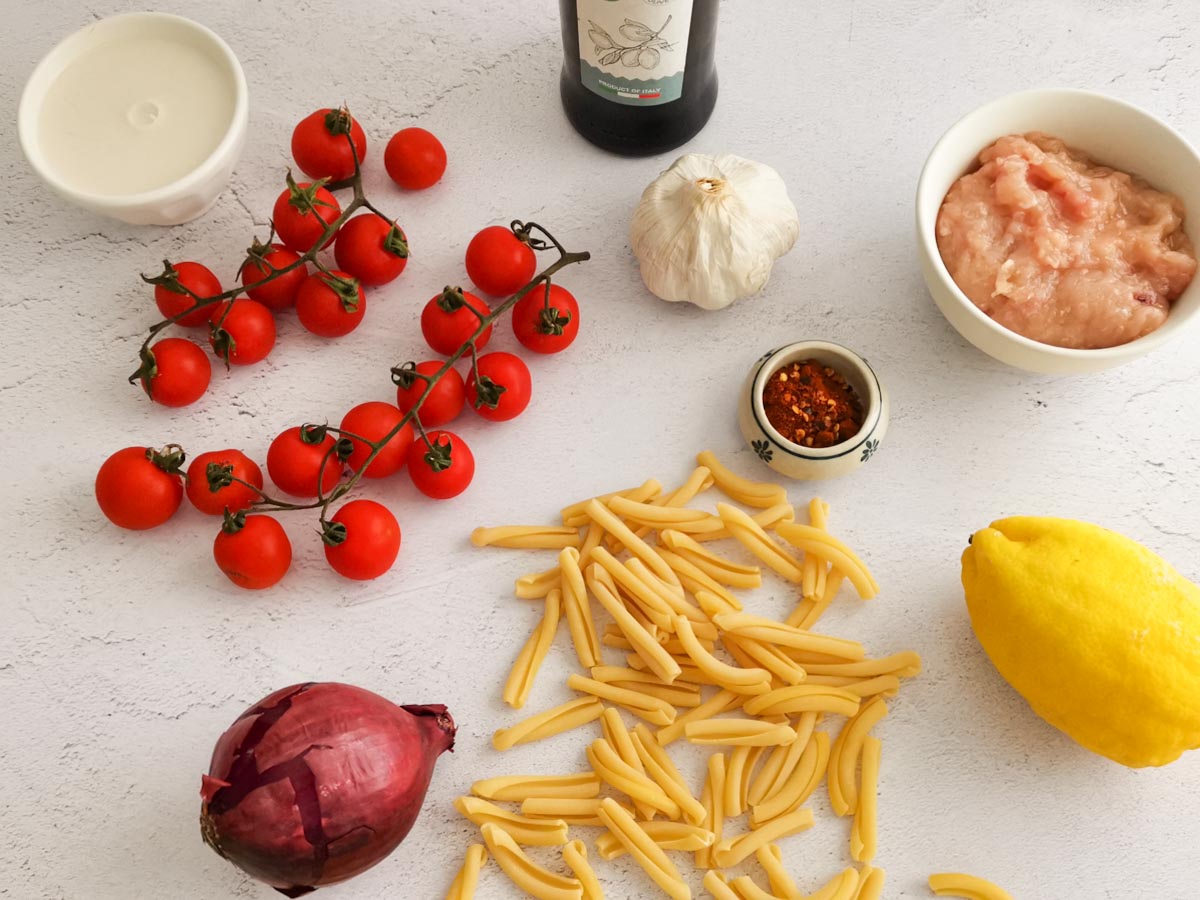 Now, let's take a look at the ingredients we are using to make the Italian version of this dish.
Casarecce (Belmorso Strozzapreti can be a good substitute)
Minced chicken
Cherry Tomatoes
Red onion
Cooking cream
Garlic
Red chilli, Paprika and fennel
Fresh parsley
Belmorso Extra Virgin Olive Oil
Lemon juice
You can see how our ingredients make this pasta more typical Italian, even when we are using the chicken.
We are replacing the whole chicken breast with the minced chicken, because that's what you would use to make a chicken ragu, inspired by the classic beef ragu or bolognese sauce.
We are using cooking cream, which in Italian we call panna da cucina (literally translated to cooking cream). Italians do not cook with double cream. It's very unlikely you'll even find that in Italy.
For the spices and the heat we are mixing a few Italian herbs that can be a great substitute to recreate the Harissa paste.
Of course, we are using extra virgin olive oil because no Italian would cook with just plain olive oil. Yes, we are that snob when it comes to olive oil :).
Finally, we've added the squeeze of lemon because we think that it will benefit this dish and cut through the chicken and the piccante taste. Plus, that's also a flavour note in harissa paste.
Harissa Paste Substitute
Since Harissa Paste happens to be a product of Tunisia, another Arab country, you can see how this pasta almost has an Arabic feel to it, which marries well with the Casarecce shape from Sicily.
The traditional Tunisian harissa is made with sun-dried peppers, garlic, caraway seeds, salt, coriander and extra virgin olive oil.
Occasionally, it might also include cumin and citrus.
Considering the original ingredients, the simplest substitute and one that's easy to put together would be paprika, lemon juice, garlic and cumin. To that, you could also add some chilli if you like a hot pasta.
For our Italian version, we are using the following spices: paprika and chilli flakes for the heat, and fennel as it's a good alternative to caraway. Then, we are adding garlic, lemon juice and extra virgin olive oil to emulate the original recipe.
In addition, we are using fresh parsley and red onion because we think that these go well with harissa and the chicken, and can help us elevate this recipe.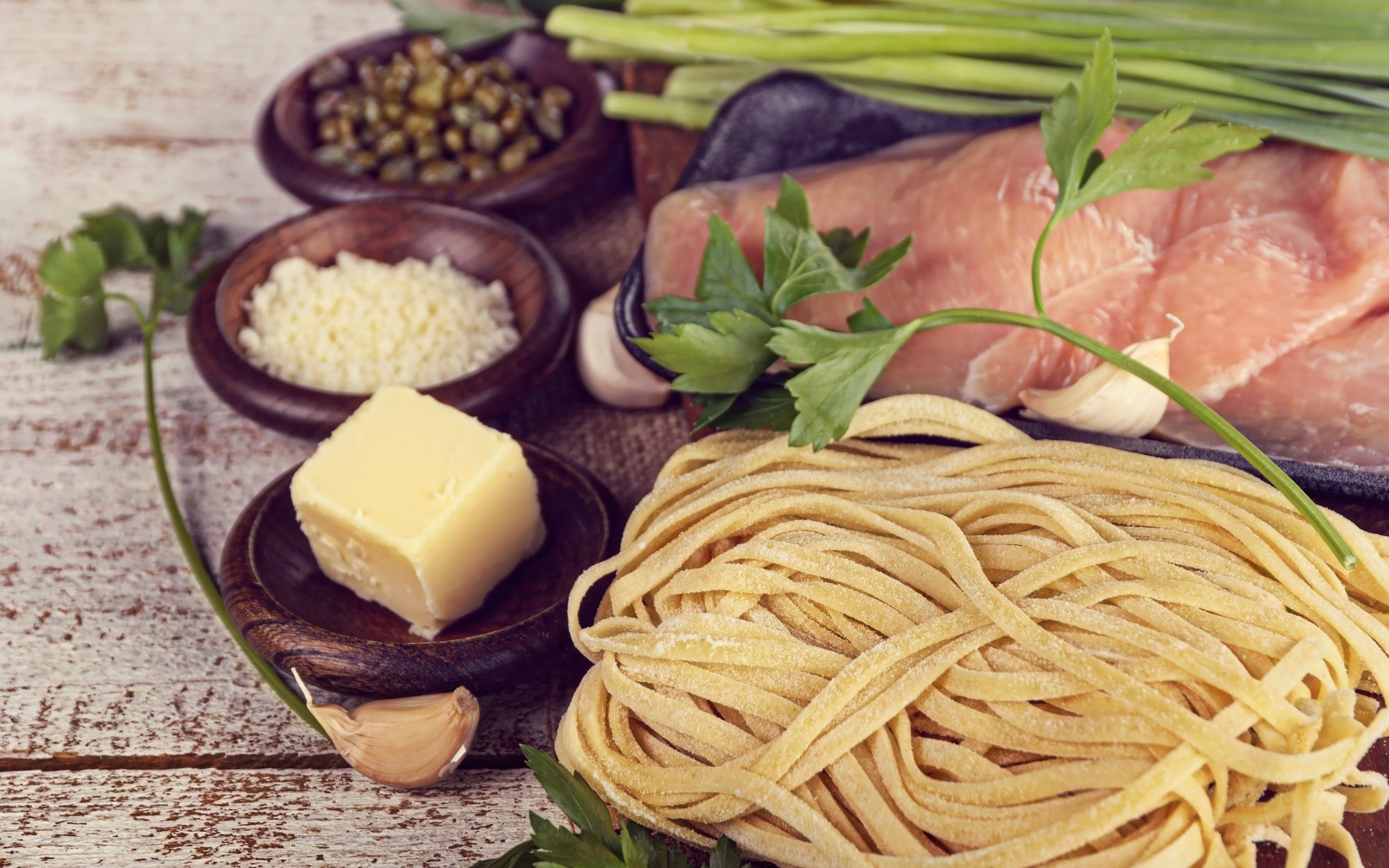 Is there Chicken in Italian Pasta?
What's the deal with Italians not liking to add chicken to their pasta dishes, you might be wondering.
Originally, chickens were mainly bred for their eggs, and not to enjoy their meat.
That's because since the old times, chicken has been seen as a cheap meat in Italy. It wasn't the right meat to be used to provide rich flavours to pasta dishes, such as beef and lamb, in the iconic ragu and bolognese.
With time, chicken meat started being purchased to save money. Italians like to eat it as a protein with a side dish, after seasoning and marinating it well to give it the much needed flavour it lacks.
Think of pasta as an excipient, that is something that needs to be flavoured. If to that you add another food that also lacks flavour, the result is not very flavourful and delicious. Would you agree?
These are all the reasons why chicken and pasta are not a match in Italian cuisine.
Nowadays, more and more Italians are cooking with chicken, even pasta but the resulting recipes are neither traditional nor authentic.
Casarecce Piccante with Chicken Recipe
Ready to make our version of this trending dish?
Here comes our recipe. Feel free to print it out or follow along on your device.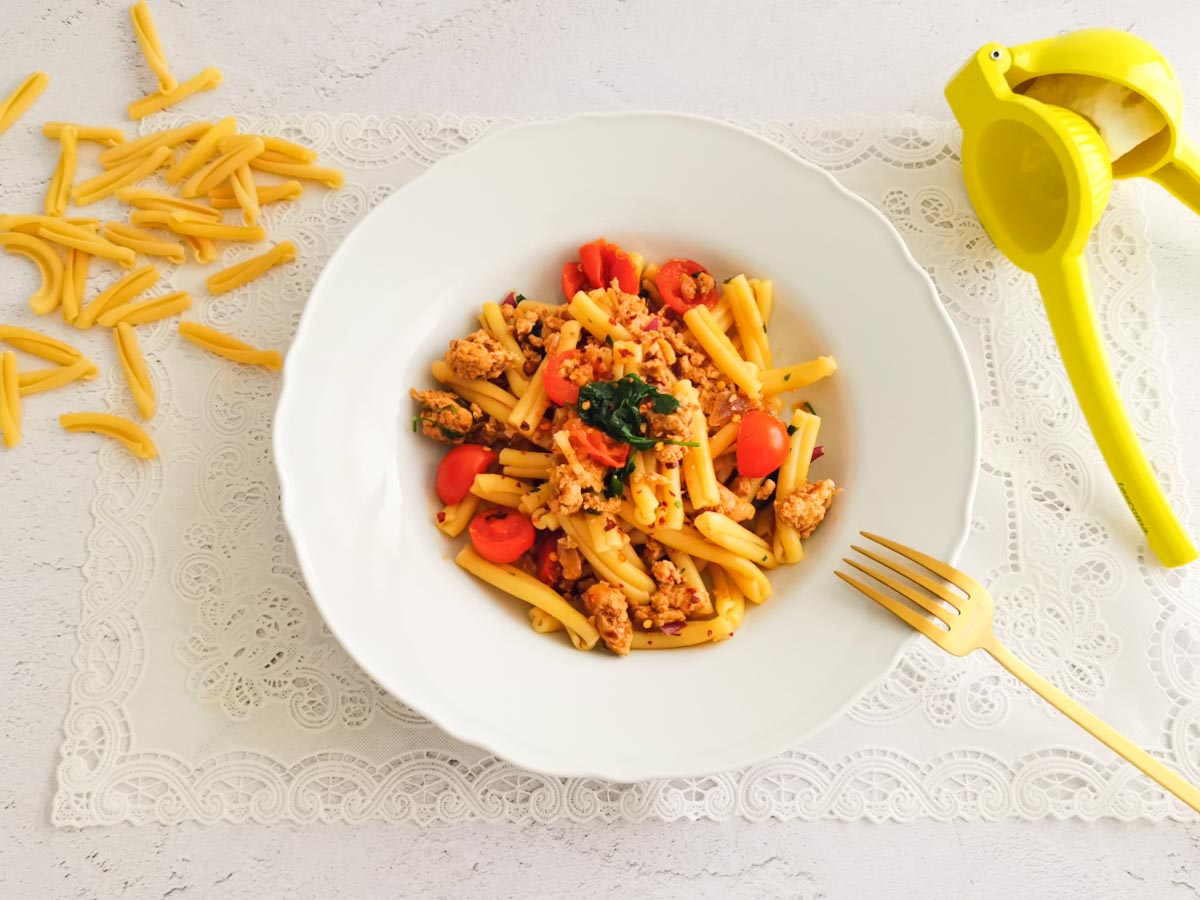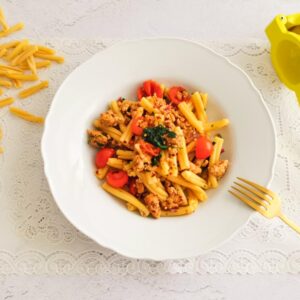 Casarecce Piccante with Chicken
Hot, fresh and zesty this pasta dish is as steamy as it is refreshing.
Equipment
1 chopping board

1 chopping knife

1 pan

1 pot
Ingredients
250

gr

Casarecce

1

clove

garlic

1

small

red onion

200

gr

minced chicken

10

cherry tomatoes

60

ml

cooking cream

1

pinch

ground fennel

1

tsp

smoked paprika

1

dash

chilli flakes

or more if you like it hot

fresh parsley

1

lemon

Belmorso Extra Virgin Olive Oil
Instructions
Mince the garlic and chop the onion.

Set aside 1/3 of the onion so you can add it raw at the end when you are serving your pasta. You can skip this step if you don't like eating raw onion. In that case, cook the entire onion.

Sauté the garlic and onion in a pan with Belmorso Extra Virgin Olive Oil.

Add the spices to aromatise.

Boil the water for the pasta with plenty of salt.

After a few minutes, you can add the chicken to the garlic and onion, and mix well.

Wash, cut and add your cherry tomatoes into the same pan.

Add the casarecce to cook.

Time to add your cooking cream and season with a little salt. Your piccante sauce is ready.

Drain your pasta and transfer back to pot. Add the piccante sauce, a handful of parsley and mix.

Serve with a generous squeeze of lemon, and buon appetito.
Video
More Spicy Pasta Recipes on the Blog
If you have a thing for spicy pasta, make sure to also check out these: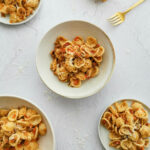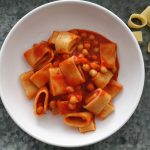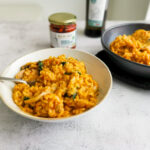 I also suggest you try our Arrabbiata sauce with Penne Rigate.
What pasta is similar to casarecce? and answering your questions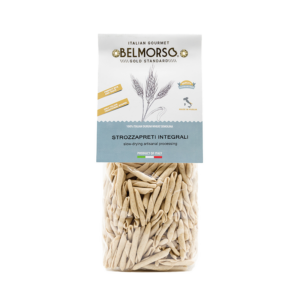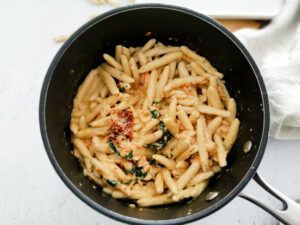 What is pollo piccante?
Pollo piccante translates to spicy chicken, and simply requires you to coat or marinate your chicken with spices and herbs. Harissa paste is a good option, but so is an Italian spread like Cannonata.
What does casarecce mean in Italian?
Casarecce is the name of a pasta shape from Sicily. It comes from the word casareccio, and it can have both a positive and a negative meaning. The positive meaning is homemade and the negative one is doing something in an unsophisticated way, similar to the word homespun.
What pasta is similar to casarecce?
A pasta that is very similar to casarecce is Strozzapreti. Belmorso offers a wholemeal version as well as a pack with tri-coloured strozzapreti pasta.
What is casarecce pasta?
Casarecce pasta is a pasta that originates in Sicily and is inspired by the Arab pasta named busiate. It has the shape of a scroll, and is delicious served with rich meat sauces.
What is casarecce pasta good for?
Casarecce pasta is one of the best pasta shapes to be enjoyed with a ragu or a bolognese, when you want to use a short pasta that's aldente and can hold a lot of sauce.
Is there chicken in Italian pasta?
No, chicken is not a common ingredient used to make pasta in Italian cuisine. The reason for this is that chicken doesn't have much taste, and pasta is an excipient that needs to be paired with flavourful ingredients to accompany them and be delicious. Consider pasta the texture of the dish. The sauce needs to provide the flavour, and chicken lacks in flavour.
What does piccante mean?
Piccante in Italian means spicy and hot, referring to a food or a dish.
What is the Italian version of harissa?
Harissa is Tunisian so there's really no Italian substitute for that. However, if you want to make Harissa paste using ingredients that are more Italian and Mediterranean these are the ingredients we suggest: hot chilli, fennel seeds, garlic, extra virgin olive oil, and lemon juice.