It's that time of the year when we start craving fresh ingredients, cold pasta salads, alfresco dining and simpler recipes. Well, today's recipe ticks them all. Summer pasta with zucchini, ricotta and basil is a cold Summer pasta salad that's a quick one to make for weekday dinners, yet it's equally delicious to take with you to a Summer barbeque.
What to expect: bite into a few fusilli cooked perfectly aldente, and immediately taste the earthy caramelised roasted zucchini. You'll soon meet all the other fresh ingredients that balance this dish so beautifully.
Let's make it!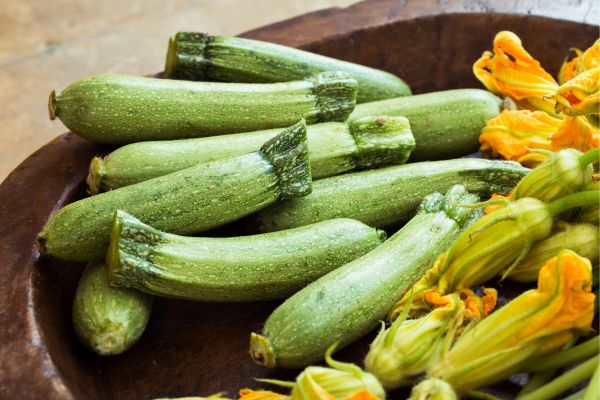 Italian Name for Zucchini
In Italy, we call them zucchina (singular) and zucchine (plural).
The word comes from zucca, which means pumpkin, and which like zucchini belongs to the Cucurbits family. So zucchini is actually a diminutive of zucca because the fruit is smaller in size.
Botanically speaking, they are both fruits because they belong to a flowering plant. In fact, both courgettes and pumpkin make beautiful flowers which can be also eaten.
Italians, really appreciate these which can be seen from the many recipes featuring them, the most popular being pasta with ricotta and fiori di zucchine (which means courgettes flowers) or fiori di zucchine stuffed with ricotta, dipped in a well seasoned egg and flour batter, and fried.
You might be surprised to hear this, but this plant is a fairly recent one. While squash comes from Southern America, the long cylindrical shapes fruit was first cultivated in Italy in the 19th century. That's probably why the American name is almost identical to the Italian one, where they were bred.
Most Popular Italian Dishes Featuring Courgettes
Before diving into today's recipe, let's have a quick look at the most iconic recipes which make use of this delicious vegetable (I'll call it that way, even though I know it's a fruit).
Did you know that this is actually the third most consumed vegetable in Italy?
This shows us that Italians really love them, and so do I.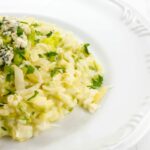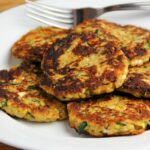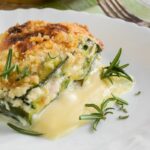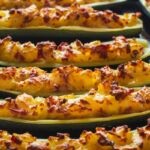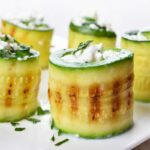 Here are the top 10 Italian recipes with courgettes
A simple penne with lemon and mint
Stuffed courgettes boats baked in the oven
Pan fried patties or polpette di zucchine
Risotto
White parmigiana
Fried and marinated, called zucchine alla Scapece
Stuffed rolls
Pesto
Pan fried or roasted for a simple side dish
If you want to eat more of them, the easiest way is to add them to your pasta; it's very likely the will go with your sauce because they are so plain. The second way is to enjoy them into a sandwich, similarly to this fried eggplant sandwich.
Do They Eat Pasta Salads in Italy?
With the warm Summers we get, especially in the South, we surely do enjoy this dish cold throughout the warmer months.
These are especially appreciated when eating alfresco, whether it's a garden barbeque or a day at the beach.
As with most our dishes, we like to keep them simple and fresh, using high quality produce and pantry ingredients.
A staple of any Summer Italian pasta salad is certainly an exquisite extra virgin olive oil like Belmorso or Caroli Organic.
The next type of ingredient that's almost always in our bowl is a jarred vegetable. This could be olives, or sundried tomatoes, or artichokes, and even courgettes.
Fresh herbs are preferred. As for the best Italian dressing for pasta salad, we just use EVOO and sometimes a great balsamic vinegar of Modena. In today's recipe we are using Saporoso, an earthy tasting condiment that's perfect for dressings.
To make a zesty Italian dressing simply mix 1 teaspoon of lemon juice for every one tablespoon of extra virgin olive oil. And if you like a creamy Italian dressing, you can mix in a cream cheese to it like Philadelphia or add mayonnaise.
The two most eaten variations of this dish are the following ones:
One with fresh vegetables, jarred vegetables, tuna and a simple dressing (like this insalata di riso)
Pesto, tomatoes and mozzarella is the other popular pasta salad.
Italian Summer Pasta Dishes for Dinner
If like me, you don't mind eating a regular plate of penne or spaghetti during the hotter months, even if it's warm, here are a few dinner ideas to inspire you.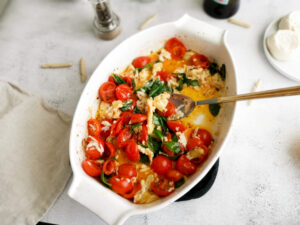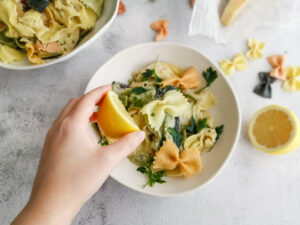 Tiktok Strozzapreti Italian-style                           Lemon Artichoke Farfalle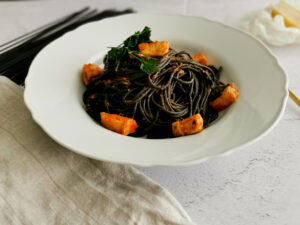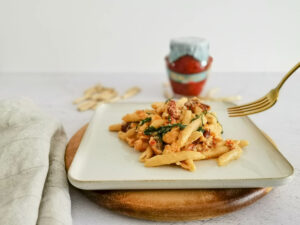 Black Squid Spaghetti                                  Creamy Salmon Strozzapreti
The key is to making a fresh Summer pasta is using a few ingredients that are fresh, as in they are actually coming from the fridge, and keep the cooking to a minimum. Plus, adding fresh herbs as well as either lemon or balsamic can add more freshness to a recipe.
Best Pasta Shapes for this Summer Dish
For cold dishes, shorter shapes are always the best. Choose between the more common ones like penne, farfalle, fusilli and rigatoni, or go for a more artisan shape like orecchiette, trofie, strozzapreti or calamari.
Read more about all the Italian pasta shapes here.
If you are going for a quickly cooked recipe like the ones I suggested above, I suggest using a longer shape like spaghetti or fettucce.
Recipe: Summer Pasta with Zucchini, Ricotta and Basil
It's finally come the time to actually make this Zucchini Summer Pasta with Italian dressing. I know you are craving it, after all the chatting about courgettes, cold dishes and Summer.
Go ahead and follow the steps on your screen, or print out the recipe card.
For this recipe we are using: Belmorso EVOO and Belmorso sundried tomatoes.
But the star of the show is Saporoso Balsamic Vinegar of Modena.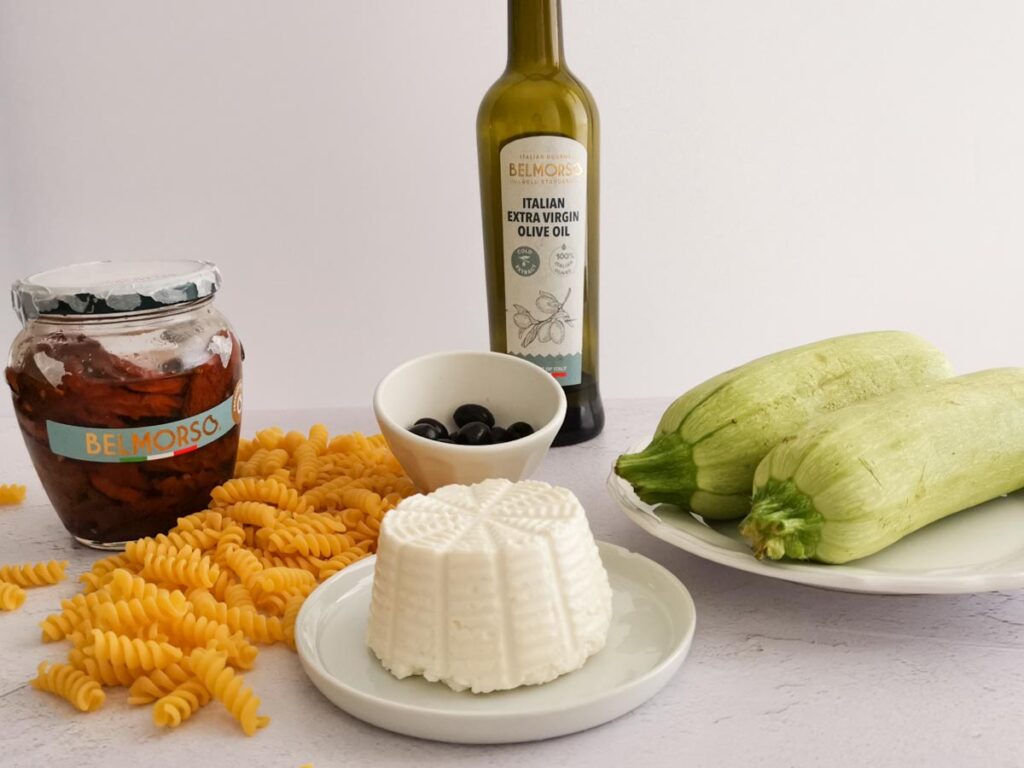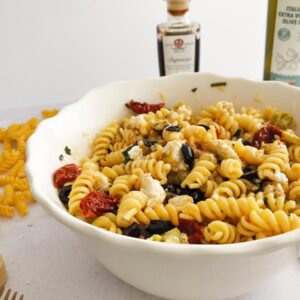 Summer Pasta with zucchini, ricotta and basil
A fresh and delicious Summer pasta with zucchini, ricotta and basil. You'll love it for weekday dinners and alfresco parties with friends.
Equipment
1 chopping board

1 chopping knife

1 oven dish

1 medium pot

1 large bowl
Ingredients
400

gr

Fusilloni or regular fusilli

2

medium

courgettes

250

gr

ricotta

2

handfuls

fresh basil or frozen

we are using some we previously froze

7

black olives

7

Belmorso sundried tomatoes

parmesan cheese

salt and pepper

Belmorso Extra Virgin Olive Oil

Saporoso balsamic vinegar of Modena
Instructions
Wash, peel and cut your zucchini into medium cubes or triangles.

Transfer to a dish, season and drizzle with EVOO. Bake in a pre-heated oven for 40 to 50 minutes.

In the meantime, you can take your sundried tomatoes and olives and cut them. Put them into a bowl for later.

15 minutes before your zucchini are due to be ready you can start boiling the water for your fusilli. Don't forget to salt it generously.

Then add the fusilli or fusilloni to boil, following the packaging instructions. I'd suggest you leave it 2 minutes less than what is says, as we want them to be aldente.

Take the courgettes out of the oven.

Drain the fusilli and transfer to a large bowl. Season and drizzle plenty of EVOO.

Leave the fusilli to cool for 15 minutes, then add the basil and mix.

It's now time to make your summer healthy pasta salad. Gather all ingredients around you.

Next add the ricotta broken into pieces.

Drizzle some Saporoso balsamic vinegar of Modena, about 2 tablespoons.

Add the sundried tomatoes and olives and mix everything.

Take your summer garden pasta to the table and serve. Buon appetito!
Notes
Don't be put off by the long cooking time. If you cook the zucchini ahead of time, the actual cooking of this pasta salad is a fairly quick one
Your Summer pasta with zucchini, ricotta and basil is ready to enjoy. What wine will you pair it with?
I suggest a Chardonnay, a Sauvignon, or a Trebbiano wine.
Zucchini Recipes with Ricotta from the Archives
Next time you are craving zucchini, don't limit yourself to this recipe. Try one of our recipes below:
Roulade of Courgettes and Ricotta
Italian Zucchini Fritters with Herbs
More Ricotta Recipes You Need to Try (independently of the season)
If it's actually the ricotta that you love the most, make sure you try making these three recipes at home.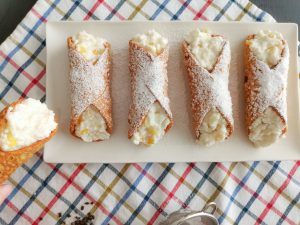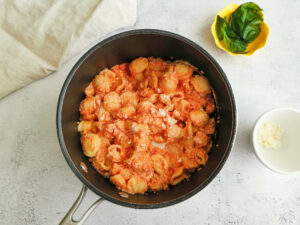 Why is Pasta Salad Better the Next Day?
In this section I'll answer the most common questions about Summer Pasta with Zucchini, Ricotta and Basil as well as any other related questions.
What vegetables are in season now in Ireland?
The best way to know is to head to the Irish Food Board website.
Is Italian dressing vegan?
Yes. Italian dressing is actually vegan because both extra virgin olive oil and balsamic vinegar come from fruits.
Can Italian dressing go bad?
If you are making your own, we suggest mixing it fresh every time you are using it. However, you can keep it sealed in the fridge for a couple of days, if you prefer.
Is Italian dressing healthy?
A few drizzles of extra virgin olive and balsamic vinegar of Modena make a delicious Italian dressing that's much healthier than the pre-made one. Make sure you are using high quality EVOO and Balsamic to benefit from all the nutrients.
Is pasta salad better warm or cold?
Pasta salads are usually served and enjoyed cold. However, there are a few that are as delicious cold as they are warm. The one we are making today can be enjoyed both ways. It's usually your dressing that will determine whether you should eat it cold. For example, mayonnaise would not really taste that good warm but extra virgin olive oil and balsamic do.
Is it better to make pasta salad the day before?
If you plan to eat it cold, then making it the day before will give it enough time to stay in the fridge overnight. Also, if you plan to take with you to the beach or to a picnic, making it the day before will save you time and hassle on the day. Finally, pasta salads tend to taste better the next day because all the ingredients have marinated together. Having said all of this, you can still make it on the day and enjoy it right after. You can then eat the leftovers the following day.
What do you eat with pasta salad?
Pasta salad is a full meal on its own. Italians don't like to serve pasta with anything else in the same plate, but if that's your thing, feel free to serve it with some grilled chicken or fish.
How do you cool down pasta for pasta salad?
Once cooked, drain it and transfer to a bowl. Then season and drizzle plenty of extra virgin olive oil. Mix and let it rest on the counter until it reaches room temperature.
How long should you keep pasta salad in the fridge?
We suggest consuming pasta salads withing 3 to 4 days. However, the ingredients in your recipe will determine the exact number of days.
Is zucchini same as courgettes?
Yes, zucchini is the American name which comes from the Italian name zucchine. Whereas, courgettes it's the French name, which is also used in the British language.
Do you have to peel zucchini?
You can peel them, and most people usually do, but you don't have to. As long as you eliminate the ends, wash the skin well, and make sure the vegetable you are using is fresh, you are good to go with the peel on.
Is zucchini better raw or cooked?
It all depends on your diet preferences. If you are going to eat raw, just make sure it's coming from a known source, or at least peel it. In terms of nutritional benefits, there's not much difference in what you get whether you eat them raw or cooked.
What is the word for cold pasta in Italian?
Italians call cold pasta pasta fredda (fredda means cold) or insalata di pasta, as usually most cold pasta are in the form of a pasta salad. Another way to call it, would be pasta estiva if you want to refer to it as Summer pasta.