Tomato mushroom pasta is a healthy yet delicious pasta that's vegetarian and low in calories. This is ideal for weekdays when you are craving a plate of pasta but want to keep your meal nutritious and guilt free. Our version is a simpler and a vegetarian version of the popular Tuscan Boscaiola recipe.
What to expect: take a bite of penne aldente and be surprised by the creaminess of this pasta and the tasty earthy flavours. Your bite will probably include a chunky piece of mushroom and soft piece of cherry tomato. The combination is gorgeous, and will keep you wanting for more.
Mushroom Pasta Italian Name
As we are making mushroom pasta the Italian way, it's only right we start with its Italian name.
Mushroom pasta is referred to as "pasta ai funghi" or "pasta con funghi", one meaning mushrooms pasta and the other translating to pasta with mushrooms.
If you want to be specific as to the type of pasta you are using, you would call the one we are making today "penne con funghi e pomodorini", which translates to penne with mushrooms and cherry tomatoes.
Yes, cherry tomatoes are called pomodorini because they are tiny tomatoes, and that's exactly what pomodorini means. It's a diminutive of the main noun tomatoes, which we call pomodori.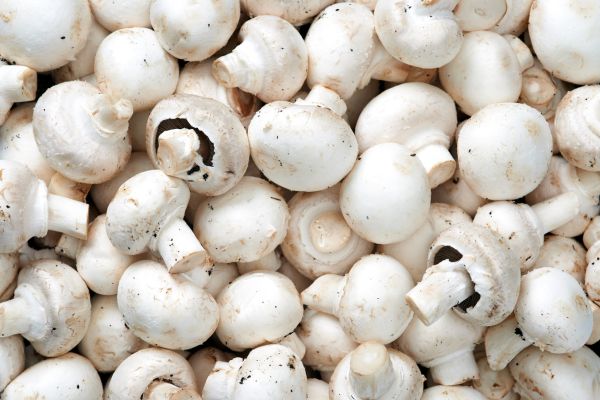 Do Italians eat pasta with mushrooms?
Of course, we do. Italians love cooking with mushrooms, and we like to put them in our pasta, in our main courses, in pizza and starters too.
We actually like them so much that we eat much more than we produce, even if Italy is the 7th largest mushrooms producer in Europe.
Here's some interesting data I found on  Plantgest (this data seems to have been collected in 2018).
Italy produces 62 thousand tons of mushrooms, 54k to be sold fresh and the remaining 8 for further processing
However, Italy consumed over 75k of mushrooms per year as at 2018, which means that it had to import some too.
It probably imported them from the largest producers which are China and the US globally, and the Netherlands, France and Spain within the continent.
Worldwide production of mushrooms is expected to grow from 12.7k in 2018 to 20 million tons till 2026.
Actual global production grew 13.8 fold to 42.8 millions tons until the year 2020 (data from Frontiers)
Production in Italy remained steady with around 62 k tons produced in 2022
It's clear that both Italians and all other countries have been consuming more and more mushrooms. The reasons behind this are clear: first, more and more people have turned to a vegetarian and vegan diet which involves a higher consumption of all vegetables, including mushrooms; second, mushrooms have become known as a superfood over the last year, which makes more people want to consume them in larger quantities.
How do Italians eat mushrooms?
Below you'll find the 10 most loved Italian recipes with mushrooms.
A simple side dish with caramelized onions and mushrooms, sometimes with the addition of peas, bacon, and tomatoes;
Pasta ai funghi e panna, which means pasta with mushrooms and cream (vegetarian & vegan);
The Tuscan Pasta alla Boscaiola which is similar to pasta ai funghi e panna, with the addition of bacon, sausage meat, tomatoes and peas;
Carne con funghi or beef and mushrooms is a dish loved by Italian for weekday dinners, simply made with mushrooms, onions and beef strips;
Funghi trifolati is another simple side dish made with fresh mushrooms, sautéed in garlic and EVOO, with a handful of parsley;
Risotto ai funghi is another Italian classic, mushrooms risotto;
Scaloppine ai funghi is beef fillets cooked in a mushroom sauce;
Funghi ripieni is baked stuffed mushrooms with a meat or vegetarian filling;
Funghi e polenta, a quintessential north Italian dish;
Grilled mushrooms with extra virgin olive oil, garlic, parsley, and lemon juice dressing.
Here are two bonus recipes with mushrooms, which are also iconic Italian dishes: pizza ai funghi, or mushrooms pizza, and Capricciosa which also has this vegetable.
Italian Mushrooms Types & Varieties
Now that we have confirmed that Italians love their mushrooms, and also know how they cook with them, let's look into which types of mushrooms they use.
Many types of mushrooms grow in Italy, apparently as high as 400 species, between wild and cultivated.
Notwithstanding the above fact, below are the 8 types of mushrooms that Italians consume the most.
Champignons or Prataioli, the most commonly available in the supermarkets; you can find them all year round as Italy cultivates a lot of this, about 75 % of its total production.
Porcini, one of the finest type; especially appreciated for risotto, with beef and side dishes.
Chiodini or Pioppini mushrooms are lovely simply pan fried, aka trifolati in Italian, as well as enjoyed with polenta. Italians love to preserve these and eat them with antipasti.
Finferli, delicious as a simple side dish or added to a fresh pasta like tagliatelle or ravioli. These are available in Summer.
Pleurotus Ostreatus, or oyster mushroom, is another common one that's cultivated in Italy. These are delicious grilled and enjoyed with a simple dressing. They are also perfect to make a vegetarian or vegan cotoletta.
Truffles of course, both white and black, as Italy is the largest producer of truffles. Truffle risotto, polenta cakes with truffle, truffle ravioli, and white truffle pizza are among the favourite Italian dishes featuring this precious food.
Shiitake
Morchella
These are surely similar to what others around the world also consume. That's because these types are commonly available in supermarkets, and are known to be safe for eating.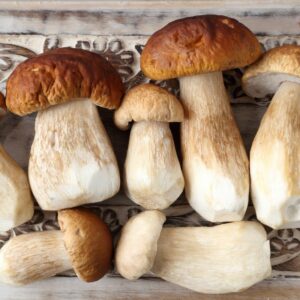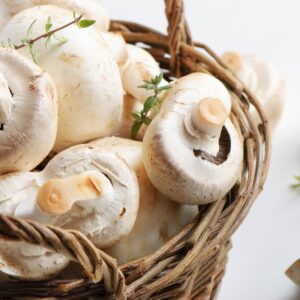 Best Mushrooms for Pasta
The two best mushroom varieties for cooking with pasta are the following ones:
Porcini, a fine variety that are very meaty and flavourful.
Champignons or Portobello, the most affordable and widely available.
These are also the two types most commonly used in Italian kitchens, so it's likely that the recipes you find call for one of them. If it does, feel free to replace it with the other one.
If you want to elevate your dish further, consider the finferli kind, as well as adding a touch of truffle to finish your dish. You can also use our Truffle Infused EVOO.
Mushroom Pasta Ingredients
The ingredients you'll need for your mushroom pasta depend on the recipe you are making. Today, I will give you the ingredients for the recipe we will be making, as well as the two common variations – pasta ai funghi e panna and boscaiola.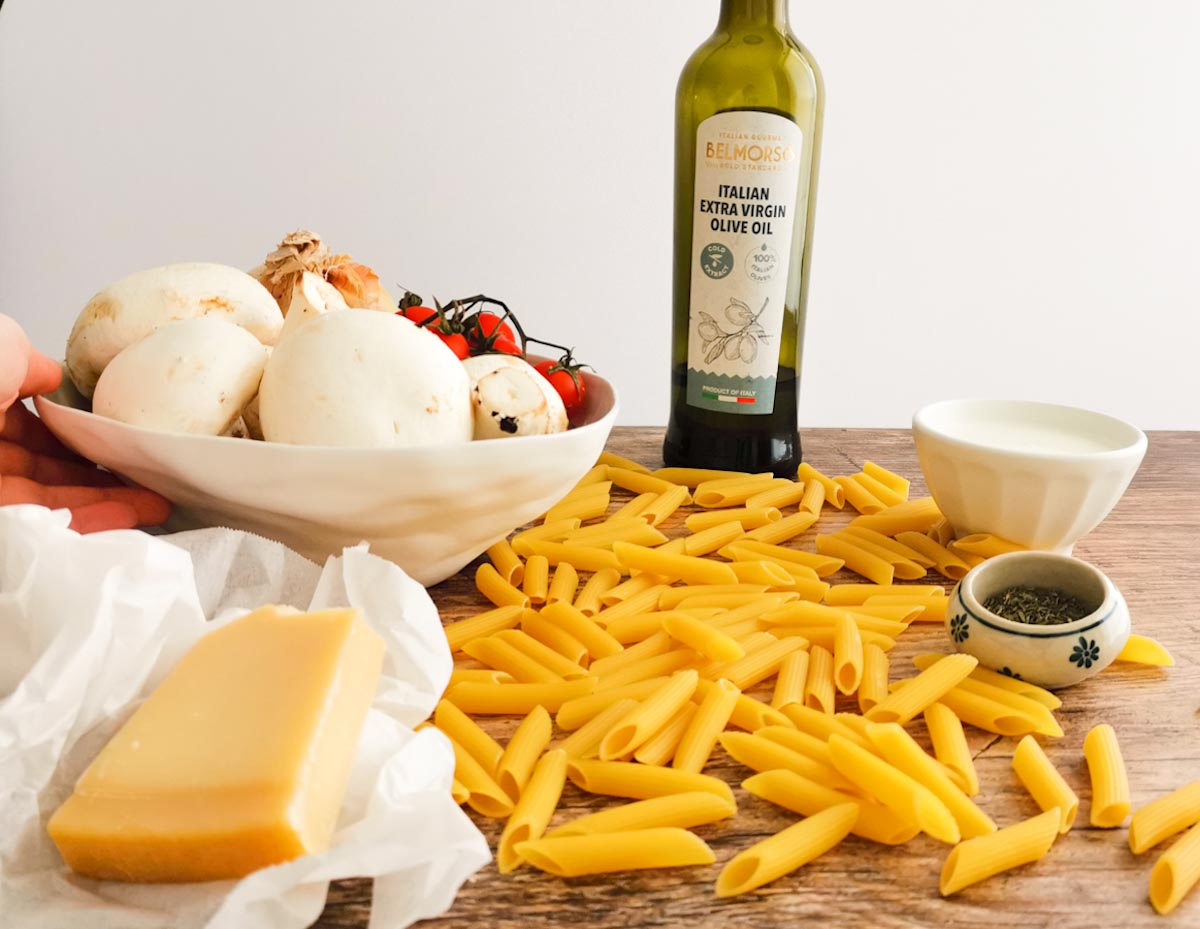 Mushrooms, champignon or porcini
Pasta, penne or tagliatelle are the most common
Onion
Cherry tomatoes
Extra virgin olive oil, a high quality one like Belmorso
Cooking cream or panna in Italian (I always use lactose free, but you can use regular)
salt, pepper, thyme and fresh parsley
parmesan cheese
For the classic Pasta ai funghi e panna, you'll need these ingredients: penne, porcini mushrooms, cooking cream, bacon, salt, pepper, a pinch of nutmeg, extra virgin olive oil and parsley.
Whereas, for the Tuscan Boscaiola variation you'll need these: tagliatelle dry or fresh, porcini mushrooms, onion, bacon, sausage, white wine, passata or chopped tomatoes, salt and pepper, fresh parsley, parmesan and the optional peas.
You can see how the difference in ingredients is minimal, with pasta ai funghi and the one we are making today being almost identical. The one key ingredient change is the use of cherry tomatoes for the vegetarian recipe and the use of bacon for the classic one.
Boscaiola is the perfect recipe for Sundays, especially if you serve it with fresh tagliatelle.
6 Tips to Elevate Your Mushroom Pasta
Mushroom pasta is a simple recipe that can be elevated not by adding extra ingredients but by using high quality ones. After all, that's the underlying concept of Italian cuisine, so apologies if you find that I keep repeating it.
Here's how to take yours to the next level:
Use porcini instead of portobello
Use an artisan penne pasta
Use a high quality extra virgin olive oil that's great for cooking like Belmorso EVOO
Use cherry tomatoes instead of regular tomatoes
Use parmesan instead of grana padano
Use fresh parsley and thyme (although the latter is optional)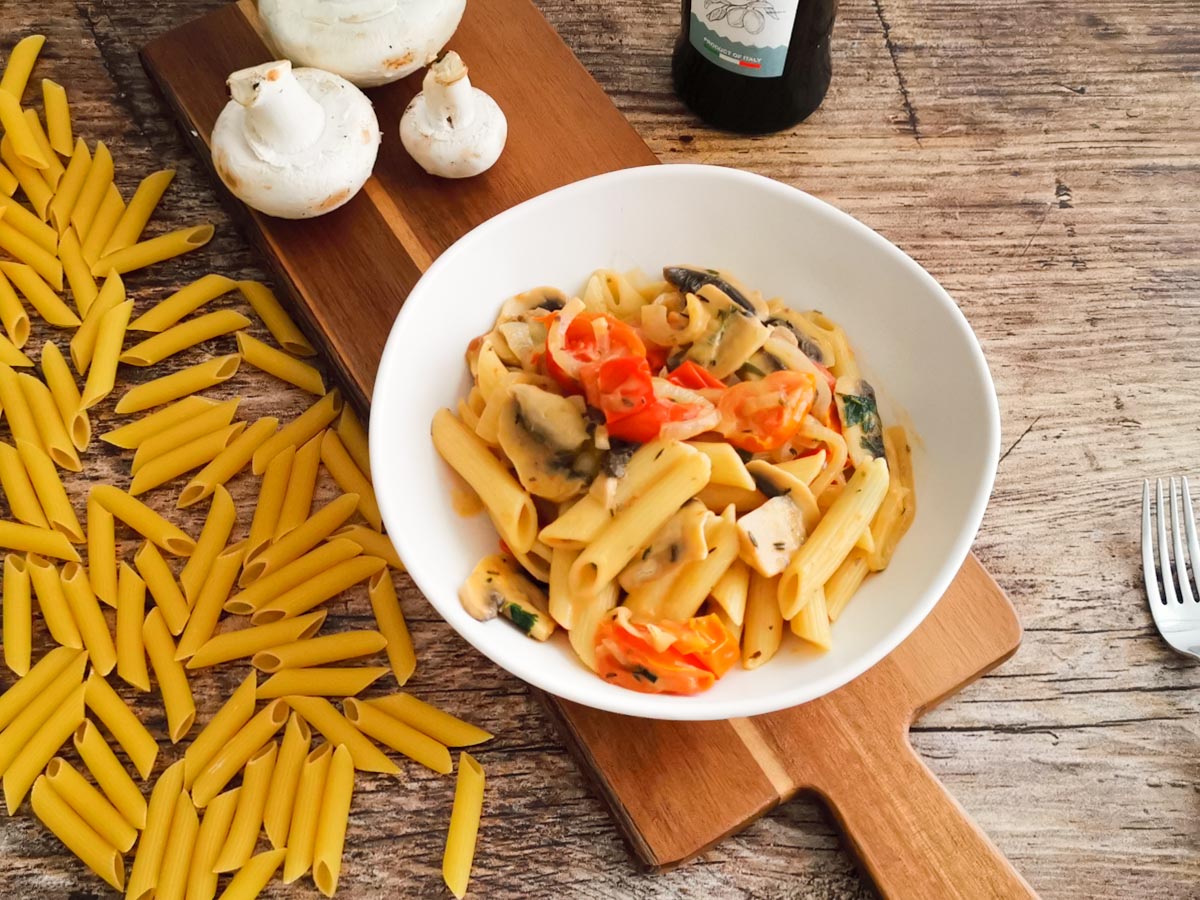 Mushrooms Pasta Recipe
Now that you know all of that, you are going to master this recipe. Let's make it.
Use the recipe card below on screen, or print it out if you prefer.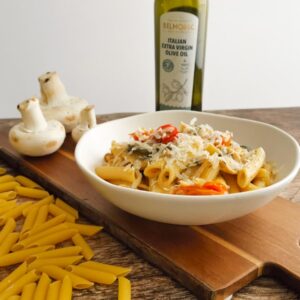 Tomato Mushroom Pasta with Artisan Penne and EVOO
Tomato mushroom pasta is a delicious vegetarian weekday meal that's healthy, nutritious and low in calories. Try it!
Equipment
1 chopping board

1 chopping knife

1 medium pot

1 large pot

1 grater
Ingredients
5

large

champignon mushrooms

also known as portobello or button

320

gr

Belmorso Artisan Penne

1

bowl

cherry tomatoes

about 350 gr

70

ml

cooking cream

salt and pepper

thyme

dry or fresh

fresh parsley

parmesan cheese

Belmorso Extra Virgin Olive Oil
Instructions
Peel and chop the onions.

Clean, peel and slice your mushrooms; transfer them to a bowl.

Cut the cherry tomatoes in half and place them in a bowl.

Start with sautéing your onions in your medium sized pot with a generous drizzle of Belmorso extra virgin olive oil.

Boil the water for your pasta in your large pot with plenty of salt.

Once your onions have started to caramelize, you can add the cherry tomatoes and mushrooms. Leave to cook until the mushrooms are as tender as you like them.

Season your mushrooms with salt, pepper and the thyme.

Then add the cooking cream and the fresh parsley. Mix and take the sauce off the heat.

Drain the pasta and add it to your sauce pot. Mix well and serve.

Finish your tomato mushroom pasta with a generous grating of parmesan cheese.
Notes
As you can see, this is a low calorie pasta. If you want to cut the calories further, simply reduce your pasta portion.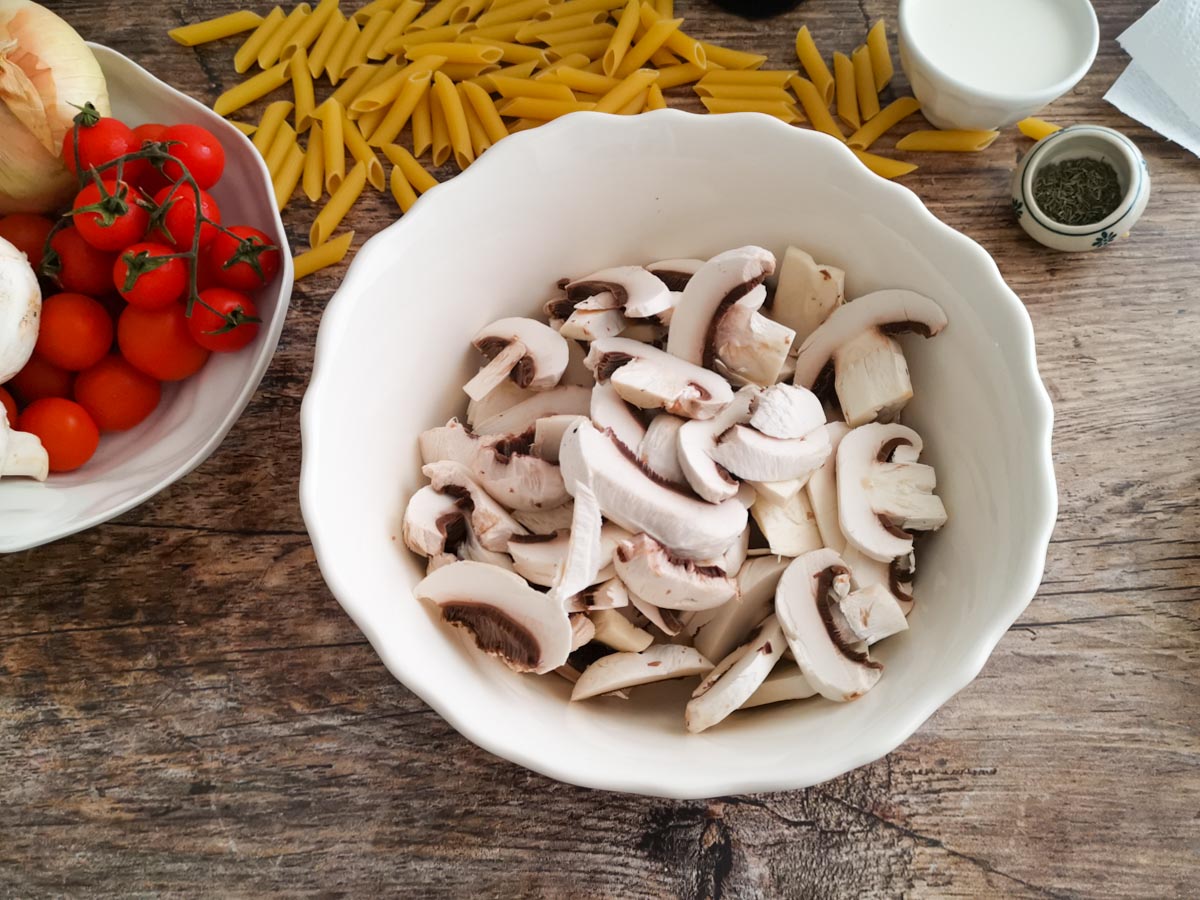 What goes well with mushrooms? and other common questions
What goes well with mushrooms?
Mushrooms pair well with different food groups. Among the grains you find rice, dry pasta, fresh egg pasta especially tagliatelle, polenta, bread, pizza, focaccia and savoury pastry dough. For the vegetables, pair them with onions, tomatoes, peas, and garlic to never go wrong. The best herbs are parsley, black pepper, chilli, and thyme. For protein, we suggest beef, bacon and sausage.
What enhances the flavour of mushrooms?
A great extra virgin olive oil enhances the flavour of mushrooms. So do garlic, onions, parsley, thyme, chilli and black pepper. Let's not forget truffle and mature cheeses like parmesan.
What herb or spice goes well with mushrooms?
Parsley, black pepper, nutmeg, chilli, thyme and marjoram are the best herbs and spices to pair with mushrooms.
How long should mushrooms be cooked for?
Usually, 10 minutes is enough to cook mushrooms. Feel free to cook them longer if you want to reduce their bite. Another great way to aid with the tenderness is to slice them thinly.
How long do mushrooms last in the fridge?
Mushrooms last in the fridge for under a week. I suggest using them within 3 days from purchase to enjoy them where they are still nice and fresh. To prolong the duration make sure to store them in the fridge as whole, without pre-washing, and ideally in a brown paper bag as that helps absorb any excess moisture.
Can we eat mushroom and tomato together?
Yes, you can eat mushrooms and tomatoes together. The only reason why some suggest you don't is that they are both high in water, so they will add excess liquids to your dish. That maybe a problem in a frittata or tart, but it's not an issue with other dishes like pasta and stir fries.
Which mushroom is good for pasta?
The most commonly used one is Portobello or Champignon mushroom. The other widely used is the finer Porcini mushroom. Other varieties like Finferli, Pleurotus Ostreatus, and Truffles are also great options.
Should mushrooms be sautéed before adding to spaghetti sauce?
If you are making a mushroom sauce you'll usually start with a base of onion and/or garlic. After sautéing those, you can proceed to sautéing your mushrooms. Doing that brings the flavour out of the mushrooms without overcooking them. You can then add your sauce, season and combine with your pasta similarly to what we are doing in this recipe.
How long does it take to cook mushrooms?
Usually, mushrooms like portobello and porcini take 10 to 15 minutes to cook in a pan with extra virgin olive oil.
What is the best way to cook mushrooms?
The best way to cook mushrooms is to sauté them in a pan with a high quality extra virgin olive oil like Belmorso, along with onions or garlic. Finish them off with salt, pepper and fresh parsley.
Can you cook raw mushrooms in sauce?
Yes, you can. Although, we suggest building your sauce starting with onion or garlic, then stir frying any additional ingredients like meat and vegetables, next adding the mushrooms, and finally pouring the liquid to make your sauce - whether that's passata or cream.
Do Italians eat mushrooms with pasta?
Yes, Italians love cooking pasta with mushrooms. The most popular pasta recipes are pasta ai funghi e panna, and boscaiola from Tuscany.
Which vegetables go well with mushrooms?
Onion, garlic, leeks, tomatoes, potatoes, and peas are the best vegetables to pair with mushrooms.
Is it better to overcook or undercook pasta?
Whether you are making a regular pasta dish, or you are cooking pasta for a pasta bake, it's always better to undercook pasta. That way, you can still finish cooking it in your pot when mixing in the sauce or in the oven if you are making a baked pasta. On the other hand, you won't be able to undo overcooking it.
Why do Italians like pasta al dente?
Because mushy pasta is not a pleasant think to look at, and certainly not delicious. Consider pasta as a vessel. It provides the texture to your dish, whereas the sauce provides the majority of the taste. If your pasta is mushy, you've lost the ideal texture and the entire dish is ruined. The sauce will taste starchy and not good.
How do I know when penne is done?
Always, follow your packing instructions and cook your pasta a minute or two less than what it says. That way, you'll finish the cooking when mixing in the sauce. To test whether your penne is done, the best way is to taste it while it's cooking.
Why is my penne pasta mushy?
Your penne pasta is mushy simple because you overcooked it. The overcooking usually happens when the pasta is boiling but it can also happen when you are mixing the sauce with the heat still on. Next time, make sure to follow the packaging instructions and cook it one or two minute less. Next, only leave it to heat for one or two minutes when you are mixing in the sauce.
What to do after straining pasta?
Before straining your pasta you want to set aside some cooking water. After straining it you simply need to transfer the pasta back to its pot and add in the sauce and some of the cooking water. Mix and serve with any garnish.
What is the opposite of al dente?
The opposite of al dente is mushy pasta. We call that pasta scotta in Italian. That's a big no no for us. Italians do not eat overcooked pasta, unless we have just gone to the dentist or have a chewing or swallowing issue, in which case we would probably be eating soup.
How do you know if pasta is overdone or underdone?
The best and easiest way to tell if your pasta is overcooked or undercooked is to taste it while it's cooking. I suggest leaving 7 minutes and then you can start tasting it. Before that you can test it by inserting a fork and feeling how hard or soft it is.