Today's sun-dried tomato pesto pasta bake is a versatile dish that you can enjoy throughout the year, including Summer and Winter. The fresh ingredients make it a perfect Summer dish that can be enjoyed cold. Yet, if you enjoy it right out of the oven is a great one for colder days, especially with the goodness of the sun dried tomatoes.
What to expect: bite into the crispy orecchiette coated with warm sundried tomato pesto that's oozing with flavour; you'll soon meet a piece of olive and basil, all wrapped in the beautiful vegan cream cheese. Can you believe this is vegan?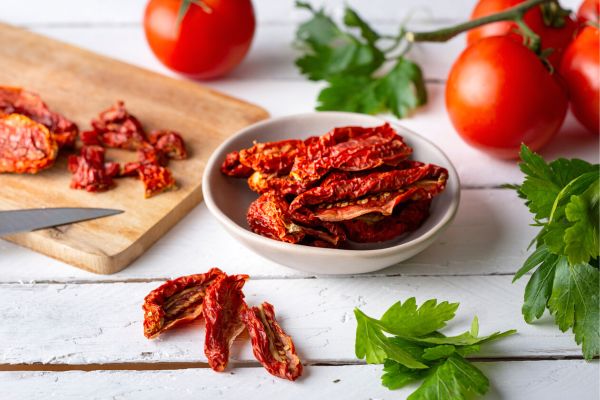 How to make sun dried tomato pesto?
To make sun dried tomato pesto you definitely need sun dried tomatoes. All you need to add is extra virgin olive oil and your favourite Italian herbs, like basil.
If you want to make it richer, you can add garlic and nuts, such as pine nuts or almonds. Other variations include capers and anchovies.
Independently of how many ingredients you add, the secret to the most delicious red pesto is the quality of your main ingredient. We'll talk about this next.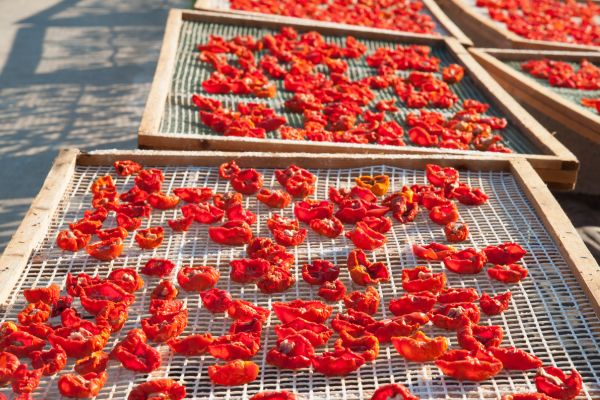 How are sun dried tomatoes made?
Sun dried tomatoes are made following the steps below:
Tomatoes are washed and cut into half, preferably vertically especially if they are elongated.
They are laid on a clean surface in the sun, one next to each other.
Each tomato is covered with salt, and left to dry in the sun until sunset.
At sunset, you'll need to take them in, and put them out again the next morning.
This process is repeated for about 10 days.
Obviously, a clean environment is essential for the quality of the final result; so is the right type and quantity of salt, as well as the right amount of sunshine.
However, the most important aspect is the type of tomatoes used.
What is the best type of tomatoes to make sun dried tomatoes?
In order to achieve the best result, you need your tomatoes to have a thick skin and flesh, and a low content of seeds and water.
The number one variety, that fits both criteria, is San Marzano.
Not only San Marzano are low in water and have a good skin consistency, but they are also the king of tomatoes when it comes to taste. They have the perfect balance between sweet and tart.
Their elongated shape also makes them perfect to be cut sideways and obtain large pieces of sun dried tomatoes, even after being dried.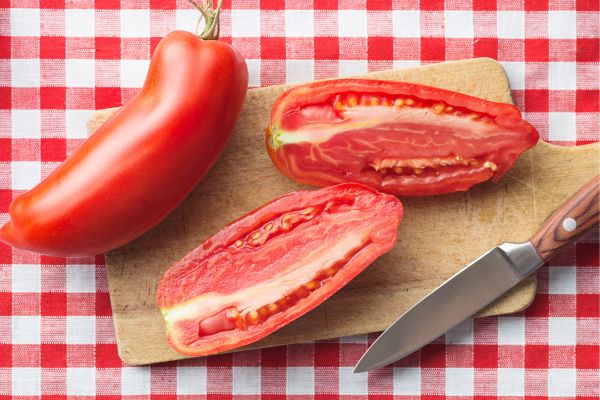 San Marzano Tomatoes: where to buy them
Have you heard about how delicious these are, tasted them in Italy, but can't find them here in Ireland or Europe?
If so, we are happy to let you know that we have a good variety of products featuring these precious vegetable.
Belmorso Sun dried Tomatoes – delicious tomato bites to add extra flavour to salads, panini, pizza, buddha bowls, stews, pasta, stuffed chicken and much more.
Belmorso Sun dried Tomato Paté – has a pesto consistency that's ideal for pasta, spread on bread or meats, and enjoyed as a dip or condiment.
If you are looking for a vegan sun dried tomato pesto without nuts, the above doesn't contain any.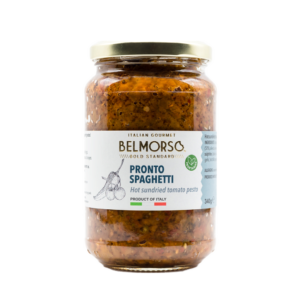 You might also like this pasta sauce:
Pronto Spaghetti with sun dried tomatoes – perfect to add to spaghetti or short pasta; you can also use it to dress protein and spread on bread.
Whichever you like, simply add to cart, buy it and we'll deliver your order to you within 5 days. You get free delivery on Ireland when you spend €50.
While you are shopping for these, don't forget to try our artisan Italian pasta made from exceptional 100% Italian durum wheat.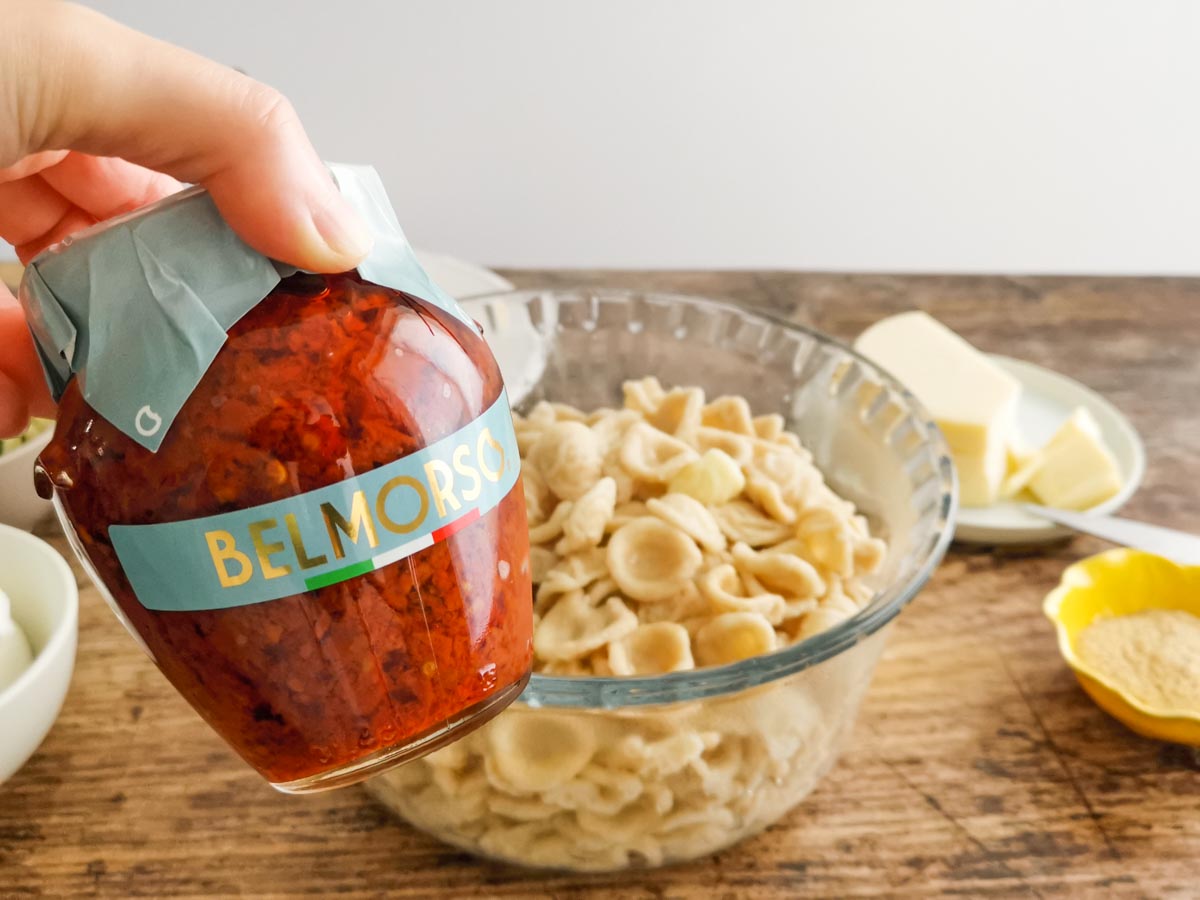 How to use Sun dried Tomato Pesto?
There are at least one thousand ways you can use it, whether raw or cooked. If you like tomatoes, salty food and high quality produce you'll love this one.
Make pasta with it
As we are doing in this recipe, you can use it to make pasta both regular, pasta salads and bakes.
Here's another recipe to try next: Creamy salmon pasta lactose-free (leave the salmon out to make the recipe vegan).
Panini and Appetizers
Try it as a spread on a healthy ham and mozzarella sandwich.
Fill your puff pastry savoury croissants with it.
More sun dried tomato pesto recipe ideas
Vegetarian sun dried tomato pesto mozzarella sandwich
Vegan sun dried tomato pesto bruschetta
Sundried tomato pesto focaccia with olives and artichokes
A fresh sun dried tomato pesto salad with rucola, mozzarella balls, marinated tofu and roasted potatoes (vegetarian)
Sundried tomato pesto cream sauce
Baked sun dried tomato pesto salmon (pescatarian)
Grilled cheese sundried tomato pesto panini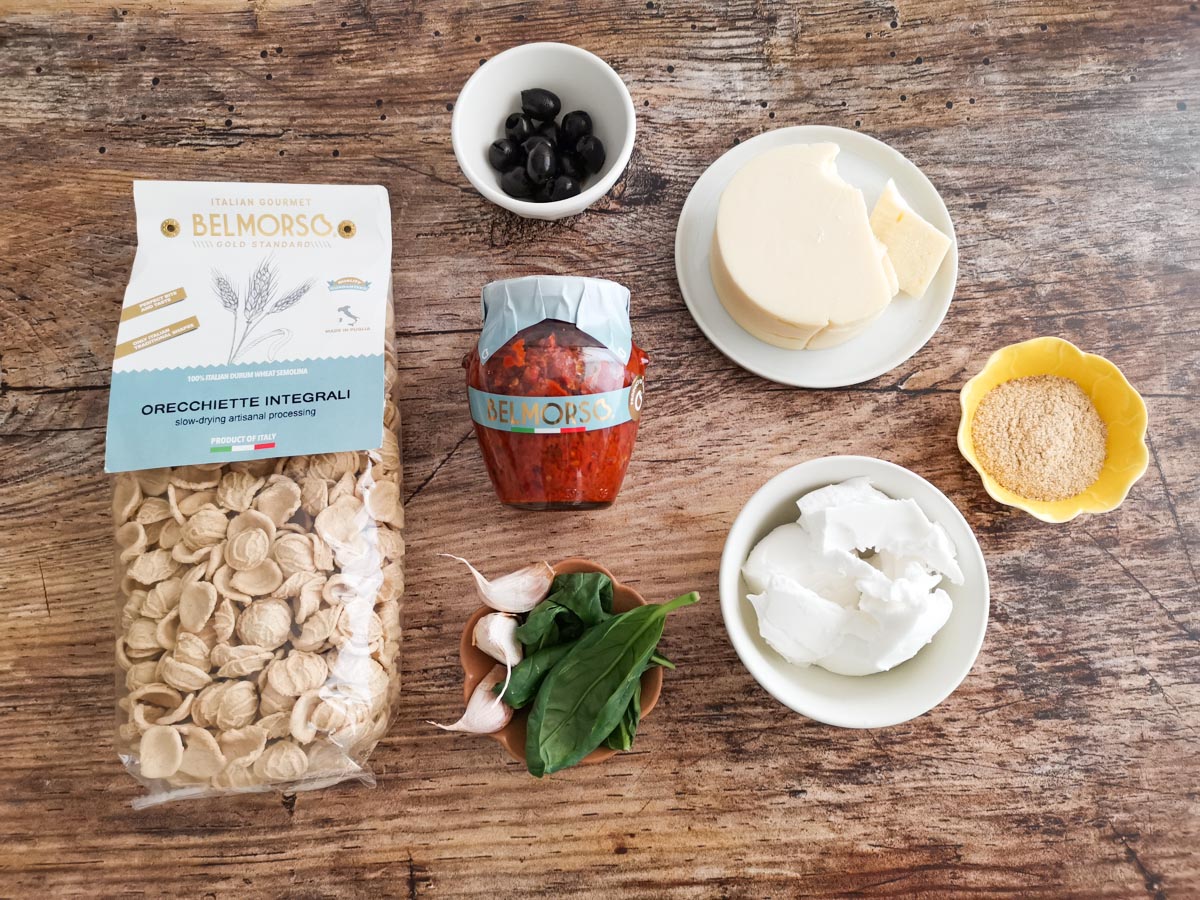 Ingredients for Pasta Bake with Sun dried Tomatoes
These are all the ingredients you need to make this one dish pasta bake.
Belmorso Sun dried tomato pesto
Belmorso Orecchiette Pasta – I am using wholemeal
Black olives
Garlic
Fresh basil (dry will do too)
Vegan cream cheese
Vegan parmesan
Breadcrumbs
Belmorso EVOO for oiling the dish and drizzling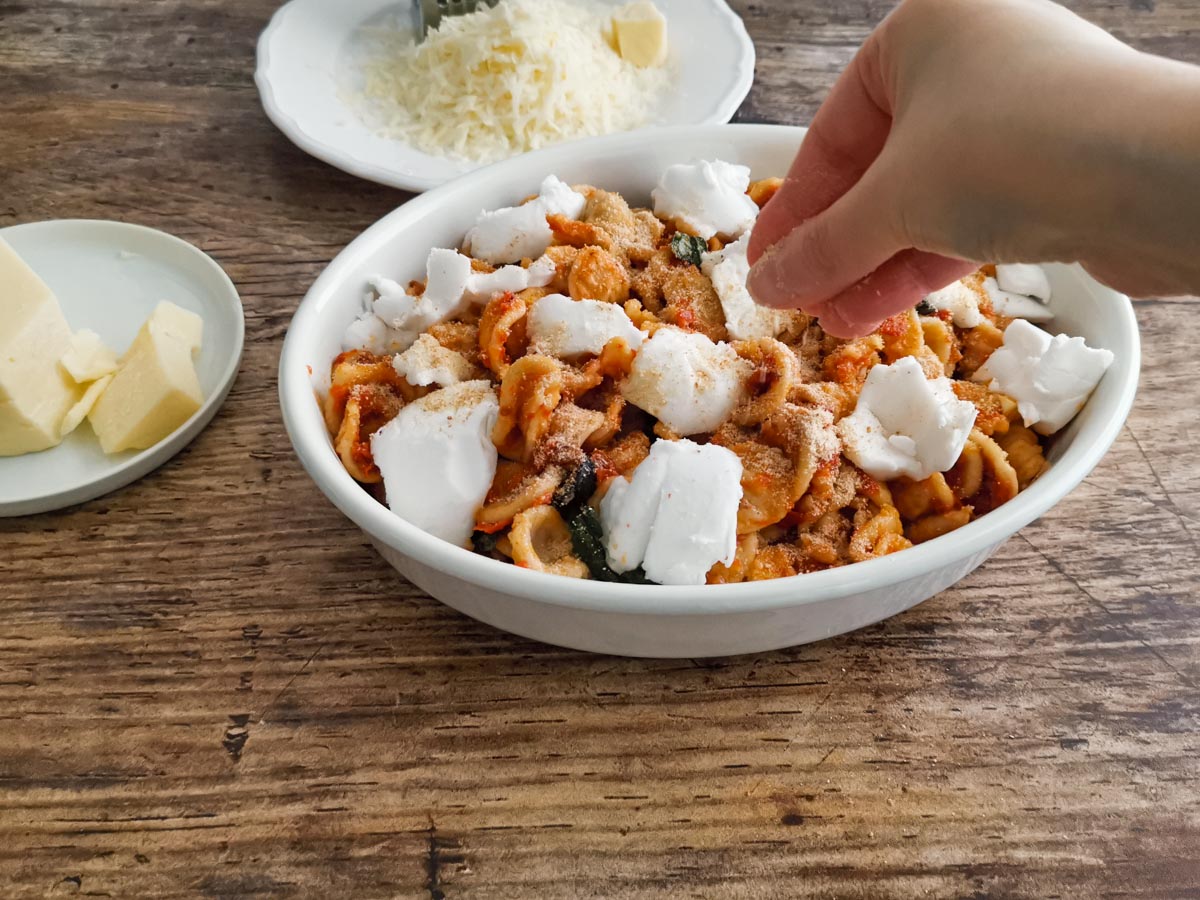 One Pan Sun dried Tomato Pasta Recipe
It's time to finally make this incredible, simple and quick pasta bake.
Please note that we are making this pasta bake without cream. Should you wish to also make it without cheese, you'll need to add more pasta water and more extra virgin olive oil. The result will be not creamy but still tasty.
To make your pasta bake creamy to the max, simply add more cream cheese 5 minutes before taking it out of the oven.
If you prefer making a chicken sundried tomato pasta bake, all you need to do is add your pre-cooked chicken mixed in with the pasta. You can also use raw minced chicken but if you do we suggest using a small amount and spreading it evenly, so it can cook quickly.
Follow the recipe below step by step on your device; if you prefer, you can also print it out.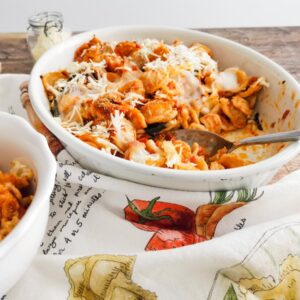 Sun dried tomato pesto pasta bake Vegan
You won't believe this is vegan. Bite into the crispy orecchiette coated with sun dried tomato pesto full of flavour.
Equipment
1 grater

1 pasta strainer
Ingredients
250

gr

Belmorso Orecchiette Wholemeal

or regular

3

cloves

garlic

4

tbsp

Belmorso sun dried tomato paté

this has a pesto consistency

half

handful

black olives

adjust according to your preference

fresh basil

or dry

150

gr

vegan cream cheese

salt and pepper

Belmorso Extra Virgin Olive Oil

vegan parmesan cheese

breadcrumbs
Instructions
Boil water for pasta. Make sure to add plenty of water and salt.

In the meantime, mince the garlic and chop your olives.

Add the orecchiette to your boiling pot.

Grate your vegan parmesan next, unless you are using a pre-grated one.

Drain the pasta and save some cooking water.

Transfer the drained orecchiette back to the pot and add the pesto. Add some of the water you set aside, if and as needed.

Add the basil, garlic and olives you previously chopped.

Transfer the pasta to your baking dish, previously oiled with a high quality Italian EVOO.

Add dollops of vegan cream cheese, spread evenly throughout the dish.

Finish with the grated parmesan, sprinkle evenly across the entire casserole.

Take out of the oven and serve with a drizzle of Belmorso extra virgin olive oil and a crack of black pepper.
Notes
The above calories are for a large portion of this pasta. To lower the calories, simply take a smaller portion.
Are you supposed to cook sun-dried tomatoes?
In this final section, I am answering many questions that might come up when you are making this recipe. If you have more, ask them in the comments and I will get to them.
How long can you keep sun dried tomatoes?
Once open, sun dried tomatoes should last at least a month in the fridge or even longer. The key is to always handle the jar with a clean spoon or fork, close the lid tightly, and store them in the fridge.
How long does sun dried tomato pesto last?
Ours, like most sun dried tomato pesto, should last up to a week after being opened. Make sure to refrigerate it, and use a clean spoon every time you take some.
What is sun dried tomato pesto used for?
Sun dried tomato pesto is a very versatile product, a great one to use to add flavour when finishing a meal or while cooking one. Examples of its uses are: spread it on bread or focaccia, dip a tarallino or cracker in it, top your chicken with it, stuff chicken breast, use it to marinate meat, add it to meat or vegetarian sauces for extra taste, and use it to dress pasta.
How much pesto to use on pasta?
It is suggested you use 2 to 4 teaspoons of pesto for each portion of pasta, depending on how rich the pesto is and how flavourful you want your pasta to be.
How to make pasta bake?
To make pasta bake follow these steps:
boil your pasta
make your pasta sauce, or use a ready made jar like a pesto
mix the two together
add any extra ingredients like cheese and vegetables
transfer to a baking dish
finish with some cheese and optional bechamel
bake for 20 to 30 minutes
What is pasta bake?
Pasta bake is simple boiled pasta, coated with a sauce or pesto, and baked in the oven with extra cheese and any other ingredients you like. The result is a creamy but crispy pasta dish that you can serve out of your casserole.
Do you cook pasta before making pasta bake?
I suggest cooking pasta before making pasta bake because pasta needs liquid to cook, and you don't want to put a lot of liquid in your pasta bake. If you did cook pasta right in the oven you would risk it being still raw, or the top getting really burnt because of the time the pasta needs to cook.
How much pasta for pasta bake?
How much pasta you need depends on the portions you want to get from your pasta bake. The formula is to cook enough pasta and sauce for the desired portions. It's always a good idea to cook at least one extra portion, if not two. That way, you can have leftovers to store in the fridge or freezer.
How long does pasta bake take?
If you cook your pasta, and you are not using any raw meat, your pasta bake should bake in as little as 20 minutes. When you add raw meat, I suggest at least 30 to 40 minutes, in which case you want to undercook your pasta.
How long will pasta bake last in the fridge?
Pasta bake should last in the fridge for four days. You can also freeze it, which will make it last a couple of months.
Should pasta bake covered or uncovered?
You can bake your pasta uncovered if it only needs 20 minutes. For a longer cooking time, I suggest baking it in a lower level of the oven so the top doesn't burn quickly. Alternatively, you can cover it with foil.
Can you use sun dried tomato pesto instead of sundried tomatoes?
Yes, you surely can. Since the two taste almost the same, you'll get a similar result. The only things to keep in mind is that sun dried tomato pesto will add more flavour to the entire dish because it will coat every bite. Whereas a sundried tomato piece will only flavour the single bite that contains it. With that in mind, you should be mindful of the quantity of pesto vs sun dried tomatoes.
Are you supposed to cook sun-dried tomatoes?
You don't need to cook sun-dried tomatoes, the same way as you don't need to cook fresh tomatoes. You can eat both raw, and actually sun-dried tomatoes have been cooked through the natural process of salting and sun drying. However, feel free to add sun-dried tomatoes while you are cooking.
Do sun-dried tomatoes have to be refrigerated?
If their jar is still sealed, you can store sun-dried tomatoes in your pantry. Once you open the jar, they need to be refrigerated. If you are in a cold environment, like camping or a cabin, they will probably last even if you don't refrigerate them. Just make sure to handle them with a clean fork, and keep them away from the heat and sun.
What is sun dried tomato pesto made of?
The simplest sun dried tomato pesto is made of just sun dried tomatoes, oil and herbs. Others may also include nuts, anchovies, capers and other flavourful ingredients.
Do sun-dried tomatoes lose nutrients?
No, actually they gain lycopene from the process of sun drying. The latter is a powerful antioxidant that can provide sun protection and contributes to reducing risk of heart disease and cancer.