I you like pick and mix bowls, also called Buddha bowls, you'll love this Italian BBQ salmon bowl with a deconstructed cold polenta salad.
The best part is that you can batch cook the ingredients in larger quantities, and use them to create multiple and varied bowls for the following days.
What to expect: a fresh salad base with crispy extra virgin olive oil polenta bites and a delicious slice of salmon marinated with barbecue sauce. This bowl packs a lot of protein, it's nutritious and delicious.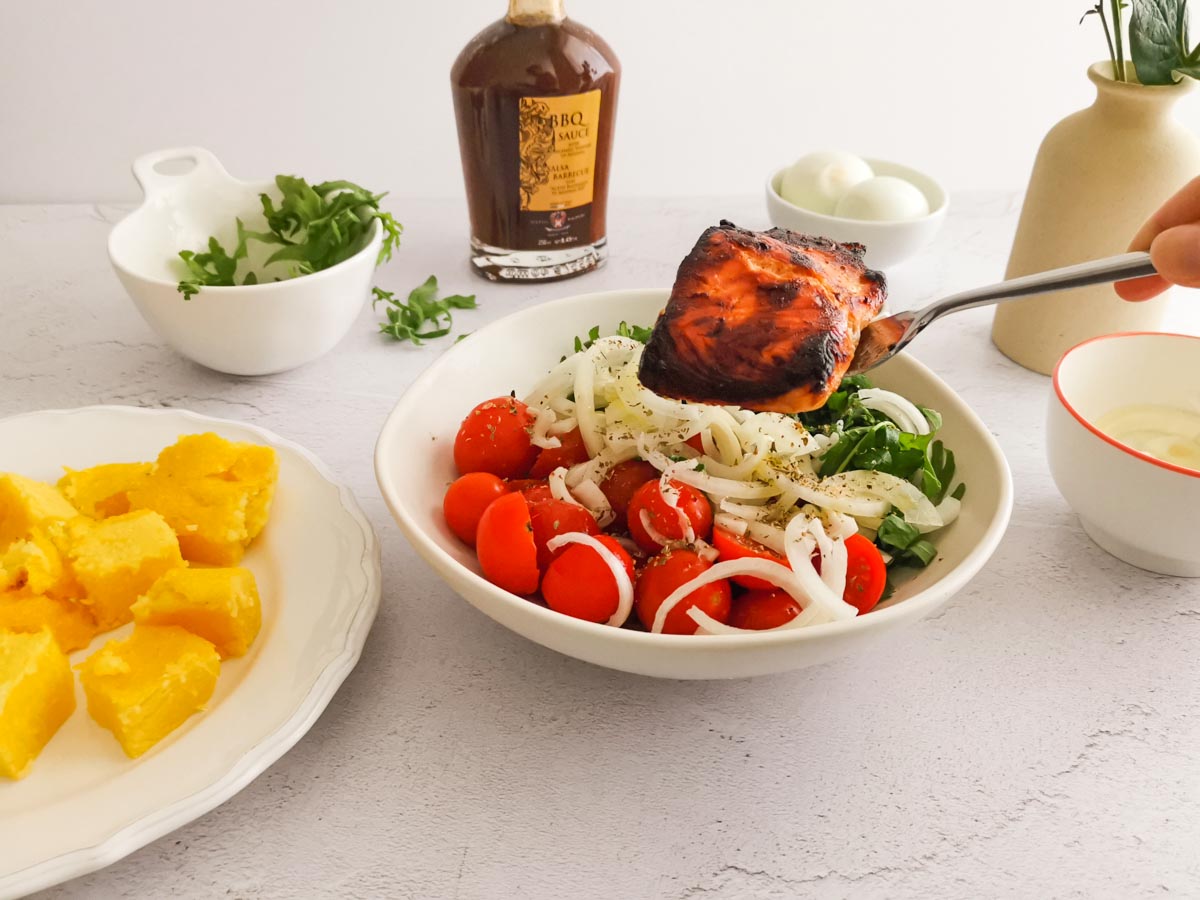 Oven Baked Salmon with Barbecue Sauce
Adding barbecue sauce to your salmon before baking it makes it extra flavourful and delicious, and it helps you switch up your dinner recipes.
Have you ever tried Balsamic Barbecue Sauce?
This is especially delicious with baked salmon because it gives it the richness of barbecue sauce and the beautiful fruity flavour of Balsamic Vinegar of Modena.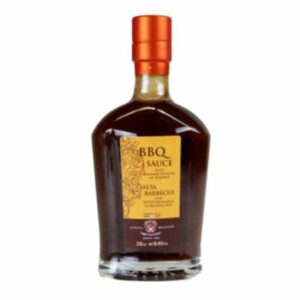 Here are the steps to make your oven baked salmon with barbecue sauce:
Wash your salmon and put it into a bowl
Add 2 to 3 tablespoons of this Balsamic Barbecue Sauce
Massage the sauce into the salmon using your hands or a kitchen brush
Leave to marinate in the fridge for an hour (or skip the waiting)
Transfer onto a dish with foil and bake uncovered in a pre-heated oven for 25 minutes at 180 degrees Celsius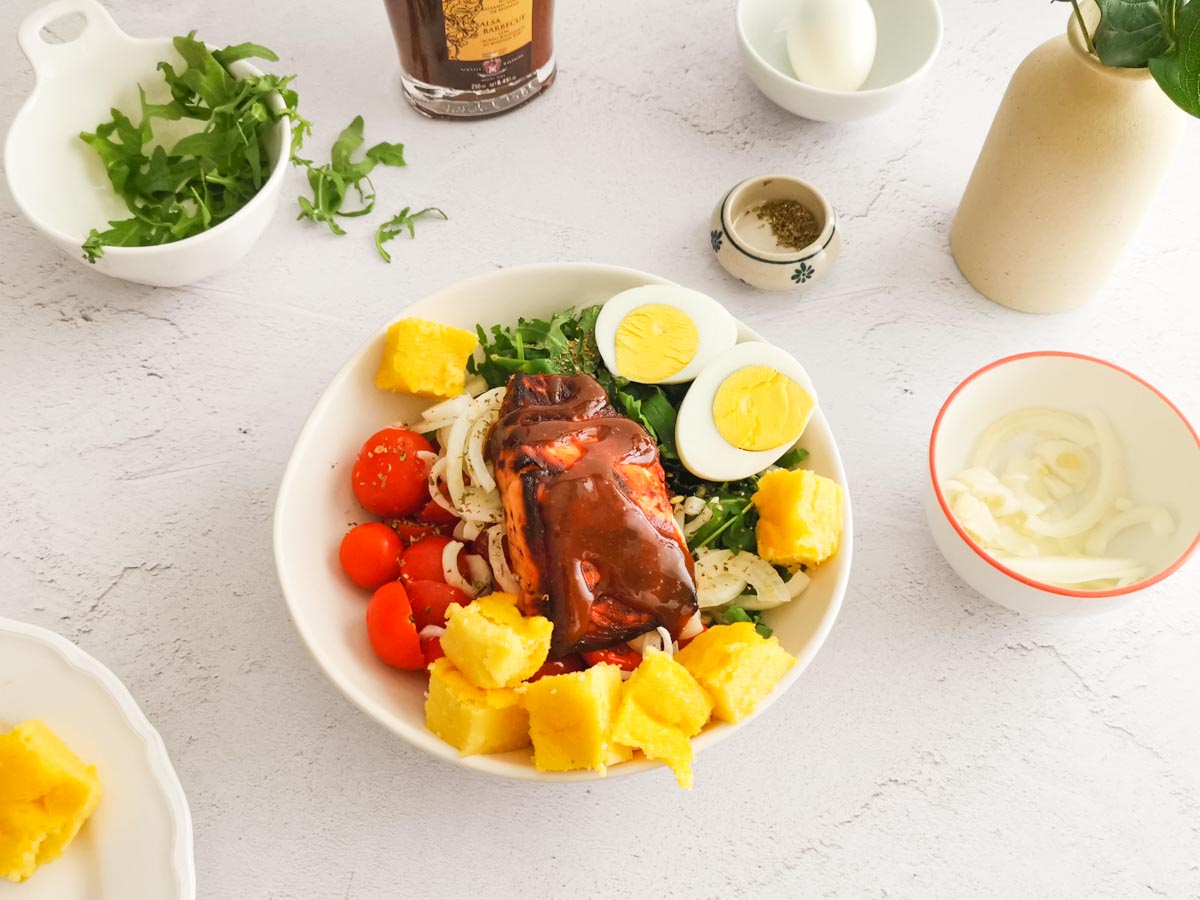 Barbecue Salmon Bowl Recipe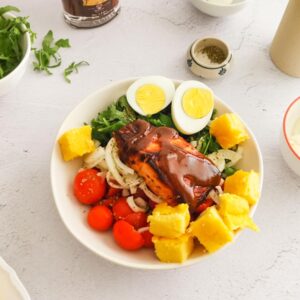 Italian BBQ Salmon Bowl with Cold Polenta Salad
This BBQ Salmon bowl is the perfect delicious and nutritious pick and mix bowl for Summer lunches and healthy dinners.
Equipment
1 medium bowl

1 chopping board

1 chopping knife

2 baking dishes

parchment paper

1 small pot

1 medium pot
Ingredients
2

slices

fresh salmon

200

gr

polenta

makes extra polenta so feel free to half the quantity

12

cherry

tomatoes

4

handfuls

rucola leaves

1

small

onion

2

medium

eggs

salt and pepper

dry oregano

3

tbsp

Balsamic Barbecue Sauce

Belmorso Extra Virgin Olive Oil
Instructions
Wash your salmon and add it to a bowl. Top with the balsamic barbecue sauce and massage the sauce in using your clean hands or a cooking brush.

Put the marinated barbecue salmon in the fridge for about an hour.

Add 750 ml water to a medium sized pot, and a generous amount of salt, about 2/3 of a teaspoon.

Let the water boil, and then add the polenta mix. You want to add 200 grams of polenta.

Add 2 tablespoons of Belmorso EVOO, some black pepper and stir in continuously for 3 minutes while the polenta thickens over the heat.

When thickened take it off the heat and pour it onto a square or rectangular dish on top of parchment paper. Leave to cool on the counter for at least 20 minutes.

Boil your eggs in a small pot.

Bake the polenta for at least 20 minutes in a pre-heated oven at 180 degrees Celsius.

Transfer your salmon slices to a dish with foil and bake in the oven alongside your polenta block. Leave the salmon for about 25 minutes.

Wash and cut the cherry tomatoes in half.

Wash and slice your onion thinly.

Take the salmon out and put the polenta under the grill for 5 minutes.

Assemble your BBQ salmon bowls by first adding a handful of rucola.

Then add the washed cherry tomatoes; you can leave them whole or cut them in half.

Top with the slices of onion.

Season, add the oregano and drizzle some Belmorso EVOO.

Add the salmon slice in the middle and put some extra barbecue sauce on top.

Cut your polenta block into small bites and add those in the bowl.

Slice your boiled egg and add that too with a little salt and black pepper on top.

It's time to enjoy your delicious BBQ salmon bowl. Don't forget to store the leftover polenta for the next day.
Notes
To cut the calories simply make a smaller portion. This is a very filling dish so you can have less polenta and a smaller slice of salmon and still feel full.
How many calories in a salmon bowl?
An extra large salmon bowl including the following ingredients – barbecue sauce, rucola, cherry tomatoes, an egg, raw onion, polenta bites, and extra virgin olive oil – has around 900 calories.
What kind of salad goes with salmon?
Salmon can be served with any type of green leafy salad, as well as warm and cold vegetables salads.
Your salad can include any of the following:
rucola, iceberg lettuce
cherry tomatoes
raw onions
roasted vegetables like potatoes, sweet potatoes, carrots, courgettes, broccoli
boiled eggs
assorted nuts like pine nuts or cashews
grains like quinoa, rice or polenta
seasoning and herbs like oregano, thyme, parsley
a simple dressing made with a high quality extra virgin olive oil like Belmorso EVOO
If you want to switch things up try serving your salmon with an Italian Cold Polenta Salad.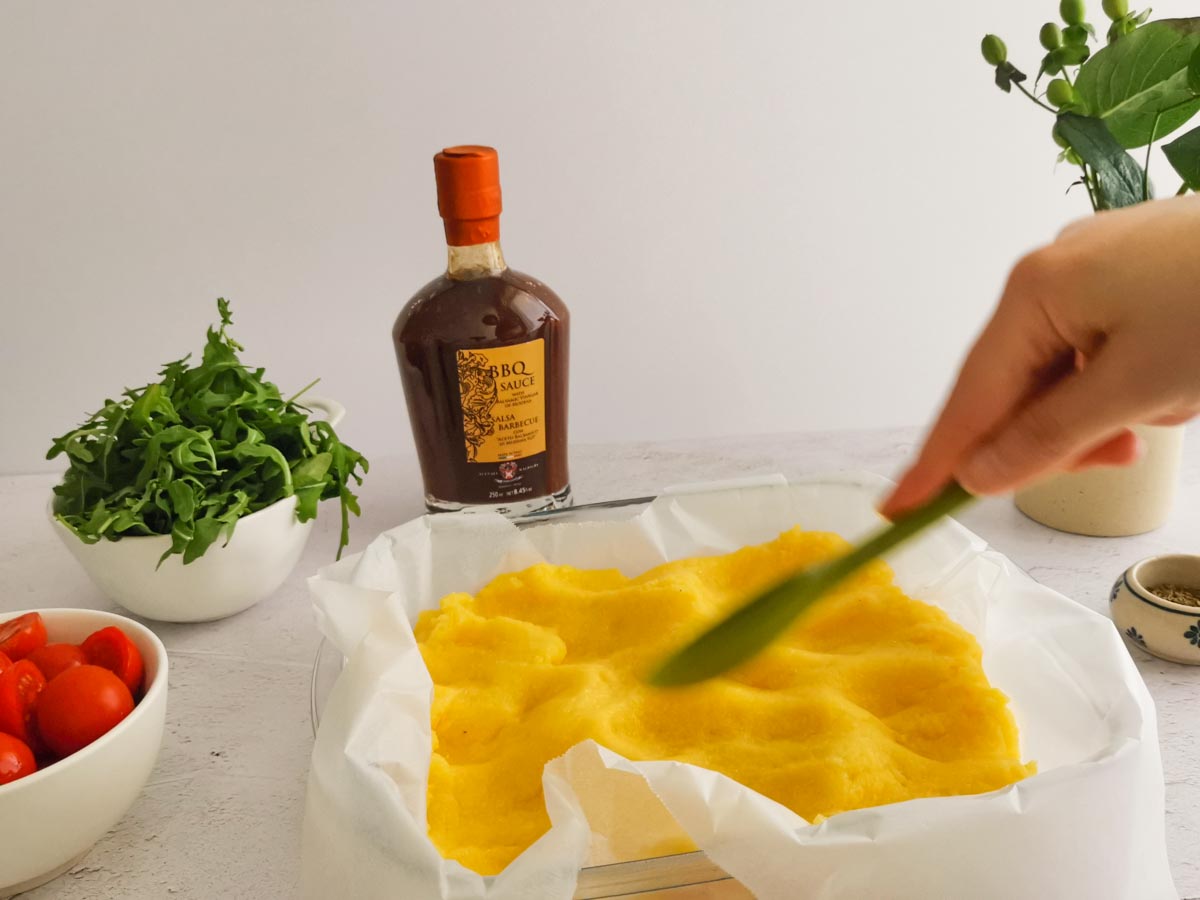 How to cook Polenta Block?
Polenta blocks are a great way to turn your polenta mash into crispy bites you can enjoy as a snack, in salads or as chips with your dinner.
Here are the steps to cook a polenta block:
Cook polenta following the packaging instructions, which is usually 4 parts water per 1 part polenta; make sure to stir continuously for about 3 minutes while your polenta thickens without lumps. I like to add some extra virgin olive oil, salt and pepper and nutmeg to mine while mixing.
Take the polenta off the heat and transfer onto a dish with parchment paper. Use a spatula to even out the top.
Leave it on your counter to cool for around an hour, or at least 30 minutes.
Bake in a pre-heated oven for 20 minutes at about 180 degrees Celsius, and then put it under the grill for 5 minutes.
Take it out of the oven, leave to cool for 20 minutes or longer, and then cut into small squares.
How to eat salmon for dinner?
If you love salmon, give our other salmon recipes a try. They are inspired by Italian cuisine, simple to make and really tasty.
Do you put oil on salmon before cooking?
You don't need to put oil on salmon before cooking it because it already has those healthy fats that will help it cook it without getting dry. So if you want to cut the calories, just drizzle a tablespoon of extra virgin olive oil when serving.
Is it better to cook salmon in foil or not?
Whether you should cook your salmon in foil or not depends on the end result you want to achieve. If you want your salmon to be soft, moist and flakey, then wrapping it in foil will get you that. If you want your salmon to be crispy on top, especially if you marinated it in some sauce, put it on foil but don't close the top.
Can you put barbecue sauce on salmon?
Yes, you can. Salmon marinated with barbecue sauce is delicious. We suggest leaving it to marinate for an hour in the fridge and then baking it for 25 minutes in a pre-heated oven at 180 degrees Celsius. If you like it extra crispy at the top, leave it 5 minutes longer.
What does polenta go good with?
Polenta is a very simple yet versatile food that can be eaten on its own, served as a side dish, or added to warm and cold salads. Mashed style polenta goes great with proteins like salmon, chicken, meat or tofu. Whereas crispy polenta is perfect to add to salads.