There's nothing better than a little bit of goat cheese to add freshness and flavour to your Spring and Summer sandwiches. So today, we are going to make a delicious sandwich with goat cheese that ticks all the boxes:
it has goat cheese
it features 3 delicious Italian ingredients
it's full of flavour
it's quick to make
it's delicious and nutritious too
What to expect: a sandwich that's ready in 5 minutes, uses only 5 ingredients (if you don't count the basil and EVOO which should be pantry staples), it's fresh and tasty, and it won't steal all your allocated calories for the day.
How does it taste? When you taste it you'll be welcomed by the freshness of the goat cheese and basil, then you'll meet the sweetness of the roasted turkey ham, and finally you'll get a kick from the Cannonata.
Let's make it.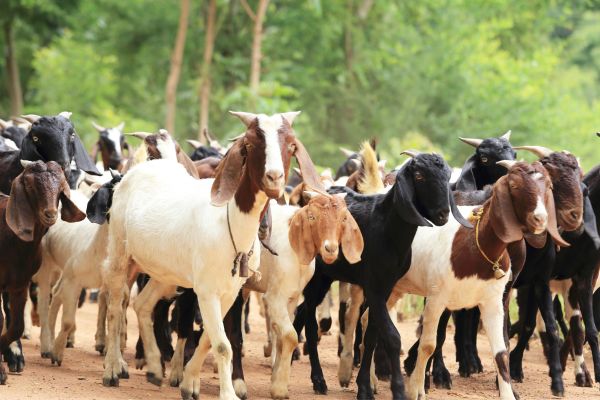 Goat Cheese in Italian
Formaggio di Capra is how we call goat cheese in Italian. Formaggio is cheese, although I am pretty sure you know that. And capra is goat. Di is the preposition of, but in this case it's read as from – cheese from goat.
Goat cheese has become quiet the trend in Italy the same as it has worldwide because many health conscious individuals appreciate the higher nutrition this brings to their diet. And that also applies to goat milk, goat yogurt and other goat derived dairy products.
If you google goat milk vs cow milk you'll quickly find out the following:
goat milk is ticker and creamier
it contains more minerals and vitamins (like calcium, potassium and vitamin A) although that comes with a few more calories
it is higher in protein
it's lower in lactose
and it's easier to digest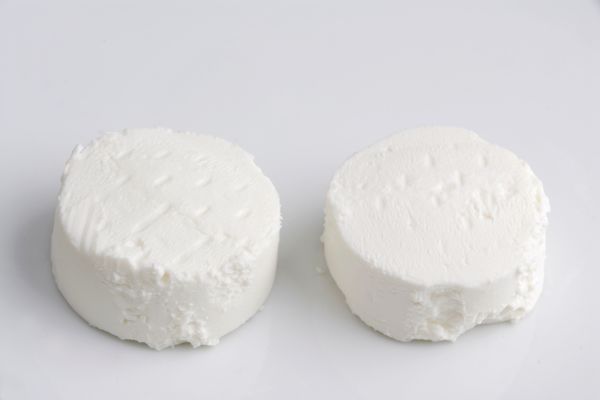 As goat cheese is made from goat milk, you can apply all of the above benefits to goat cheese. That's why the Healthline puts goat cheese among the 9 healthiest cheeses to eat.
You might think that goat cheese is just a single type of cheese, but that's not it. Like for cow cheese, there are many varieties of cheese that can be made from goat milk. Let's look at 7 types of Italian goat cheese with their names.
Algunder from Alto Adige in South Tyrol
The famous Blu di Capra which a blue cheese from Lombardia
Goat cheese ricotta called Cacio ricotta from Campania
Cadolet which resembles the French camembert
Caprino from Lattari Mountains in Campania it's slighty aged variety
Padduni from Sicily, a very old cheese which is famous for having been quoted by Omero
Goat cheese Stracchino
Italian Sandwich Bread and the 7 best types to use
Now that we've looked at all these cheeses, I don't know about you but I am craving bread.
Since we are going to make an Italian panino let's look at the 7 best types of Italian bread for sandwiches.
Tramezzino bread which is the sliced soft and white sandwich bread, although there are many types of that nowadays
Ciabatta bread for rustic sandwiches
Michetta or rosetta, popular with mortadella
Puccia Pugliese from our region
Mafalda from Sicily (perfect to make this fried eggplant panino)
Schiacciatella Catanese
Moddizzosu
If you like your bread, and want to know all about Italian bread, go check out the 34 Must-Try Italian Bread Types & how to eat them.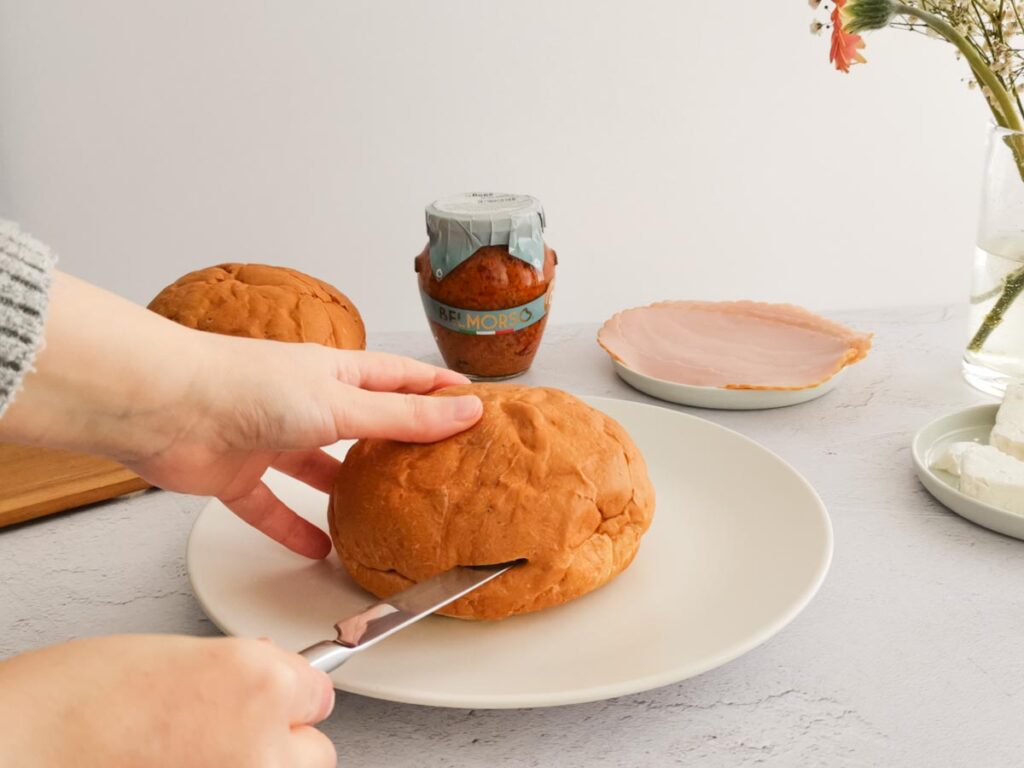 Why are we using brioche bun then to make this recipe?
Because it reminds us of the Italian panino al latte (which means a milk bread roll) that's perfect for a turkey and goat cheese sandwich.
Italian Sandwich Name
As I just mentioned, tramezzino is the Italian name for sandwich if we refer to the classic white slices of soft bread.
Pancarrè, or pane in cassetta, is another name to call this white loaf of soft and spongy bread.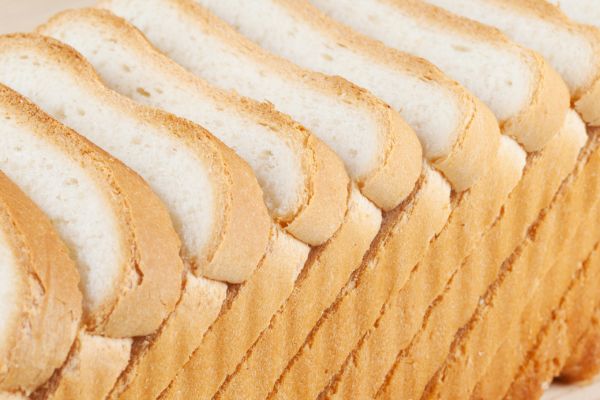 Italian Sandwich Fillings
Here are the top 3 ways Italian eat this type of bread:
Grilled in a sandwich press machine with ham, cheese, tomatoes and extra virgin olive oil
With ham and cheese, some lettuce and a spread (check out our range of Italian sandwich spreads)
With tuna, boiled eggs and mayonnaise
Goat Cheese Sandwich Recipe
I think it's about time we make this delicious and fresh panino. Are you ready?
Below you'll find the full recipe. Feel free to print it out or follow along on your screen.
Ingredients for this Italian sandwich
Among the ingredients for this Italian sandwich, you'll find one that you might have never heard about. I am referring to Cannonata, which is an Apulian vegetable spread that's a tiny spicy and very versatile.
It's not only a great spread for bread but it's also delicious enjoyed as a dip with these tarallini.
It makes a mean vegetarian Italian pasta, and you can use it on meats, chicken and with eggs.
Along with Cannonata, don't forget to use a high quality extra virgin olive oil like Belmorso EVOO.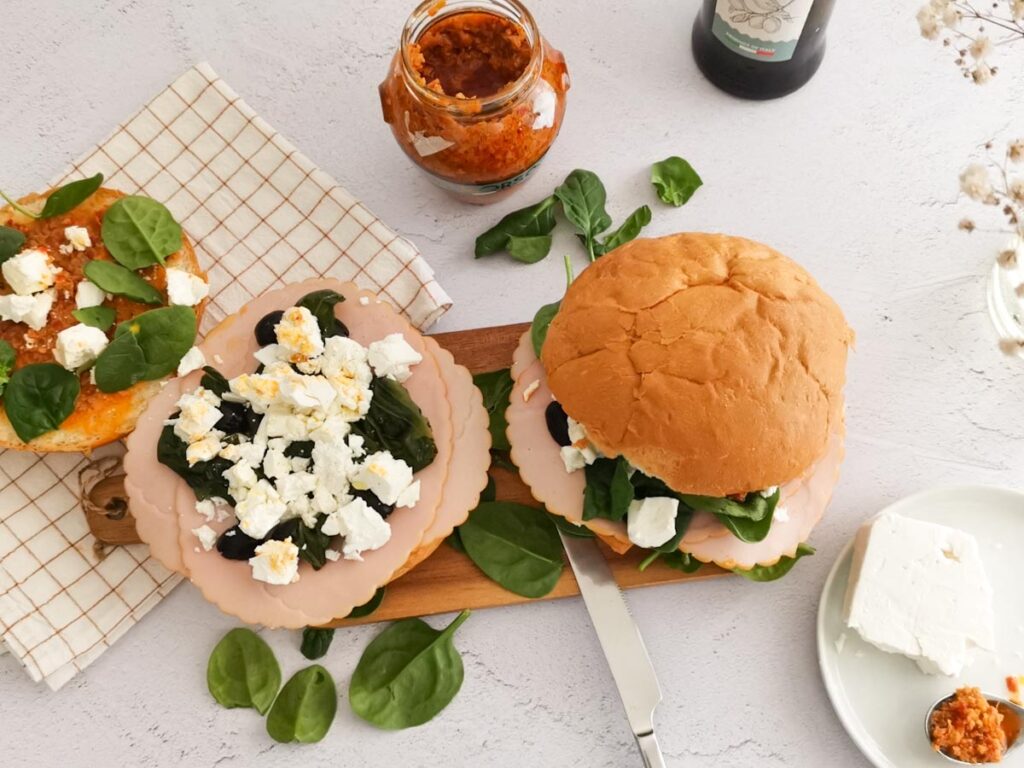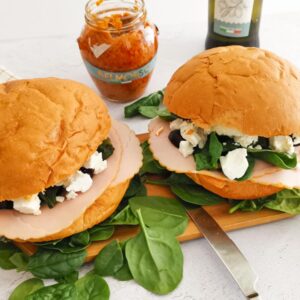 5 Ingredients Italian Goat Cheese Sandwich
A sandwich that's ready in 5 minutes, uses only 5 ingredients (if you don't count the basil and EVOO which should be pantry staples), it's fresh and tasty, and which won't steal all your allocated calories for the day.
Equipment
bread knife

teaspoon

plate or bread board
Ingredients
2

brioche buns

6

tsp

Belmorso Cannonata spread

4

slices

roasted turkey ham

110

gr

goat cheese

black olives

as many as you like

fresh basil

as much as you like

black pepper

just a crack on top

Belmorso Extra Virgin Olive Oil

to drizzle
Instructions
Slice the brioche buns and layer on a large plate, a tray or a prep. board.

Open your Cannonata and add two spoonfuls to each side of your sandwich. Repeat for the other bun.

Add a few basil leaves and top with 2 slices of roasted turkey ham. You can opt for just 1 slice, if you prefer.

Add more basil and crumble the goat cheese on top.

Season with a crack of black pepper. I don't suggest adding salt as the ham and Cannonata are well seasoned.

Drizzle some Belmorso Extra Virgin Olive Oil on top.

Cover with the other half of the bun, and enjoy.

Feel free to grill yours, if you prefer a crunchy sandwich!
Video
Notes
To cut your calories further you can opt for a smaller bun and just use one slice of ham. Enjoy with a salad for a balanced meal.
My secret to enjoy a sandwich that's tasty and low in calories is to have an open sandwich. That cuts the calories by about 200 in this case but still leaves you with all the flavourful filling.
Goat Cheese Sandwich Recipes Variations
If you want to make this a staple for work or school lunches, here are some other recipe ideas.
Chicken and goat cheese sandwich
A simple one with just ham and formaggio di capra
Goat cheese tomato sandwich
A breakfast bread featuring goat cheese with honey
Best Italian Sandwiches & Panini on the blog
If you liked this recipe, I am certain you'll also love these other ones. Take a look.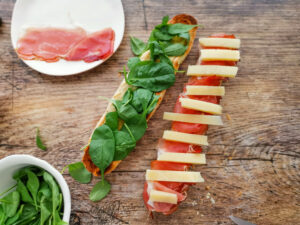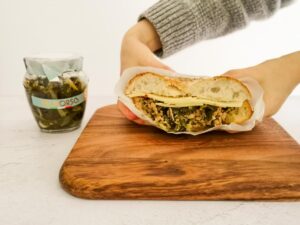 Answering your questions, like What veggies go well with goat cheese?
How to make Italian sandwich?
To make a mean Italian sandwich you simply start with an Italian sandwich bread like tramezzino or even ciabatta. Then, you simply fill it with Italian ingredients that are perfect for sandwiches. Here are a few examples: an Italian sandwich spread, an Italian goat cheese, Italian extra virgin olive oil, and fresh basil.
How long goat cheese lasts in fridge?
We suggest using goat cheese within 5 days from opening, and the same goes for any other soft cheeses like ricotta and mascarpone. To make sure it lasts that long, you want to use a clean knife every time you handle it.
What goes well with goat's cheese in a sandwich?
Honey and goat cheese sandwich is a classic. But if you'd like a meat sandwich, you can add chicken or turkey ham. Tomatoes, cucumbers, basil and olives go very well too. And so does a spicy spread like Cannonata.
What veggies go well with goat cheese?
Most veggies go perfectly with goat cheese. These are our favourite to pair with this cheese: roasted carrots, fresh cucumbers, fresh or roasted tomatoes, grilled aubergines, pan fried asparagus, baked sweet potatoes and most leafy salads.
How do you make goat cheese taste better?
Goat cheese is delicious on its own but its flavour is enhanced when combined with the following ingredients: extra virgin olive oil and balsamic vinegar of Modena; tomatoes or any tomato-based condiment; honey; and fresh herbs like basil, parsley or thyme.
What deli meat goes well with goat cheese?
Goat cheese pairs well with these deli meats: Italian parma ham, roasted turkey ham or a chicken ham. You can also try prosciutto crudo.