Having a great barbecue sauce means that your oven chicken wings with BBQ sauce will be almost as delicious as those on the barbecue. They can also be super quick and easy to throw together after a day of work when you are craving a tasty comfort meal.
What to expect: bite into a juicy chicken wing coated in a balsamic of Modena barbecue sauce that's woody and fruity. Refresh your palate in between wings with a few bites of an Italian fennel salad with oranges.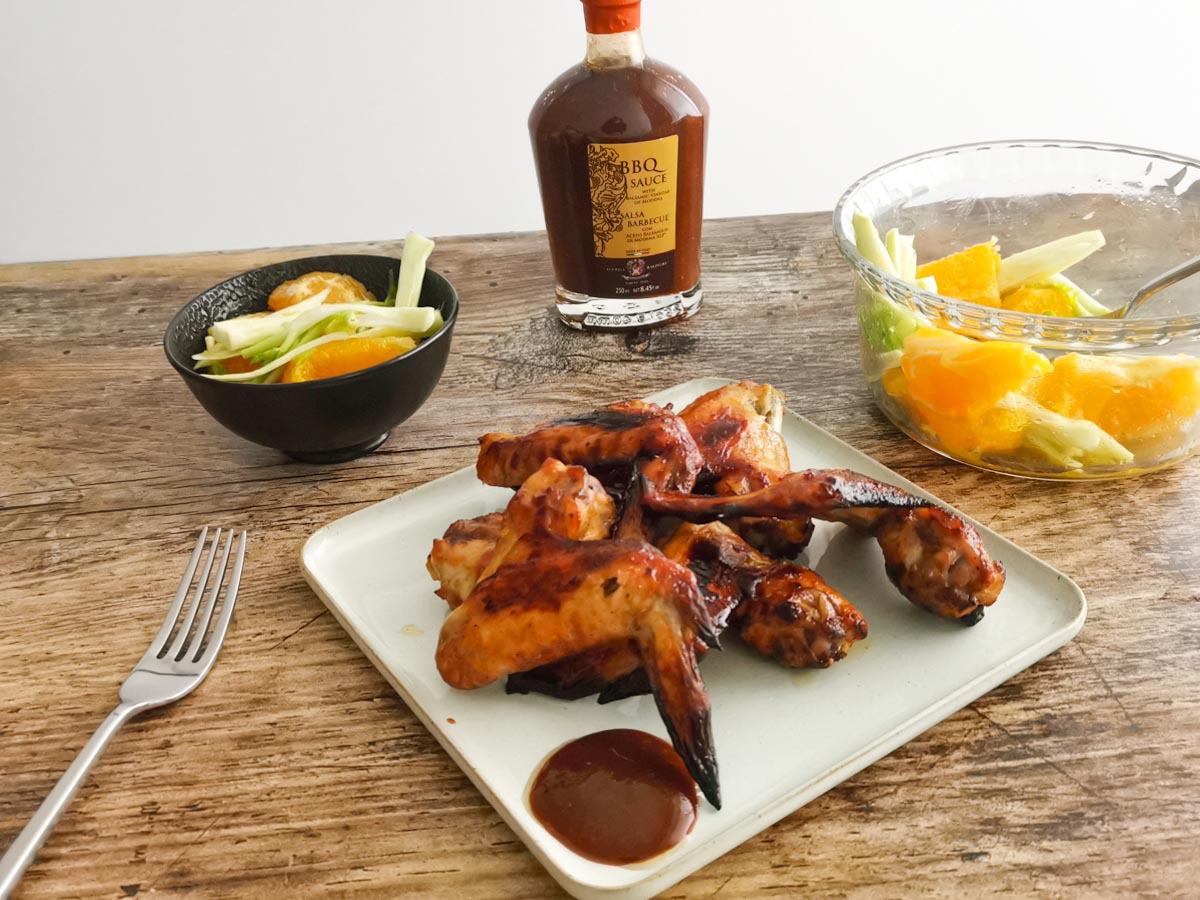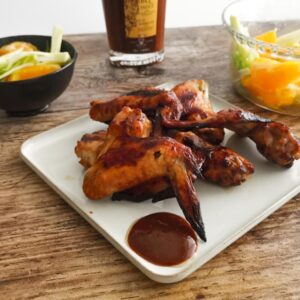 Chicken Wings with BBQ Sauce and Italian Fennel Salad
Try this quick and tasty Chicken wings with BBQ sauce served with an Italian Fennel Salad next time you crave barbecue.
Equipment
1 chopping board

1 chopping knife

1 large bowl

1 medium bowl

1 baking dish

parchment paper
Ingredients
6

chicken wings

3

tbsp

BBQ sauce with Balsamic Vinegar of Modena

1

medium

fennel

2

medium

oranges

salt and pepper

Belmorso Extra Virgin Olive Oil
Instructions
Clean your chicken wings and add to a large bowl. Season with salt and pepper and add your Balsamic Barbecue Sauce.

Mix well using your hands so that the sauce coats every bit of them. Ideally, leave to marinate for 1 hr for extra taste, but feel free to cook them right away.

When you are ready to bake them, transfer the chicken wings to a baking tray covered with parchment paper and cook in a pre-heated oven at 180 degrees Celcius.

Leave the wings to cook for the first 30 minutes at the top level of the oven. Then turn and leave to cook on the other side for another 15 minutes.

In the meantime, wash and slice your fennel. Add to a bowl.

Then wash, peel and slice your oranges and add to the fennel.

Season your Italian fennel salad with a little salt and Belmorso Extra Virgin Olive Oil.

Take the wings out of the oven and serve along your fennel and oranges salad. Buon Appetito.
What goes with Barbecue Chicken Wings?
Barbecue chicken wings go well with other side dishes other than potatoes and leafy salads. Next time, try an Italian fennel salad with oranges. It's the perfect refreshing side dish to go with your barbecue wings plus it's quick to make.
Did you know that orange and fennel salad is a traditional dish from Sicily?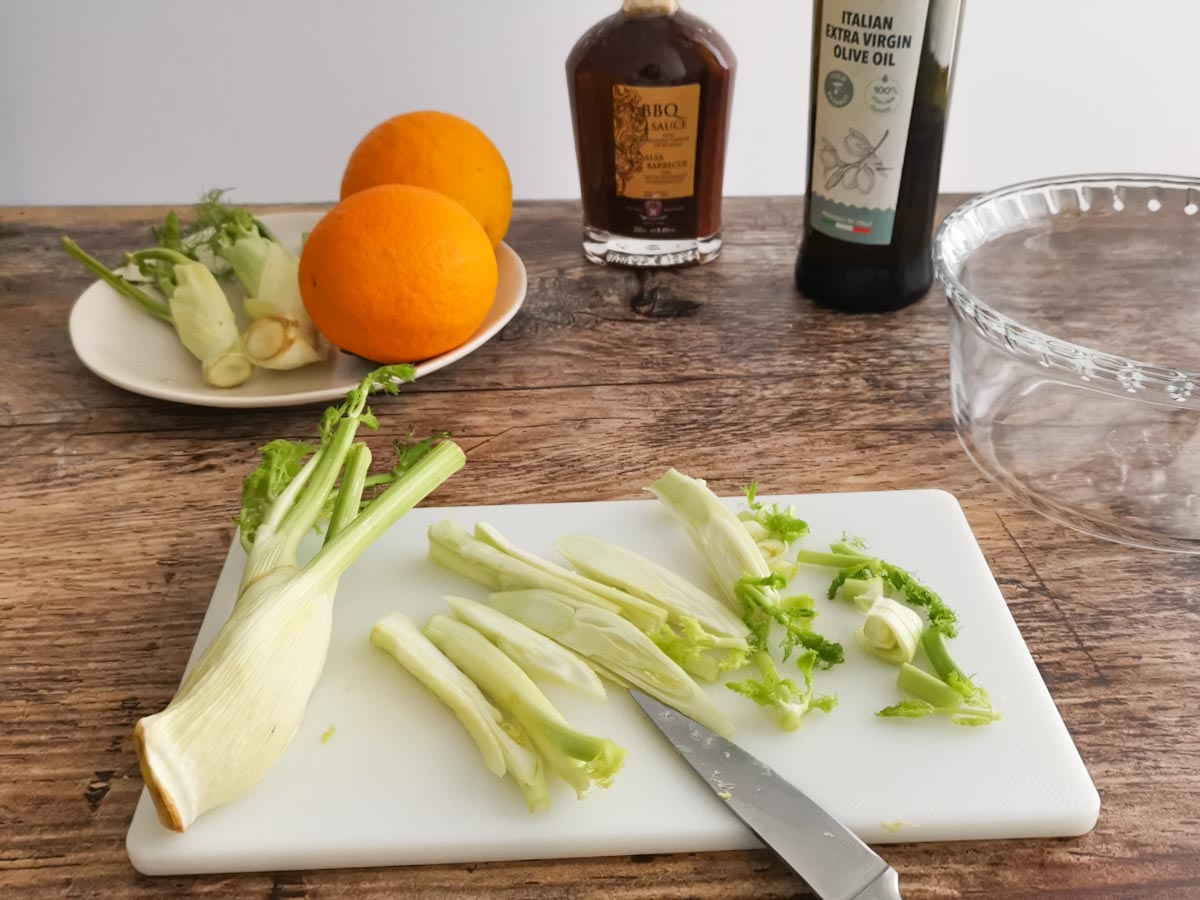 What is fennel salad made of?
The traditional Sicilian fennel salad only includes a few ingredients: fresh fennel, delicious oranges, salt, and extra virgin olive oil.
Other local variations include raisins, pine nuts, and apple cider vinegar.
Can you eat raw fennel in a salad?
Absolutely yes. Raw fennel is delicious cut lengthwise, and tossed with a little extra virgin olive oil accompanied by a few fresh orange slices and a pinch of salt.
Other Balsamic Barbecue Sauce Recipes You Should Try
If you like this one, with its sweet and fruity barbecue sauce taste, I suggest trying these other recipes that feature the same balsamic barbecue sauce.
If you get our Balsamic BBQ sauce, you could also make these other dishes:
Vegetarian or Meaty Barbecue Skewers
Barbecue Beef Tacos
Tofu sandwich with Barbecue Sauce
Barbecue Italian Sausage Sandwich
Desserts that go well with Barbecue Chicken Wings
After a plate of rich barbecue chicken wings you need something refreshing that's going to clean your palate.
Try one of these delicious Italian desserts:
Wine Pairing for your Chicken Wings with BBQ Sauce
If you love red wine, I suggest pairing these with a Brunello di Montalcino DOCG. This Tuscan wine is full bodied and has notes of licorice, star anice, along with wild berries that complement well both the Balsamic of Modena in the barbecue sauce and the fennel salad.
What can I use instead of apple cider vinegar in BBQ sauce?
Try adding a few tablespoons of a high quality Balsamic Vinegar of Modena, or better yet use a Balsamic BBQ Sauce. It will give your chicken wings a delicious rich fruity and woody taste.
What healthy sides go with wings?
Try a Sicilian fennel and orange salad if you want a tasty refreshing side dish that's healthy and delicious.
Do you put sauce on chicken wings before or after you cook them?
Normally, you put sauce on chicken wings before cooking them. That makes them more flavourful and delicious. It's also ideal to leave the chicken wings to marinate in the sauce for about an hour, or longer. Once cooked, you can serve them with extra sauce on the side.
What is the best way to put sauce on wings?
The best way to add sauce to chicken wings is to put them in a large bowl, add the sauce on top, and then use your hands to get the sauce in every nook. Make sure to wash your hands first and after, or wear a pair of kitchen gloves.
Are chicken wings better in oven or pan?
Chicken wings are better in the oven or on the barbecue. Baking them will allow them to cook well, while also stay juicy. When you cook them in the pan, they take longer to cook and they risk still being raw on the inside. Plus, if you have a lot of sauce that can splash and make a mess. We suggest sticking to the oven or barbecue.
How long does it take to cook wings in the oven?
If you spread your wings in your baking dish, leaving some space in between each one, that makes it easier for them to cook. It should take them a maximum of 45 minutes to cook fully on both sides. For large very meaty wings allow an extra 10 minutes in the oven.
What is the Italian vegetable that tastes like licorice?
Fennel
Fennel is a vegetable that is loved in Italy. It has a crunchy texture that resembles celery and it tastes a little bit of anise. Fennel is enjoyed raw in simple salads like the classic fennel and oranges salad from Sicily. Its seeds are also used a lot in cooking, especially to make typical Italian sausage in the southern regions. They are also added to crackers and savoury snacks like fennel tarallini.