This spicy chicken stir fry pairs incredibly well with a busy work day. It's like we are taking our beloved soffritto and turning into a full on meal.
What to expect: Crunchy and soft vegetables, tender and juicy chicken bites, coated with a spicy Italian tomato and vegetables sauce from the southern region of Puglia. The fragrance will remind you of a caponata but this is not just a side dish, it's a main course.
Let's make it.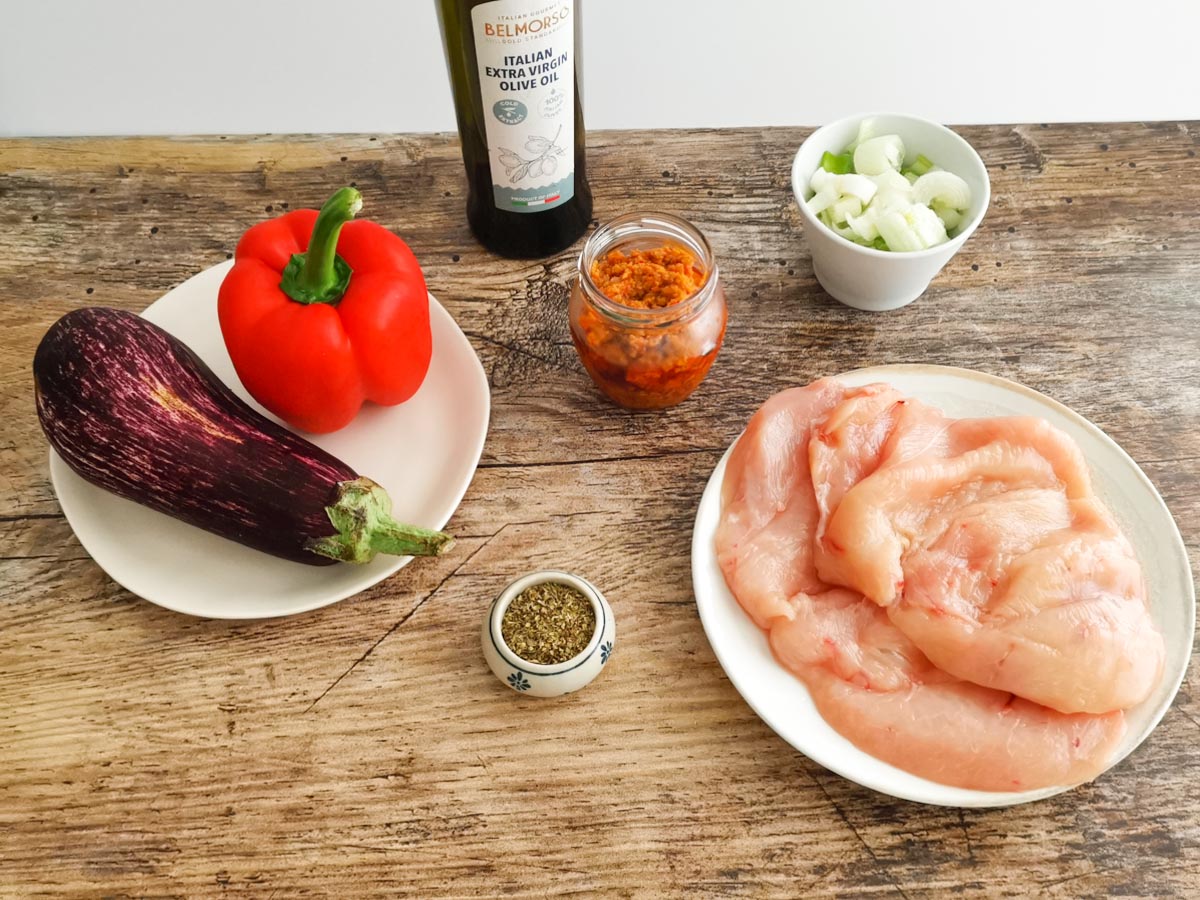 Ingredients for Italian Spicy Chicken Stir Fry
Like any soffritto you need a type of onion and at least two vegetables. Since we are making a chicken stir fry, we will obviously need the chicken too. Along with that you need some herbs and a sauce to give it that saucy consistency and the spicy taste we are after.
Here are the ingredients you'll need:
Belmorso extra virgin olive oil (get it here)
spring onion
red pepper
aubergine
carrot
chicken breast
salt, pepper, oregano
Belmorso Cannonata – this is what brings the dish together and gives it a spicy taste with an Italian twist.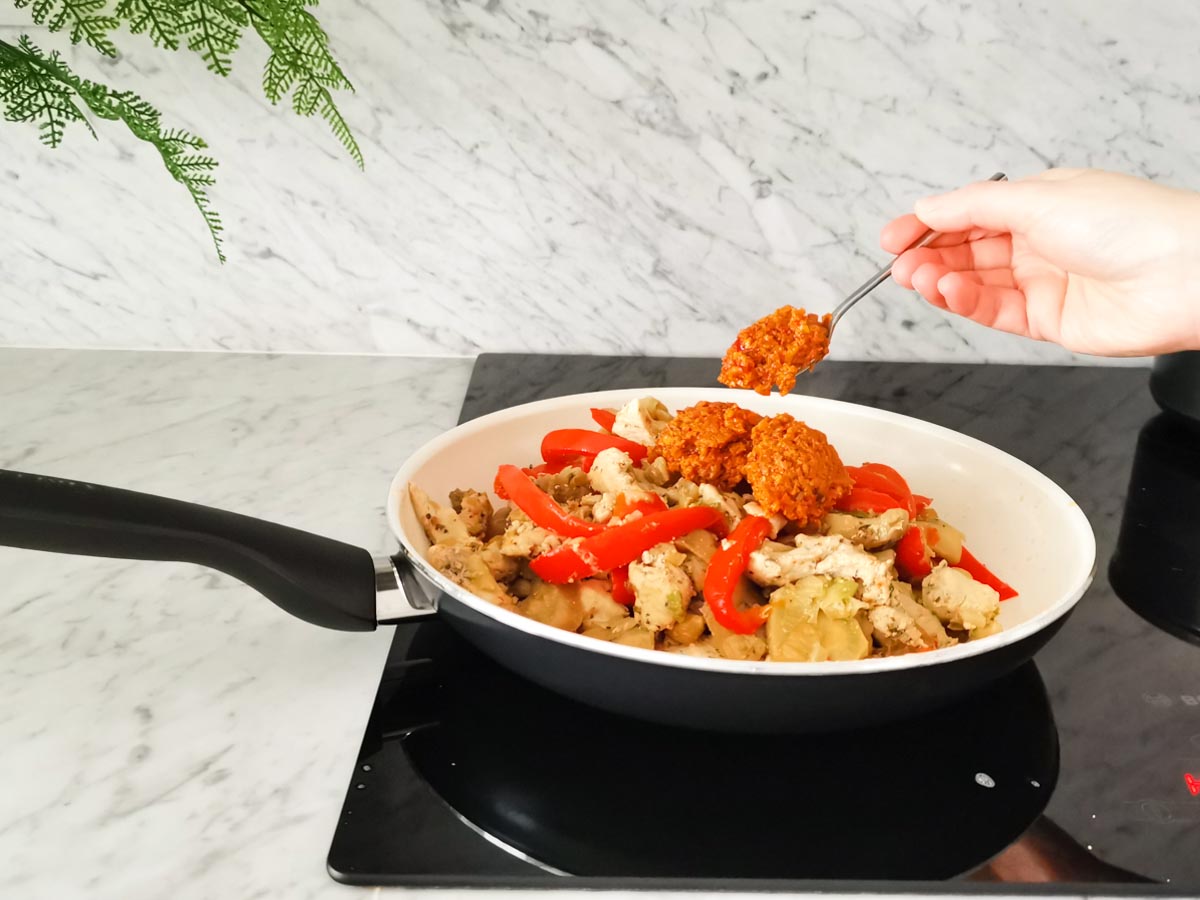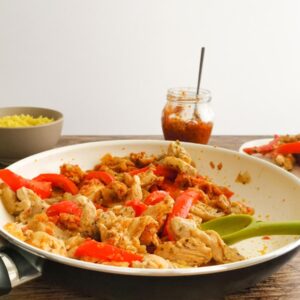 Italian Spicy Chicken Stir Fry
Add this spicy Italian stir fry to your weekly dinner menu and you won't be disappointed. It's quick, easy and so so tasty.
Equipment
1 chopping board

1 chopping knife

1 large deep pan

1 cooking spoon

1 tablespoon
Ingredients
2

medium

chicken breasts

2

handfuls

spring onions chopped

I like to chop fresh spring onions and store them in the freezer to easily use when cooking. Feel free to use them fresh instead.

1

medium

aubergine

1

red

pepper

1

medium

carrot

optional; I didn't include this as I used them all up for another recipe, but adding it would be lovely.

salt and pepper

dry or fresh oregano

Belmorso extra virgin olive oil

2

tbsp

Belmorso Cannonata
Instructions
Clean and cut your chicken breasts into strips.

If not already cut, clean and chop your spring onions.

Peel and chop your aubergines into large pieces, as aubergines tends to shrink.

Wash, deseed, and slice your pepper into strips.

Peel and cut your carrot into thin strips.

Add all the vegetables in a large pan and drizzle plenty of Belmorso EVOO.

Put on the stove and let them sauté for 10 minutes.

Add the chicken strips in and season with salt and pepper; then add the oregano too and mix.

Leave to cook for another 10 minutes or until your chicken looks fully cooked, and your vegetables are slightly tender but still with a crunch.

Add the 2 tablespoons Belmorso Cannonata and mix well.

Take off the heat and serve with a side of rice. A saffron rice pairs nicely.
Video
Notes
Rice not included in the calories above.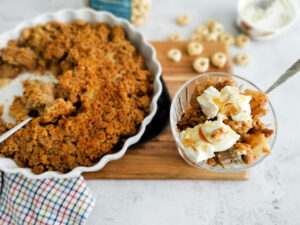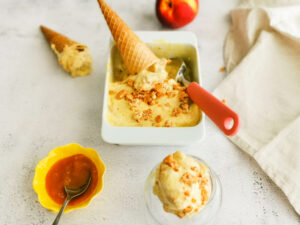 Simple Dessert to Go with Stir Fry
Whether you are making this in the colder months or in Summer, I am going to suggest two desserts that are divine enjoyed after this meal.
Warm dessert: Healthy Apple crumble with Tarallini and Mascarpone (see recipe)
Cold dessert: Amaretto Gelato with Balsamic Peaches
What vegetables do Italians Eat for Dinner?
Italians are big on eating their vegetables, but it's not what you think.
Unlike the UK and Ireland, where eating steamed broccoli and roasted carrots with a protein is very common, in Italy we like to cook our vegetables creatively.
Carrots, onions, zucchini, tomatoes, aubergines, broccoli, cauliflower, potatoes – we love them all and we cook with them a lot, especially at dinner time.
Unless we are on a diet, you won't usually find plain vegetables on our plate.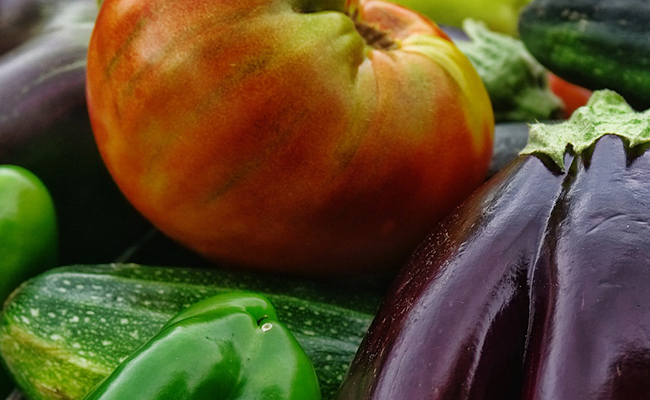 Here's how we usually include vegetables in our dinners.
We add them to risotto
We make pasta sauces with them
We add them to meat stews
We add them to soups and minestrone pasta
We even add them to pizza and focaccia sometimes
And of course we make many side dishes with them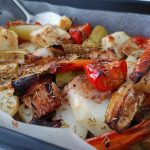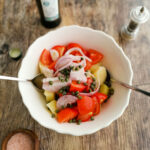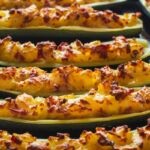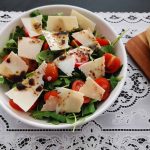 These are the most loved Italian side dishes for dinner featuring loads of vegetables.
Caponata
Salads with leaves, tomatoes, onions and a dressing
Mixed roasted vegetables
Onions, peas and bacon
Roasted potatoes
Stuffed courgettes, aubergines or peppers
Broccoli with olives drowned in wine
Tomatoes and onion salad
Roasted peppers served marinated
Grilled vegetables served marinated
What is the most important vegetable in Italian cooking?
Tomato is definitely that one vegetable that is featured the most in Italian cuisine. Whether it's a pasta sauce, a dip, or a stew you are likely to find tomato in it.
What is an Italian vegetable blend?
Onions, carrots and celery are the three vegetables that make the classic Italian soffritto. They are the perfect base for aromatising sauces, soups and other dishes. Other great Italian vegetable blends are onions, carrots and potatoes; onions, peas, and mushrooms; onions, carrots and peppers; onions, carrots and aubergines; tomatoes, aubergines and zucchini.
What vegetables are typical Italian ingredients?
This is the list of the vegetables most eaten and cooked with in Italy.
Tomato
Potato
Zucchini
Leafy salads
Legumes
To that, I would definitely add carrots, onions and aubergines.