If you are craving a chocolate pudding parfait that has some crunch, a lot of creaminess, plenty of chocolate, it's sweet but not too sweet, and it's inspired by Italy, well you' ve just found it.
And on top of that, you can make this in under 30 minutes. I will also give you a variation to make it in 10 minutes.
What to expect: take a spoonful of this and slowly put it in your mouth. You'll first meet the sweet mascarpone with chocolate chips, the crunchy cantucci biscuits, and finally the chocolate crema pasticcera that's just divine. It's a double chocolate feast!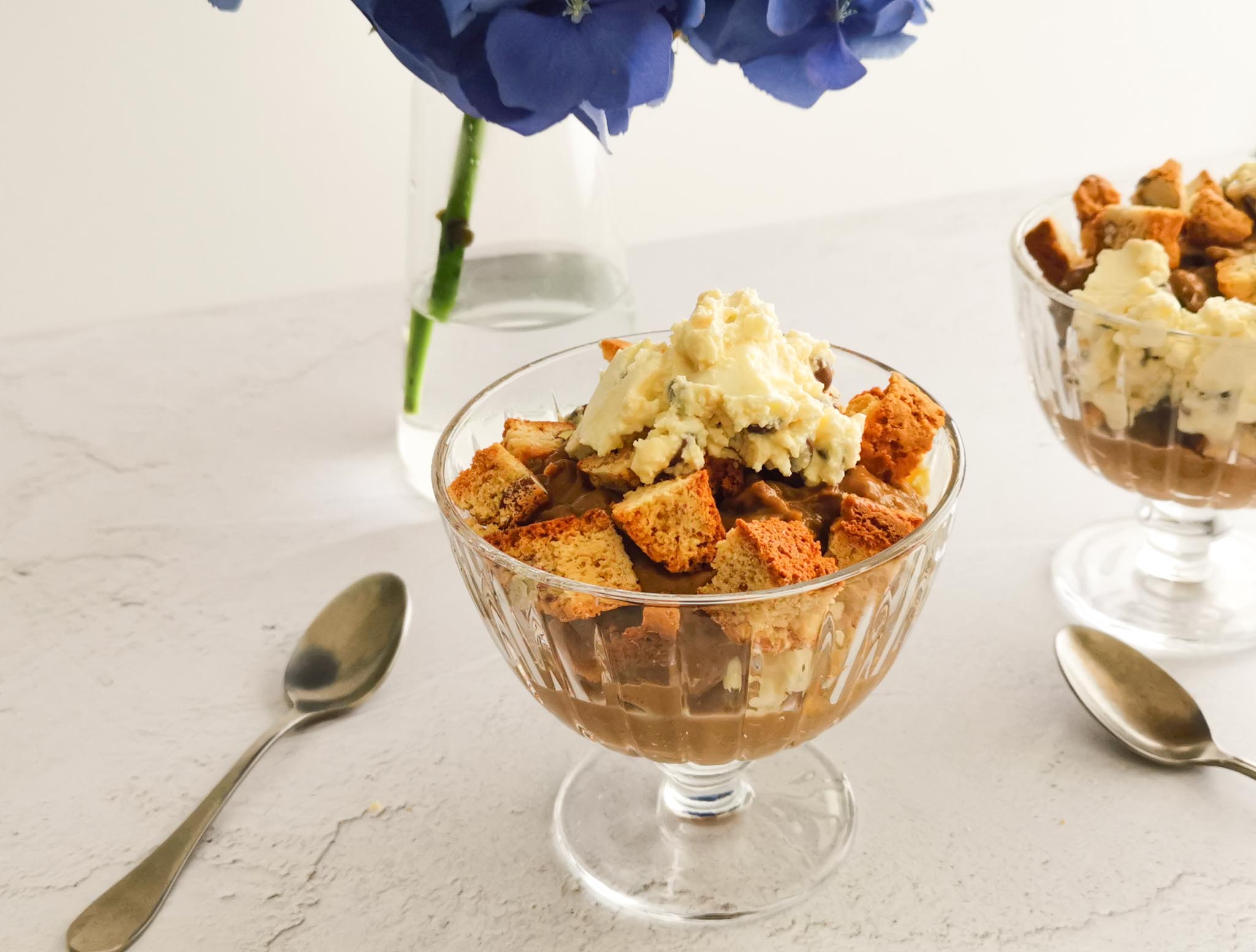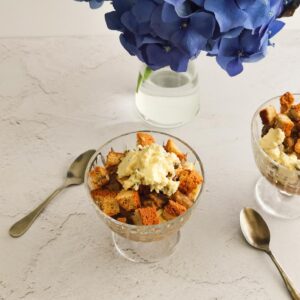 Cantucci Double Chocolate Pudding Parfait
This Italian double chocolate pudding parfait is delicious - chocolatey, milky, crunchy, sweet but not too sweet, and ready in under 30 mins.
Equipment
1 milk pot

1 small pot

1 small whisker

preferably a soft one like silicone

1 sifter

1 medium bowl

1 chopping board

1 knife

2 tablespoons

2 dessert glasses
Ingredients
Ingredients for Homemade Crema Pasticcera with Chocolate
250

ml

milk

I used regular, full fat

1/2

tsp

vanilla essence

adjust quantity based on the strength of the vanilla you are using. Mine is pretty strong.

3

medium

egg yolks

60

gr

sugar

I used coconut sugar to make this healthier but the classic crema pasticcera calls for white sugar.

20

gr

rice or corn starch

I used corn starch, which makes it thicker.

60

gr

milk chocolate bar
Ingredients for the Chocolate Pudding Parfait
12

mini

Cantucci biscuits

or less if you are using the regular size

250

gr

mascarpone

50

gr

chocolate chips

I used milk but dark is fine too.
Instructions
Making Homemade Crema Pasticcera with Chocolate
Grate your chocolate bar and set aside.

Add the milk in your pot together with the vanilla essence, and let it heat until it starts boiling.

In another pot, add your egg yolks, but don't put them on the stove.

Follow by adding your starch of choice.

Don't let those ingredients sit for long, and start mixing them right away with your whisker. You want to achieve a creamy consistency without too many lumps.

Watch the milk so you can take it off the heat when it starts boiling.

Take your sifter and pour half of the warm milk through it on top of the egg yolks.

Start whisking the milk into the creamy yolks.

Repeat with the rest of the milk.

Next, put your pot over the heat, and continue whisking until the liquid mixture turns into a somewhat tick cream. You can whisk a little more if you want it extra thick but don't forget it tends to thicken more when it cools down.

Quickly add the grated chocolate in and whisk that in off the heat, so that the chocolate melts into the crema while the latter is still warm.

Let the crema rest and cool down while you prepare the other ingredients.
Prepare the Sweet Mascarpone
Add your mascarpone to a medium bowl, with a tablespoon of sugar and the chocolate chips. Mix well and set aside.
Make the Chocolate Pudding Parfait
Before you start making it, take your biscuits and cut them into tiny bites. Set aside in a plate.

Take your dessert glasses and layer two tablespoons of chocolate crema pasticcera, which is the Italian equivalent to custard.

Top with the cantucci bites you've just chopped.

Top with one to two tablespoons mascarpone mix.

Add one more layer of chocolate custard, a few biscuits and finish with the mascarpone.

Put in the fridge for a couple of hours so that both the custard and the mascarpone can set, and dig in.
Notes
This is a caloric dessert because of the mascarpone and sugar. If you want to make it with less calories follow our tips in the article. Otherwise, you can simply make 4 servings out of this recipe and cut the calories by half per serving.
Recipe Variation 1: Chocolate Crema Pasticcera ready in 10 minutes
If you don't want to make the crema pasticcera yourself, I suggest trying to get your hands on a pack of Paneangeli Crema Pasticcera mix. Look online as it's likely you won't find it in your local supermarket, unless you are in Italy.
That comes in a powder mix and all you need to do is add the milk and mix at room temperature. So you won't need to wait while the custard cools down. You'll also need to melt in the chocolate at the end.
Alternatively, you can replace this Italian mix with a custard mix and then add the chocolate, or buy a chocolate custard and use that instead.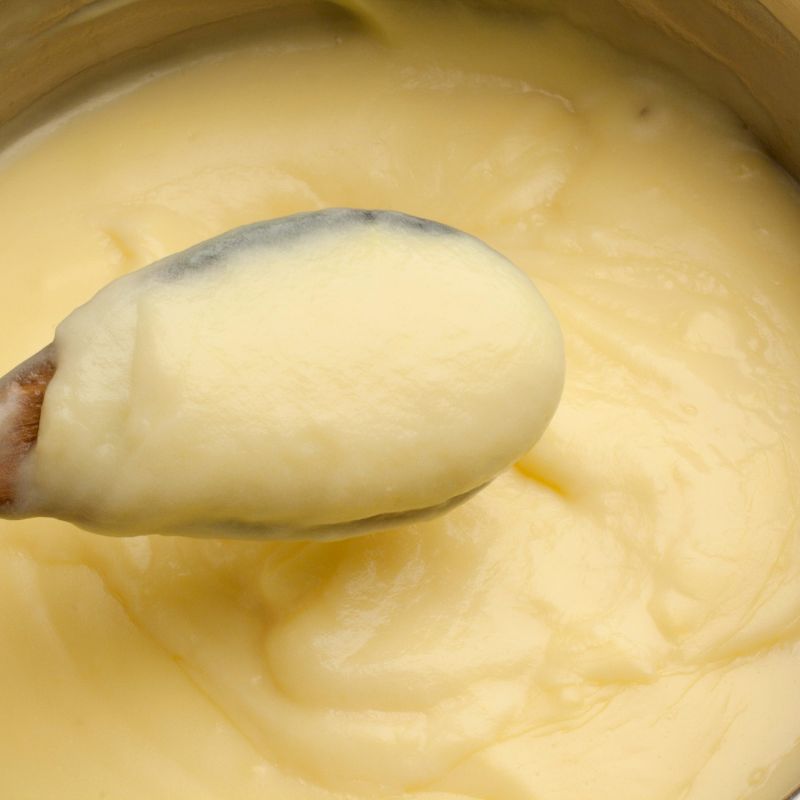 Recipe Variation 2: Low Calories Chocolate Pudding Parfait
To cut the calories, do the following:
Replace the mascarpone with a Greek Yogurt
Leave the sugar out of the mascarpone/yogurt as the chocolate chips are already sweet
Use less sugar in the custard as the cantucci sweetness will compensate for that
Make smaller servings; our recipe can make 4 smaller servings instead of 2 large
Use dark chocolate instead of milk as it has less sugar.
Once you replace these ingredients, you can go ahead and follow the recipe above to make your low calorie version of this delicious chocolate pudding parfait.
Don't fret, it will still be delicious.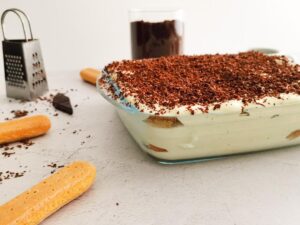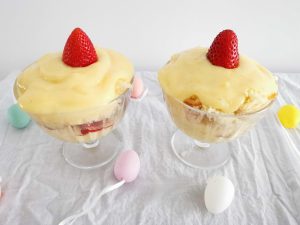 More Simple Glass Desserts
These delicious and quick types of dessert are perfect for every season, whether Summer with a cold one or Winter with a mix of warm and cold.
Have a look at these other 2 Glass Dessert Recipes on the blog:
Healthy Tiramisu in a glass – simply follow our recipe but make yours in glasses.
Another great glass dessert idea is to layer Greek Yogurt with balsamic glazed strawberries. You can caramelise the strawberries in a pan using this Gold Balsamic Vinegar of Modena. Or you can keep everything uncooked and simple layer the two with a drizzle of balsamic on top.
What goes well with parfait?
How many calories in a chocolate pudding parfait?
A chocolate pudding parfait can have a low calorie count, even 200 calories, if you use low calorie ingredients like yogurt and dark chocolate to make it. Sweeter and richer versions of this recipe can have 1200 calories or more.
How to make creamy parfait?
To make your parfait very creamy, we suggest a combination of two of these ingredients: custard, mascarpone, mousse, and yogurt.
What goes well with parfait?
Fruit, biscuits, granola, cake are all delicious ingredients to pair with parfait. Depending on which you choose your parfait will be more crunchy or spongy, lower or higher in calories.
Can parfait be eaten as breakfast?
Very sweet parfait recipes are not ideal for breakfast, but more so as a treat. However, a parfait made with yogurt, fruit and granola is a great option to start the morning.
What can you use instead of yogurt in a parfait?
For a sweeter more indulgent parfait, replace yogurt with either custard, mousse, fresh cream, or mascarpone.
What is the name of the Italian mousse?
In Italian we call it mousse al cioccolato if it's made with chocolate, mousse di fragole when it's made with strawberries, mousse al caffe, etc.
What is Italian custard called?
Italian custard is called crema pasticcera, and if it's made with chocolate Italians call it crema pasticcera al cioccolato.
What is Italian custard made of?
A classic Italian custard is made with milk, vanilla essence, egg yolks, white sugar, and either rice starch or corn starch. It's called crema pasticcera in Italy, and it's used to make iconic desserts like Cannoli and Cornetti (croissants).
What do Italians call custard?
Italian custard is called crema pasticcera, and if it's made with chocolate Italians call it crema pasticcera al cioccolato. Crema pasticcera is used to fill iconic Italian desserts like croissants, cannoli, and bigné.