Whether you are hosting an Italian theme dinner party or craving bread for dinner, this baked spicy bruschetta will hit the spot with your guests and your loved ones.
What to expect: This quick and easy to make appetizer or light dinner will surprise you with its big taste. Bite into a spicy, crunchy, cheesy tomato baked bruschetta and enjoy every second. Don't worry, you can go for a second, a third and many more bites after that first one.
How to Pronounce Bruschetta
This is how you pronounce bruschetta in Italian:
bruu – skétta
You want to elongate the u, almost as if there is an h, and then you want to put an accent on the e, emphasize the double tt, and be quick when saying the last few letters.
Where did Bruschetta Originate?
Bruschetta originated in central Italy, precisely in the two neighbouring regions of Lazio and Abruzzo.
The term derives from the local expression 'pane bruscato' which translates to toasted bread. However, it's actually referring to bread that has been toasted on open fire rather than in a modern toaster.
Let's look at why that's so.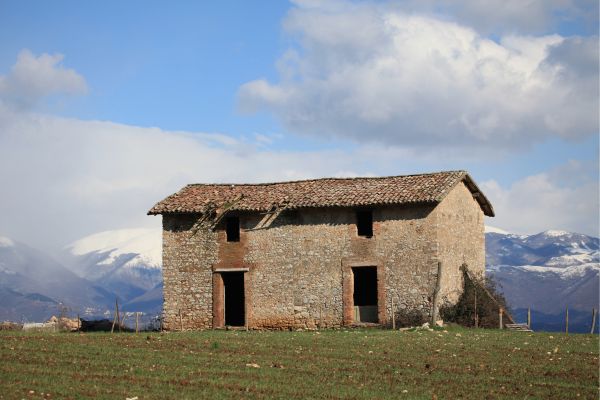 Bruschetta history
The story of this iconic Italian food is difficult to pin down with certainty.
From my research, it seems that it's again the farmers we need to thank for this genius recipe.
With their willingness to work hard, save, and waste as little as possible they found a way to repurpose stale bread by toasting it on open fire.
That's where the term pane bruscato, and later bruschetta, might be coming from.
That piece of bread became very important for those land workers, as it helped them satiate their hunger when they couldn't eat because they had to keep working, or when they didn't have enough food to fill their bellies with.
Later on, the piece of toasted bread was elevated through the products from their fields, mainly garlic, tomatoes and olive oil.
Garlic was brushed on the bread, and then it was stopped with roughly cut pieces of tomatoes, salt and drizzled with oil.
Bruschetta Ingredients
The modern bruschetta ingredients are not very far from those used by the farmers who invented it. These are:
Bread
Tomatoes
Garlic
Salt and pepper
Extra Virgin Olive Oil – I suggest Belmorso Extra Virgin Olive Oil
Oregano and basil are often used either alone or together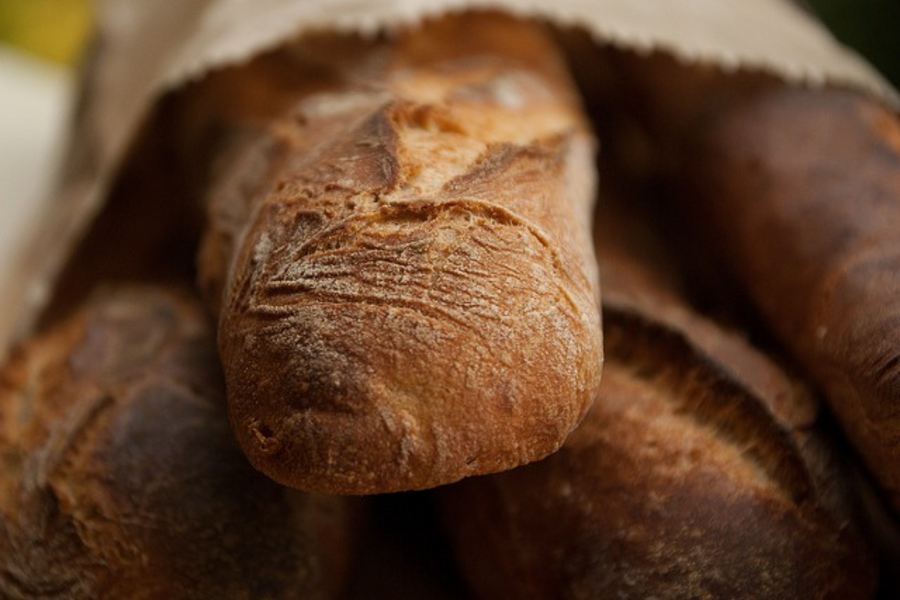 Bruschetta Bread
Like its origins, bruschetta bread needs to be rustic. You can use both stale or fresh bread, as the toasting process will make it delicious nonetheless.
A popular bread type that's great for bruschetta and can be found all over the world is ciabatta.
However, Italians prefer using local artisan breads from their region. If you'd like to discover more types of bread that are great to make bruschetta read this article about the best Italian bread types.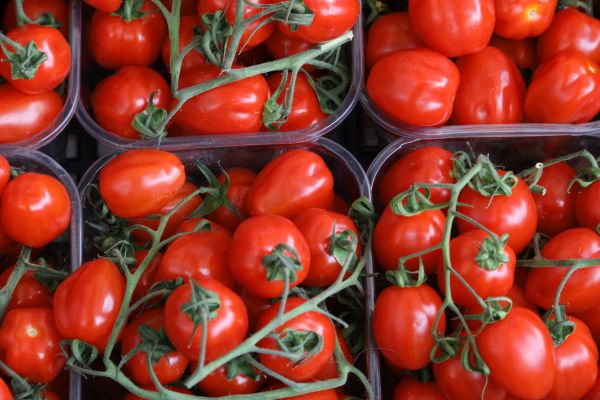 Best tomatoes for bruschetta
Let's face it, when tomatoes are fresh and grown by local farmers, most types are delicious.
However, when you are making dishes with raw tomatoes, you want the best of the best. That's our motto in Italy, always use the best ingredients.
Pachino cherry tomatoes and San Marzano tomatoes are the finest tomatoes in my opinion.
If you can't find that variety, I suggest trying different cherry tomatoes until you find the sweetest and most delicious one.
Cherry tomatoes are also perfect to make this starter because they are small, and you simply need to wash them and cut them in half or in four.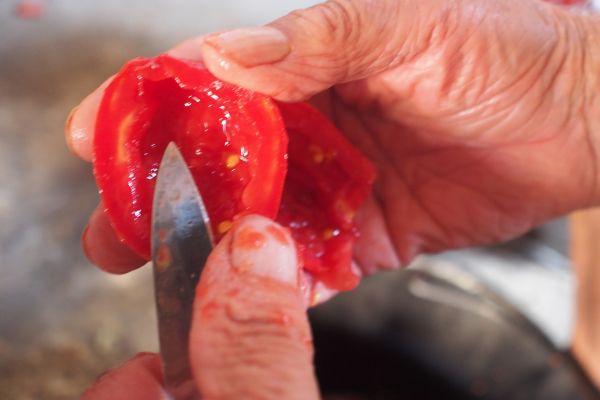 How to make bruschetta
There are many ways to make this, so let me share two classic ones.
Bruschetta Method 1
Inspired by those farmers who invented this dish, I suggest peeling your garlic cloves, rinsing it and smashing it a little and then spreading it on one side of your toasted bread.
If you don't like handling garlic or want to cut on time, you can use our delicious Belmorso Garlic Paté.
Next chop your cherry tomatoes, and top with those. Season with salt and pepper, and drizzle with EVOO.
Enjoy.
Bruschetta Method 2
Cut the cherry tomatoes, mince the garlic, season with salt and pepper, drizzle some extra virgin olive oil, and add some dry or fresh oregano or basil, or both.
Refrigerate the mixture for 30 minutes or longer to let it get more flavourful.
Then, simply slice your bread, toast and top with the tomato mixture.
Feel free to grate some parmesan or pecorino, even though the classic version doesn't call for that.
How to eat bruschetta
There's no right or wrong way to eat this delicious food.
You can eat it for lunch, dinner or a snack; you can serve it as an aperitivo or as a light meal.
It can be a starter on its own, or accompany an antipasti platter.
You can have it before pizza or pasta, but also a main course.
Bruschetta can be a quick meal to whip up when you are craving pizza, and it's perfect enjoyed on a movie night.
Equally, there's nothing better than a few slices of bruschetta with a glass of wine, enjoyed in good company while you are sitting outside looking at a gorgeous view or the stars.
Finally, whichever way you choose to eat it, please use your hands.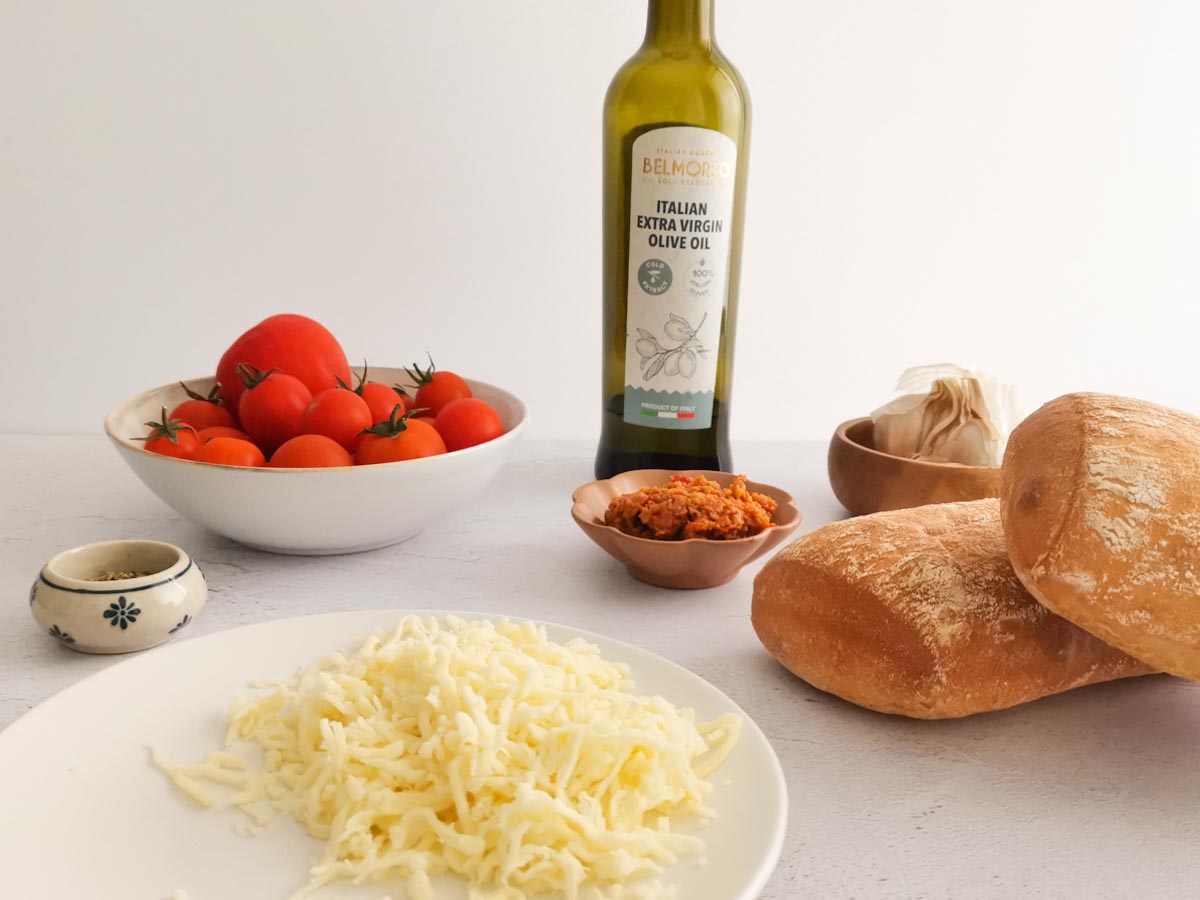 Spicy Bruschetta Recipe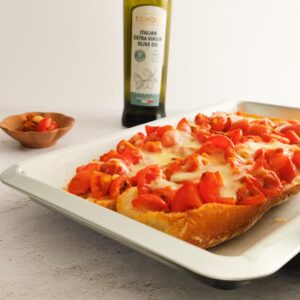 Baked Spicy Bruschetta
Do you want to wow your guests, or are you tired of the usual starter? If so, try this baked spicy bruschetta from Puglia.
Equipment
1 chopping board

1 chopping knife

1 bowl

1 baking dish

1 tablespoon
Ingredients
1.5

ciabatta bread

You can use the entire second ciabatta, but make sure to make more filling for that.

15

cherry tomatoes

1

medium tomato

2

cloves

garlic

2

tbsp

Belmorso Cannonata

Shredded mozzarella

as much as you like

salt and pepper

oregano and basil

dry or fresh

Belmorso extra virgin olive oil
Instructions
Wash and cut the cherry tomatoes. Then do the same for the larger tomato. I sliced my cherry tomatoes in half when they were tiny, and in 4 for the larger ones.

Transfer them to a bowl and cover with the chopped garlic.

Season with salt and pepper, and drizzle with Belmorso extra virgin olive oil.

Add the mixed herbs and mix.

Add the Belmorso Cannonata and mix well. At this point, you can refrigerate the mixture for a few hours and come back later, or you can go ahead and assemble your bruschetta.

When you are ready to make it, slice the ciabatta bread in half. I am using only three slices, but you can use all four. If you do, you might have to add more tomatoes.

Lay the sliced bread on your baking dish, covered with parchment paper. Feel free to spread the bread with Cannonata, if you want it extra spicy.

Top the bread slices with the tomato mixture spread evenly.

Add a small handful of mozzarella on each slice.

Bake in a pre-heated oven for 10 minutes at 180 degrees Celsius.

Enjoy as a starter or a delicious light dinner, maybe with a salad.
Best Bruschetta Pairings
Pair it with this antipasti platter.
Enjoy it before a plate of  Orecchiette Pasta with Turnip Tops Pesto.
It's a great starter for Fiorentina Steak.
For dessert, we suggest a classic Tiramisu or our Healthy Tiramisu with Yogurt.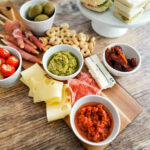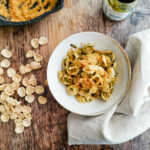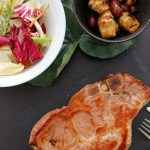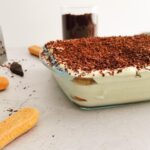 Should Bruschetta Be Served Warm?
In this final section I'll be answering another three common questions about this scrumptious Italian delicacy.
Keep reading.
Should bruschetta be served warm?
The term bruschetta indicates that the bread should be toasted. In fact the word itself derives from the local term 'pane bruscato' in Roman dialect. That implies that you should at least toast the bread, but it's also common to serve it warm. The easiest way to have a crunchy and warm bruschetta is to bake it in the oven.
How to make the best bruschetta?
The secret to making the best bruschetta is one that holds for most Italian recipes. It's simply using the freshest and highest quality ingredients you can get your hands on. In this case, make sure you are using the best tomatoes (like Pachino cherry tomatoes), the best bread (like a rustic home-style loaf), fresh garlic, fresh herbs, and the best Italian extra virgin olive oil.
Can you bake bruschetta?
You can absolutely bake bruschetta. That's actually the best method to get the bread toasted but not too dry, and serve your bruschetta warm. Plus, if you choose to top it with cheese, baking it will also allow you to melt the cheese at the same time.