Green pea risotto is the perfect dish to make with your own garden peas. But don't fear, you can still make a delicious one with regular store-bought peas. The cream of asparagus addition makes it extra tasty.
What to expect: a delicate risotto with that ever slightly sweet, nutty and grassy flavour that only peas have.
What is the secret to a good risotto?
If you want to make a risotto like an Italian would, the only secret you need to know is this:
Use only high quality ingredients and follow the risotto cooking method to a T.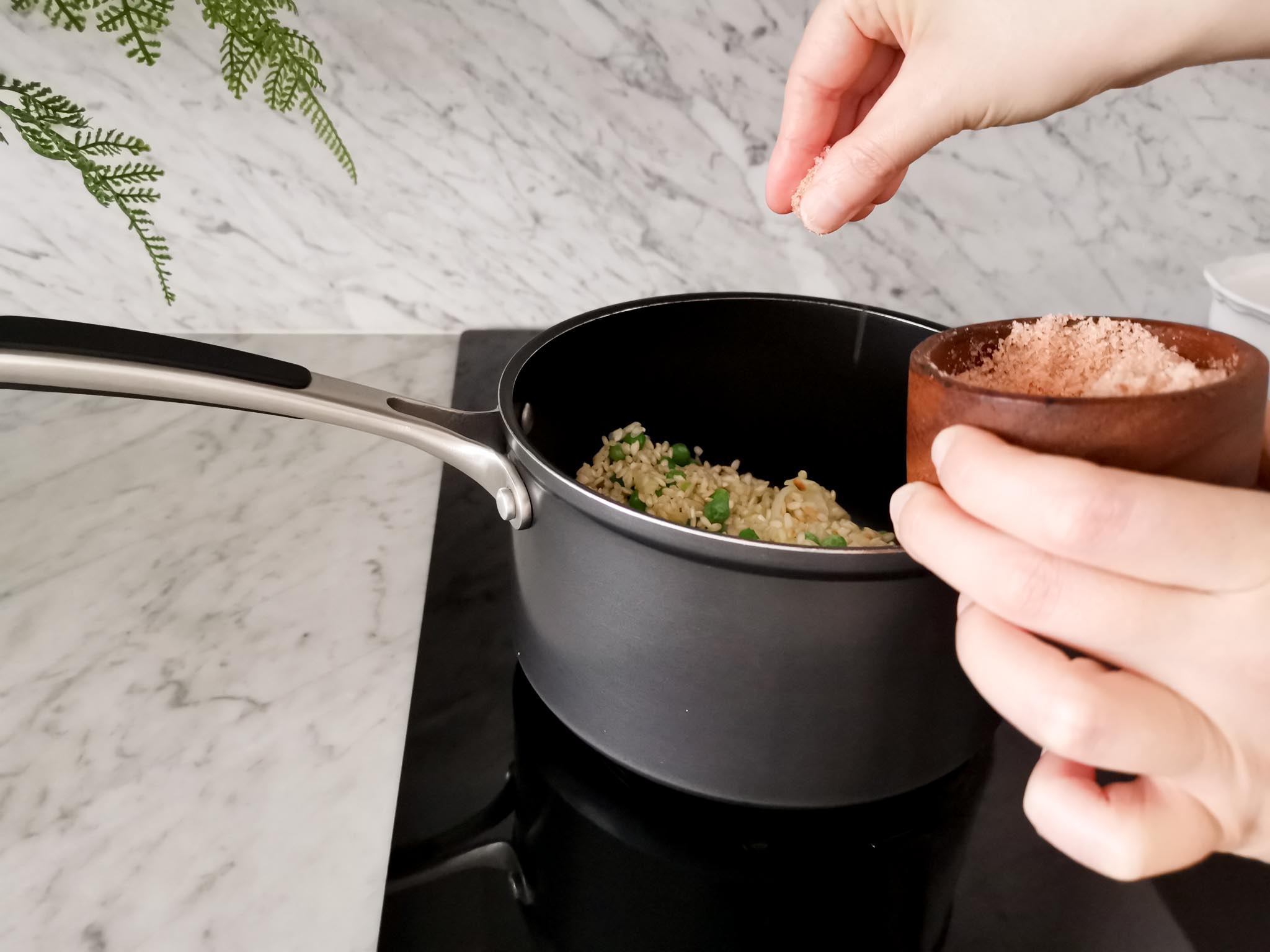 Here's the Risotto Cooking Method
Sauté your risotto base in Italian EVOO
Toast the rice grains in a pan before adding them to the pot
Add any extra ingredients and season
Add the wine and leave to evaporate
Add your stock into 3 parts; after every part, mix the risotto and leave to simmer for 6 minutes
Finish the risotto by adding in any final ingredients
Garden Pea Risotto Recipe from Puglia
It's time to make this delicious risotto recipe. Before you get started make sure you have all the ingredients, especially the Belmorso Asparagus Paté.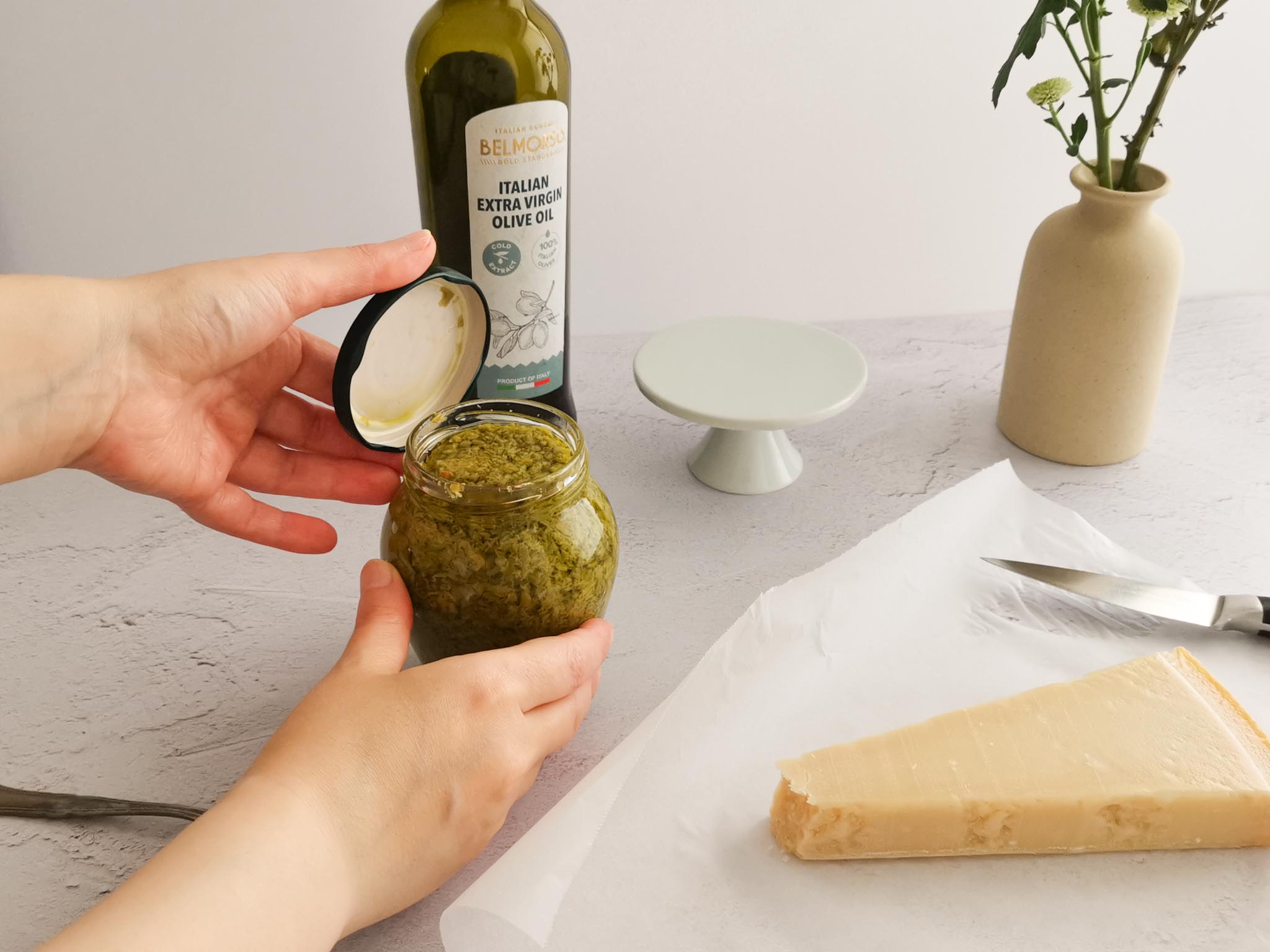 Whether you live in Ireland or Europe, you can order it online and you should get it within 5 days.
If you don't have it, you can still go ahead and make this recipe, but I suggest you get your hands on this key ingredient for the next time you make it.
Here's the step by step recipe card for you to follow.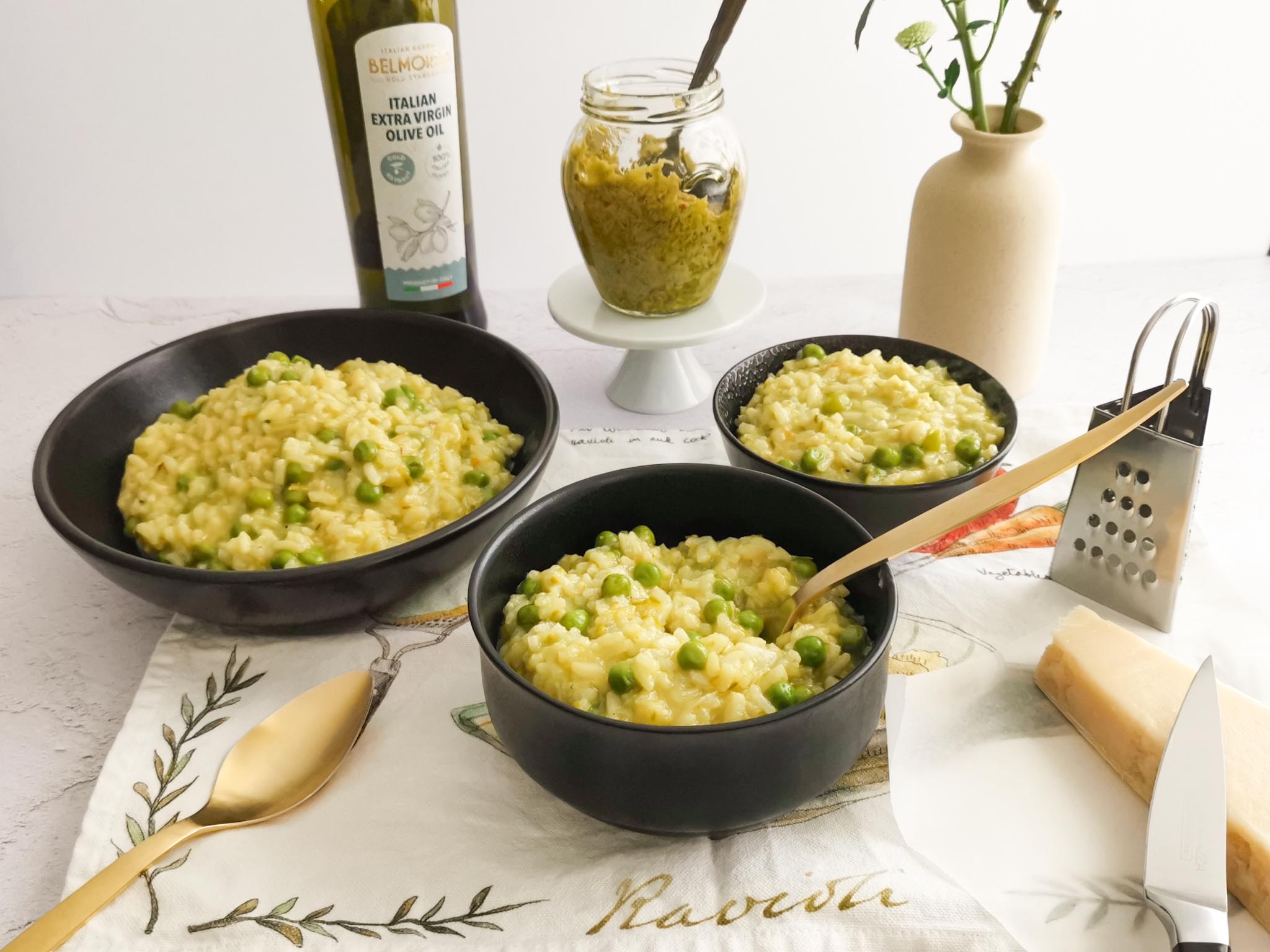 Green Pea Risotto with Cream of Asparagus
Try this green pea risotto with its delicate sweet, nutty and grassy flavour that only peas have. Feel free to use your own garden peas.
Equipment
1 spatula

1 teaspoon

cheese grater
Ingredients
550

gr

Uncooked Arborio rice

3 cups uncooked rice should turn into 9 cups which are plenty for 3 medium portions of rice.

1

medium bowl

frozen garden peas

you can replace with fresh or canned

Belmorso Extra Virgin Olive Oil

1

very small bowl

spring onions

about 2 small handfuls; I am using ones I froze from fresh but you can use fresh ones too.

1/3

glass

white wine

salt and pepper

1

vegetable stock

1.3

litres

water

6

teaspoons

Belmorso Asparagus Paté

optional fresh or frozen parsley for garnishing
Instructions
Add your spring onions to your medium pot and drizzle with Belmorso EVOO. Stir fry for a couple of minutes.

Once the spring onions start to brown, add the rice and toss around for a few minutes to toast each grain.

Next, add the garden peas and season with salt and pepper.

After a couple of minutes, you can pour your white wine in the pot. Then, leave to evaporate.

In the meantime, prepare your stock. Heat up the water and melt the cube in it.

Pour 1/3 of your vegetable stock in the rice pot, mix and leave to simmer for 6 minutes.

Pour another 1/3 stock, mix and leave to simmer for another 6 minutes.

Then, repeat one more time.

After you leave your risotto simmer for the last 6 minutes, you can add the cream of asparagus. I am using Belmorso Asparagus Paté, which is an Italian artisan product made in Puglia.

Mix the cream of asparagus into the risotto, take off the heat and serve.

Grate some parmesan on top & finish with a crack of black pepper and a few parsley leaves.
Video
Notes
If you like the taste of white pepper, feel free to replace the regular one with that.
What to serve with pea risotto?
Pea risotto, like any other risotto, can be enjoyed as a starter or a main course but not really as a side dish. At least, that's not how Italians have risotto.
So, if you are serving your garden pea risotto as a main course, go ahead and make larger portions.
If you prefer to have smaller portions, you can have a salad after your risotto. A green leafy salad with a simple Italian dressing will do the trick.
When serving pea risotto as a starter, you can add it to both fish and meat menus. A grilled or baked protein and a salad go really well after this risotto.
Here are a few suggestions for what to serve after your pea risotto: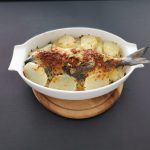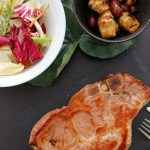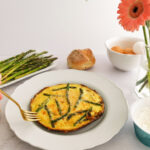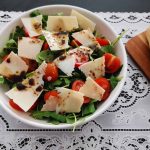 Other Risotto Recipes You'll Probably Like
Chicken Risotto with White Balsamic Vinegar
And if you like rice salad, you should try our Italian Tuna Rice Salad.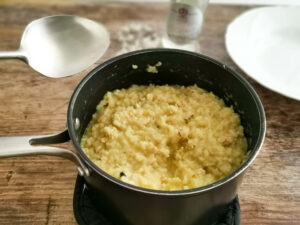 Chicken Risotto                                              Vegan Mushroom Risotto
Do Italians Put Cheese in Risotto?
Cheese, especially parmesan, is an ingredient that's featured very often in Italian risotto recipes. Depending on the recipe, Italians put grated cheese when finishing the risotto in the pot, or grate it right after serving it in bowls.
Parmesan cheese is the most versatile one for risotto because it gives a lot of flavour without overpowering the dish.
Pecorino cheese it's a great option when you want to add a ton of flavour.
What can I add to risotto to make it taste better?
Three things that can make your risotto taste better are: a lovely wine, fresh herbs, and high quality parmesan cheese.
What do Italians eat risotto with?
Italians eat risotto as a starter or as a main dish. Because risotto is never eaten as a side dish, it's actually eaten alone.
Do you cook risotto lid on or off?
Here is why you should cook risotto with your lid off. Risotto is a very hands on dish; you need to add ingredients fast, and you need to mix the risotto frequently. Plus, your risotto is only ready when the liquid element, usually the stock, is absorbed. Cooking your risotto with the lid on will not allow the water to absorb and evaporate.
How to make risotto creamy without cream?
If you follow the proper risotto cooking method, your risotto will turn out creamy without the need of any cream. The key is to add the right amount of vegetable stock, about 240 ml stock per 100 gr rice. And you must add in the stock in 3 equal parts, leaving the rice to simmer for 6 minutes before adding more.