Pesto pasta is delicious, right? But what if we move away from the classic, and try something new? Well, luckily for you, I already did the testing, and I can assure the result will delight you. So, ready to try something new? If so, let's get this bacon pasta pesto party started.
What to expect: a dance of flavours in your mouth, from the bacon to the bright sundried tomatoes pesto, with a touch of creaminess and a little crunch. Are you intrigued?
When you think of pesto pasta, you likely imagine that delicious green goodness made of basil and other fresh ingredients. Well that's right, but there are many other pesto sauces to try.
Have you tried a red pesto, or a sundried tomato pesto? There's even white pesto (here's our recipe).
The beauty of these other pesto is that you can get a little more creative rather than sticking to the classic recipes. For example, you can add meat.
What meat goes with pesto pasta?
Well, that depends on the type of pesto you are using.
For green pesto, I'd say keep it simple, stick to the classic recipe, and don't use meat.
For white pesto, bacon or ham really pair well with the other ingredients.
For red pesto, you can either use bacon or even minced beef.
What do Italians do with pesto?
Pesto and Italy are like ice cream and cone, inseparable. And while that sounds really cheesy, that's true. Let's look at how us Italians use this delicious sauce.
We add it to pasta
We use it to add flavour to our cooking, like adding a teaspoon or two to certain sauces, especially with the tomato based pesto.
We spread it on sandwiches and panini.
We add it to our protein for extra flavour.
We brush it over grilled zucchini.
We use it to stuff vegetables, protein, and pastry.
We use it as a dip.
We even use it to add extra flavour to pizza, not that it needs it..
We make crostini for appetizers.
We stuff our olives with it.
I am pretty sure I could keep going, but that's enough.
What is the most popular pesto in Italy?
The number one pesto in Italy is by far the most iconic one, the green basil pesto, which we call Pesto alla Genovese. That was born in Liguria, and is paired with trofie for a classic plate of pasta, or fresh gnocchi. Italians also like to enjoy it in panini, or to dress Summer pasta salads.
What pasta shape is best with pesto?
I am sure by now, you probably know that Italians like to pair everything, not only their shoes and hand bags, or their tie and handkerchief but also their pasta and pesto.
So here are the preferred pasta shapes to go with the four main pesto types:
Basil pesto: trofie, gnocchi, fusilli
Turnip tops pesto: orecchiette
Red pesto: rigatoni, fusilloni, penne, or even spaghetti
White pesto: linguine, trenette (a Ligurian long shaped pasta), trofie or mandilli (square pieces of fresh pasta).
If you want to stock up on delicious Italian pesto jars, that come from Italy to your door, whenever you need them, have a look at our range of Belmorso Pesto Sauces (here).
Bacon Pasta Pesto Recipe
Ready to make it? Follow the instructions on screen, or print out the recipe card, and let's start cooking.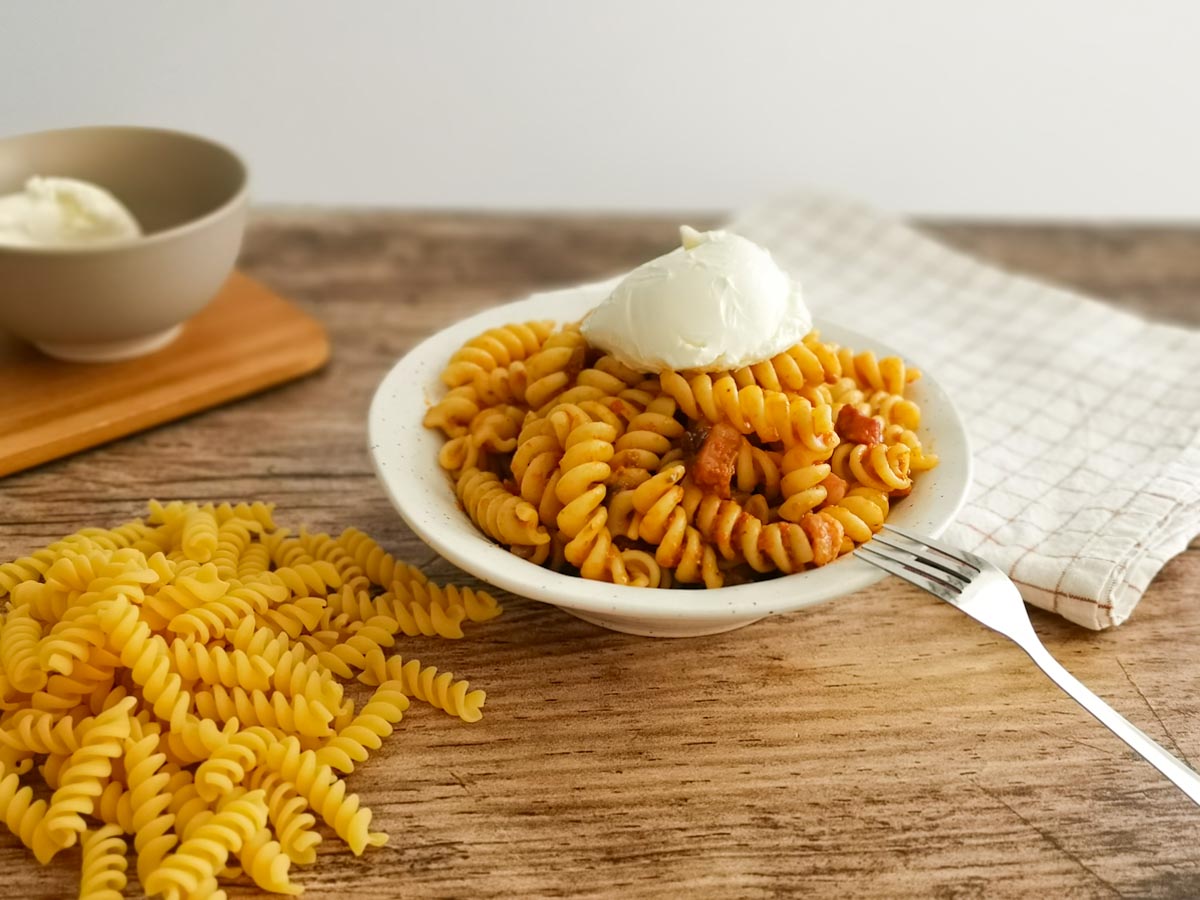 Bacon Pasta with Pesto
Switch things up with this tasty but different bacon pasta & pesto. Quick, easy, and full of flavour, it will surely hit the spot.
Equipment
1 chopping board

1 chopping knife

1 pan

1 pot

1 silicone spoon

1 pasta ladle
Ingredients
200

gr

Italian Artisan Fusilloni

1

handful

spring onions

50

gr

bacon cubes

Belmorso Sundried Tomatoes Pesto/Paté

2

tbsp

Philadelphia cheese

breadcrumbs

black olives

optional
Instructions
Chop your spring onion. Alternatively, you can use pre-frozen chopped spring onion like I am.

Add that to a pan, drizzle with Belmorso EVOO, and sauté for a couple of minutes.

Then add the bacon cubes, mix and leave to sauté.

Boil the water for your pasta with plenty of salt.

Take the bacon and onion off the stove.

Once the water is boiling, add the fusilloni to cook.

Reserve some pasta cooking water before draining the pasta.

Transfer the pasta back to the same pot, and add the sautéed bacon and spring onions.

Mix in 3 to 4 tablespoons of sundried tomatoes pesto.

Serve your bacon pasta pesto, and top it with a dollop of Philadelphia cheese while it's warm. Alternatively, you can mix in the cream cheese before serving the pasta.

Sprinkle your toasted breadcrumbs, and enjoy.
Should pesto pasta be hot or cold?
That's entirely a question of preference. Personally, I prefer my pesto pasta warm, so I can really taste those flavours. However, pesto is an excellent ingredient to add to Summer pasta salads. So the most suitable answer is that you can enjoy pesto pasta both ways – hot and cold.
How long does pesto last in the fridge?
I like to use it within a week, but depending on the type, it can even go up to two weeks. The secret is to keep it refrigerated and handle it with a clean teaspoon, every time you take some.