When all you want is warm up and feel cosy, nothing beats a traditional stew. If you'd like to try the Italian version of that meal, this recipe is for you. Our Italian stew with polenta is easy to prepare, features high quality ingredients, and most importantly it's a delicious meal to share with family and friends.
What to expect: bite into the tender beef and savour that sweet but aromatic tomato sauce that's left in your spoon. Don't forget to take a spoon of polenta. Also feel free to do the scarpetta with a slice of rustic bread.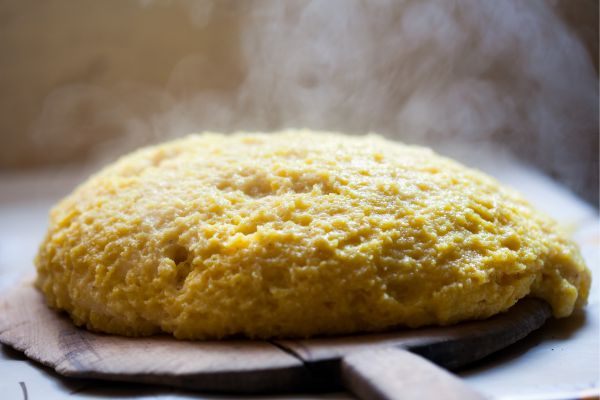 Why Do Italians Love Polenta
Polenta it's part of the Italian culinary traditions, especially when it comes to Norther Italy, hence why it's loved so much. It's a warm, easy to digest, comfort food that's also quick and easy to prepare, and can be served in a variety of ways. What's not to love?
If we look further back in time, this love was born from the common use of polenta as a staple meal in poor farmer families. While polenta was and still mainly made with mais, that is corn, there are other ways to make it.
Did you know that the Sumerians were already cooking polenta back around 4000 BC? However, they used millet and rye to make it.
In Puglia it's an old custom, that's still kept alive by traditional households, to make polenta using dry fava beans.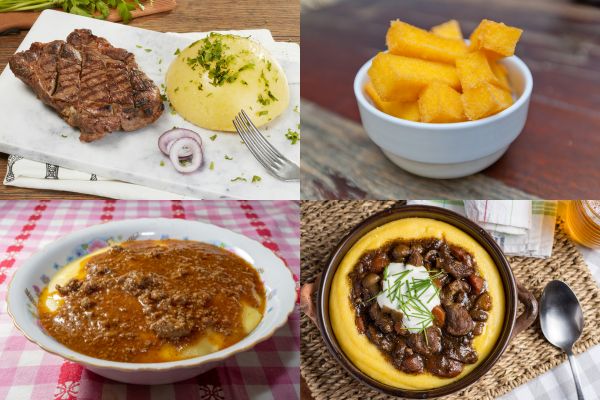 How is Polenta Traditionally Eaten
The simplest way to eat polenta is with the addition of butter or extra virgin olive oil, some seasoning and fresh herbs. Cheese goes perfectly too.
To elevate the dish, Italians like to also eat polenta with a homemade sauce, or better yet a stew.
Any leftover polenta is roasted or fried, to be enjoyed as a side dish, or added to salads.
What to Serve with Polenta
There are many ways one can enjoy polenta, however let's look at the most common ways.
With stew
With mushrooms
With steak and vegetables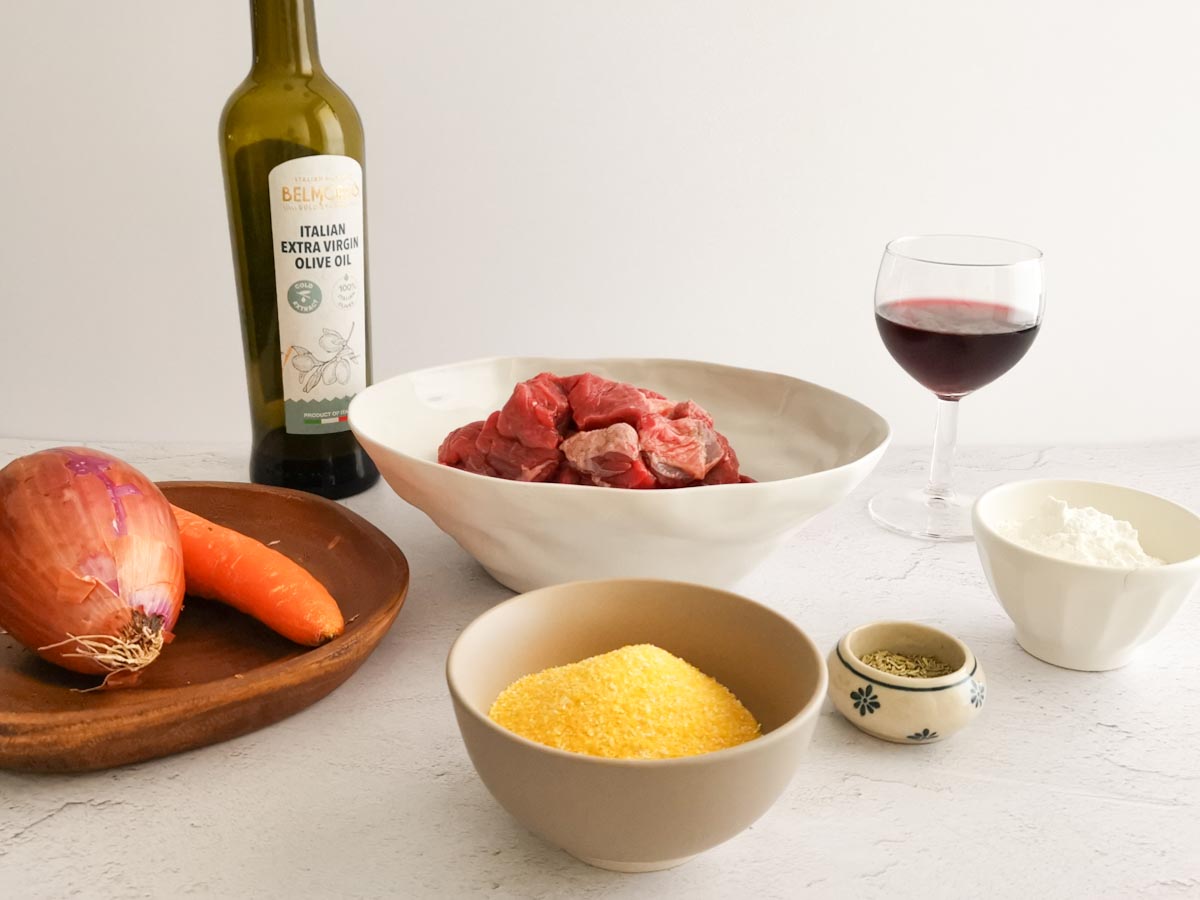 Easy Italian Beef Stew Recipe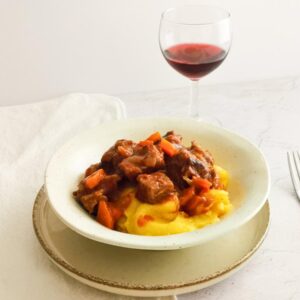 Italian Stew with Polenta
Bite into the tender beef and savour that sweet but aromatic tomato sauce that's left in your spoon. Don't forget to take a spoon of polenta.
Equipment
1 chopping board

1 chopping knife

1 medium sized pot

1 small pot

2 silicone spoons
Ingredients
1

medium

onion

1

medium

carrot

Belmorso Extra Virgin Olive Oil

500

gr

beef for stew

cut into cubes by the butcher

4

tbsp

white flour or corn flour

salt and pepper

rosemary

dry or fresh

1/3

glass

red wine

400

gr

tomato polpa

100

gr

polenta

400

ml

water

plus more for the stew
Instructions
Clean and chop your onion and carrot.

Add those to your pot along with a generous drizzle of Belmorso EVOO, and let them sauté.

In the meantime, take your beef cubes, season them and coat them with the flour.

Add the floured beef to your pot with the onion and let the pieces brown.

Then, proceed by adding the wine and let it evaporate before you proceed to the next step.

It's time to add your polpa, season and add the rosemary. I also added half a glass of water.

Mix and leave to simmer over low heat for up to 1 hour.

Half way through, look at your stew and add water if you see the sauce has reduced too much. Mine didn't need it.

10 minutes before your stew is ready, start preparing your polenta. Follow packaging instructions. However, that usually involves boiling your water with salt. Then once it starts boiling, add the polenta flour, lower the heat and keep mixing until it starts thickening. Take off the heat and continue mixing some more.

I personally like to add extra virgin olive oil and some herbs or spices. In this case, you could add 3 tablespoons EVOO and some black pepper. Grating some parmesan or pecorino cheese is also a great idea.

Serve the polenta immediately and top it with the Italian beef stew. Buon appetito.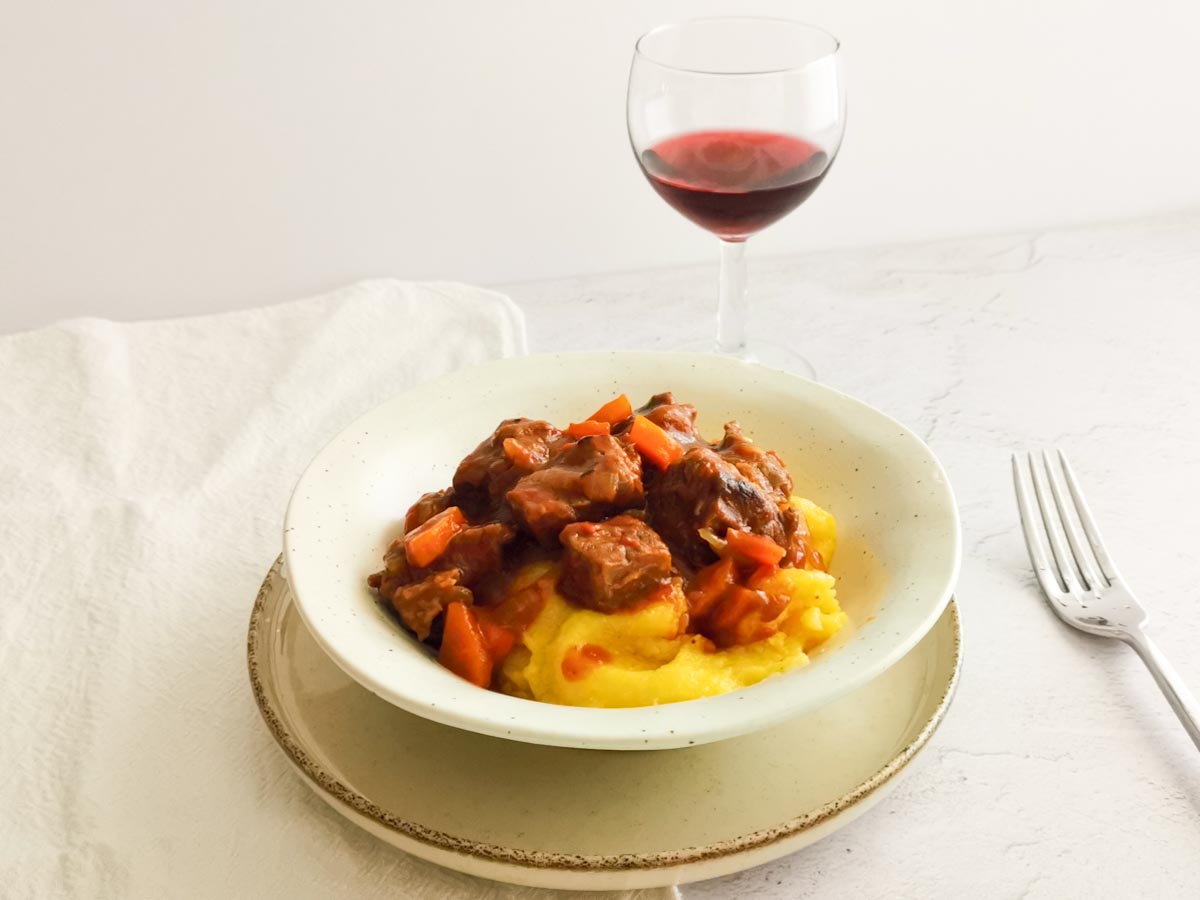 Italian Stew with Pasta: Yes or Nay
So you might be thinking how about adding pasta to my beef stew, similar to what Italians do with minestrone? Is that something an Italian would frown upon?
It is indeed. As I've highlighted multiple times in past articles, Italians do not serve pasta with another course in the same plate. Stew is considered a main course, so it's never mixed with pasta.
However, what Italians do is cook the stew with plenty of sauce to spare, and then use the extra sauce to make some delicious homemade pasta. That can be served before enjoying the stew as a main course.
And if you are wondering how come then polenta is served in the same plate as the stew, that's because polenta is considered a side dish.
Vegetable Stew with Polenta for Vegetarians
If you want to make an Italian stew without the beef, you certainly can. Follow our recipe above and replace the beef with either tofu, seitan, or tempeh. Alternatively, you can use mushrooms and/or beans instead.