This fried eggplant sandwich has been my favourite one since I was a kid, or at least since I first tried it. The one I used to eat was actually simpler than this. It only featured 3 ingredients: a warm Sicilian mafalda roll, plenty of  just fried aubergine slices and pre-packed cheese slices.
So why do I like this simple sandwich so much?
What to expect: bite into a crunchy panino that's soft on the inside, and immediately taste the powerful yet elegant fried eggplant followed by that delicious cheesy flavour.
If you love eggplant you'll want to eat this all the time, good thing we are making a healthier version of my childhood recipe (my mum would fry the eggplant in much more oil but we are only lightly pan frying it).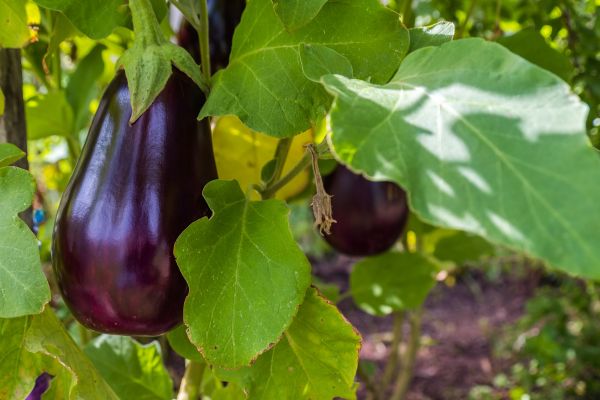 Eggplant in Italian
The Italian name for eggplant is melanzana (singular) and melanzane (plural).
Yet, melanzana is not the original name of this vegetable. Apparently, it was called vazhVt in India where it originated from. From there it was brought to Europe by the Arabs, who used to call it badinjan.
All the European languages created their own version of the name starting from the Arab badinjian. In Italy, it was initially called petonciana or petronciana.
Later, because aubergine was actually considered a food that caused ilness, both physical and mental, it was often referred to as mela non sana. The latter means an unhealthy apple.
We can clearly see the resemblance between the modern name melanzana and the old way of referring to it mela non sana.
Finally, as this recipe is Sicilian, you may want to know what's Sicilian for eggplant. The term in the local dialect is mulinciana.
Aubergine in Italian cuisine
Thankfully, Italians ignored those bad connotations and started cooking with this delicious vegetable.
The regions that produce and eat more of it are the regions in the South, due to the fact that they were more heavily influenced by the Arab culture, and they are also closer to Turkey and Egypt which are the top consumers of melanzana in Europe.
The Italian regions I am referring to are Sicily, Calabria, Campania, Puglia, and Lazio. Sicily is definitely the region that has the most popular recipes featuring this veggie.
Let's look at their most delicious and traditional recipes featuring this veggie.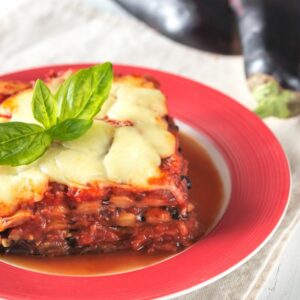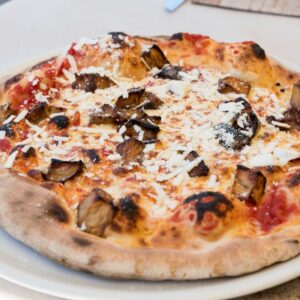 Parmigiana                                                        Pizza alla Norma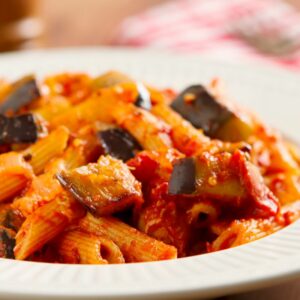 Caponata                                                         Pasta alla Norma
Top 10 Sicilian recipes using melanzana
Pasta alla Norma
Caponata – a mix of eggplant, celery, onions, olives and a sweet and sour reduction
Parmigiana di melanzane
Melanzane a beccafico – rolls of eggplant stuffed with raisins, pine nuts, grated pecorino, herbs and breadcrumbs
Grilled and marinated – the marinate is made with white vinegar, extra virgin olive oil, fresh chilli, garlic and a mix of fresh herbs
Pasta with swordfish and aubergine
Pesto di melanzane
Pizza con melanzane
Melanzane imbottite, in dialect ammuttunate, which means stuffed
Cotolette di melanzane – made following this recipe but replacing the beef with thick slices of melanzane
Other Popular Recipes with Melanzana from the other Italian regions
Stuffed aubergines with ground meat from Calabria
Vegetarian stuffed aubergines from Puglia
Orecchiette with melanzane from Puglia
Melanzane alla pullastiello from Naples – stuffed with salami and provola, then breaded and fried
Melanzane a funghetti – a side dish with cubed aubergines and tomatoes from Campania
Stuffed Melanzane alla Romana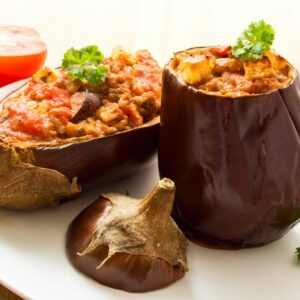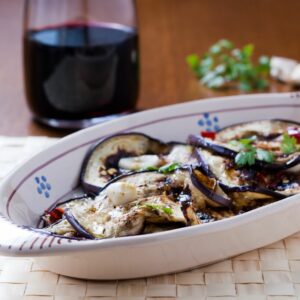 Stuffed Aubergines                                            Marinated Aubergines
How to make fried aubergine?
The classic way to make it follows these 10 steps below:
Wash and peel the vegetable
Cut it into thick round slices
Place the slices into large bowls (you'll need more than a bowl, depending on how many melanzane you are using)
Sprinkle a lot of salt and fill the bowls with water
Top the bowl with a plate that fits perfectly
Use a heavy object to place on the plate and apply pressure on the sliced vegetables
Leave for 1 to 2hrs or at least 40 minutes. Then use the plate to help you squeeze the water out of the bowls
Rinse the slices and dry
Fry in a pan with enough extra virgin olive oil to allow the slices of eggplant to absorb it
Use a perforated spoon to lift them up when ready, so you can get rid of any excess oil; and transfer them to rest on a few sheets of clean kitchen roll. That helps eliminate more of the excess oil.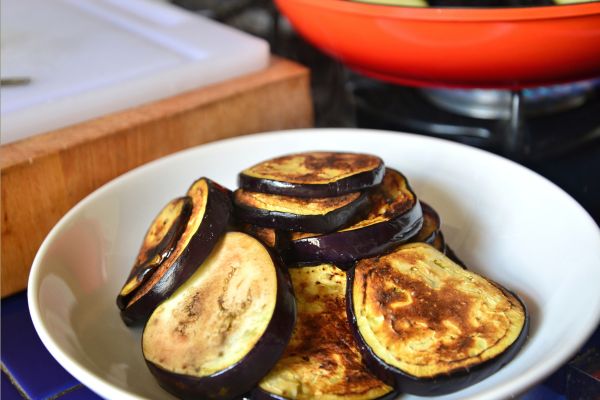 Other notes on cooking aubergines
Aubergines that are cooked this way can be used for many fried aubergine recipes, including the panino we are making today but also parmigiana, pasta alla norma, and pizza with eggplant.
You can also use this fried eggplant recipe but cut the vegetable into cubes and use less oil to fry it. This is what we are doing today to make this recipe healthier.
Cubed eggplant can be used for the other recipes I mentioned above, including the pasta with swordfish and the melanzane a funghetto.
You can also go ahead and make your own recipe using this vegetable and featuring your favourite Italian ingredients. You could make a fried aubergine salad with cherry tomatoes and mozzarella balls, a fried aubergine pasta with other garden vegetables, fried eggplant lasagna with or without meat, and even eggplant fried with a crispy breading.
What goes with aubergine?
Cheese goes with aubergine, especially one that's stringy and can melt well.
Tomatoes are another match made in heaven, whether raw or cooked into a sauce.
Ground beef and swordfish are great proteins to pair with it.
Peppers, onions, carrots, celery, olives, garlic are amazing to complement its flavour.
Many fresh herbs like basil, oregano, thyme, but also marjoram, mint and parsley go deliciously with this.
Bread, breadcrumbs, pasta, and bready doughs like pizza and focaccia are the perfect base for the vegetable.
And in terms of condiments, the simple extra virgin olive oil is the best pairing. However, there are traditional recipes that also use white vinegar.
Sicilian Sandwich Ingredients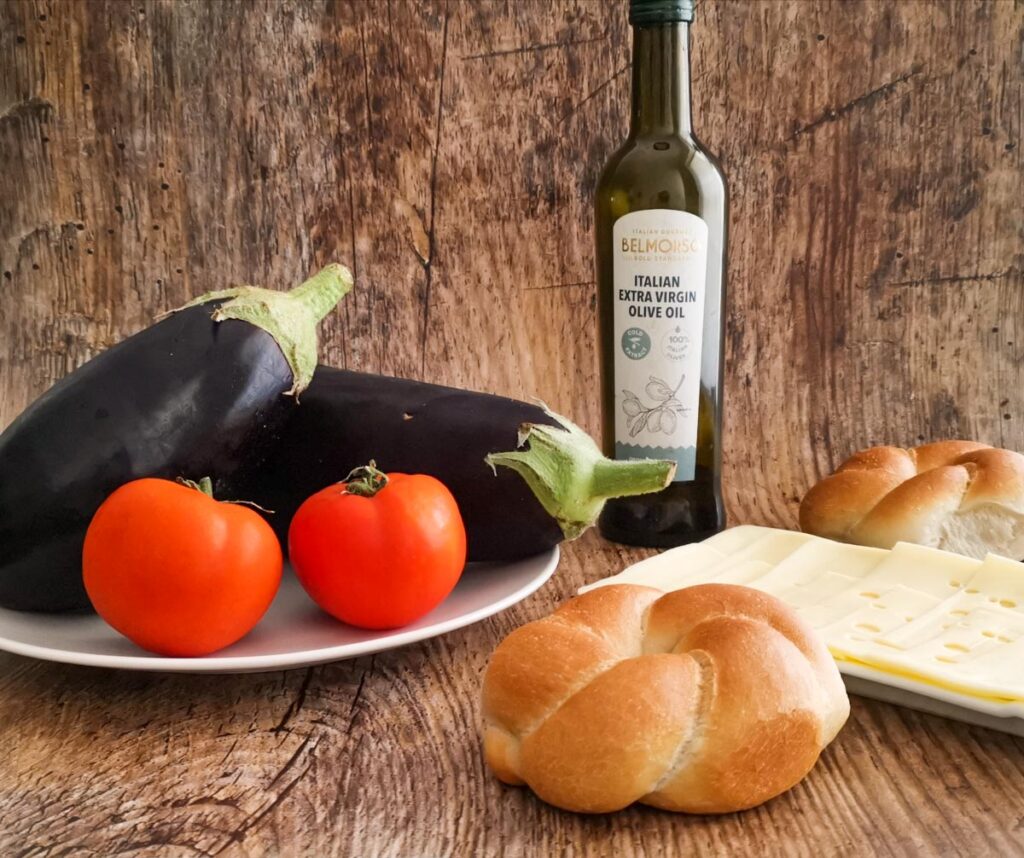 Speaking of what goes well with this tasty nightshade (nightshades are its plant family), here are the 5 ingredients you'll need to make today's recipe.
Eggplant, of course
Bread roll, similar to the one we are using or any other you like (ciabatta, or a crunchy bread like a baguette also go well)
Cheese slices like emmental or fontina
Basil or oregano, fresh or dry
Tomatoes
On top of that you'll need these three pantry staples: salt, black pepper and a high quality extra virgin olive like Belmorso EVOO.
If you are wondering which Sicilian bread goes best with this recipe, that's a mafalda or a ferro di cavallo. The latter are durum wheat bread rolls sprinkled with sesame seeds. They are very crunchy, especially if you buy them when they have just come out of the oven or you reheat them. On the inside, though they are pillowy and soft.
Now that you know what you need from the store, here's the recipe to make it.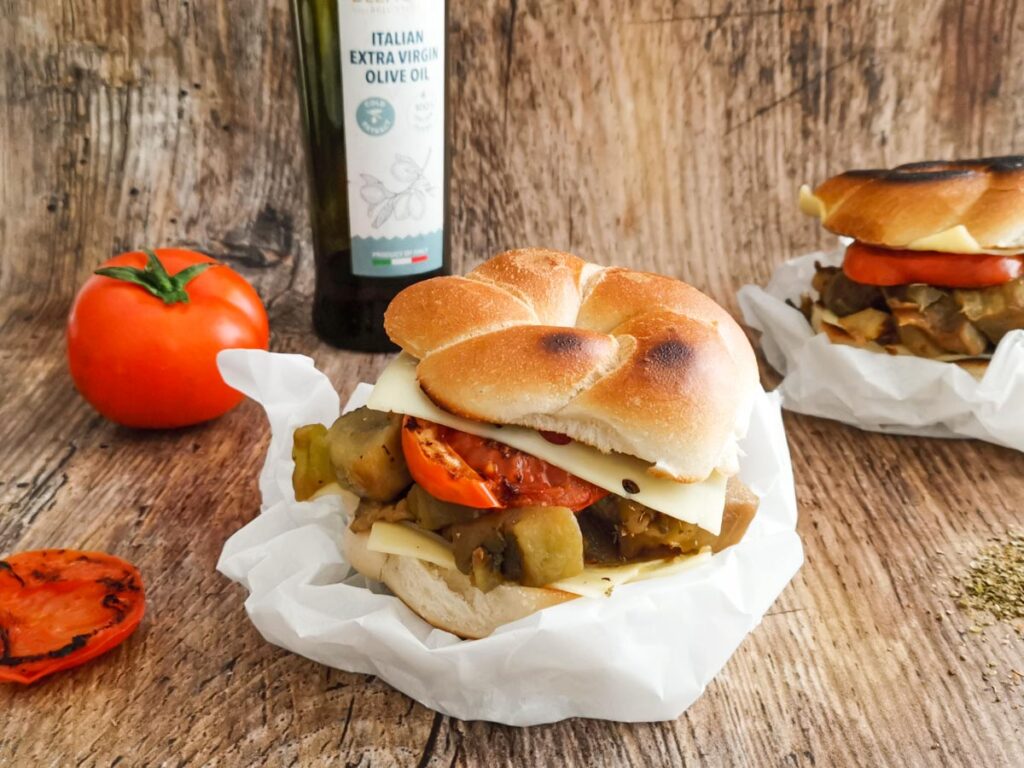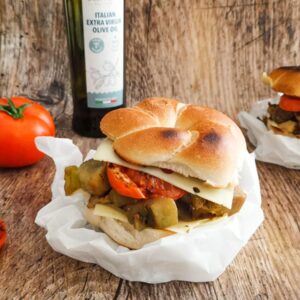 Fried Eggplant Sandwich Sicilian-style
Fried eggplant, gooey melted cheese and a soft yet crunchy bread are the main ingredients of this amazing Sicilian sandwich.
Equipment
1 chopping knife

1 chopping board

1 large bowl

1 small or medium plate

1 heavy object like a can of lentils

1 small pan

1 large pan or medium pot
Ingredients
2

large eggplants

2

medium bread rolls

6

slices Emmental cheese

Belmorso Extra Virgin Olive Oil

2

large tomatoes

salt and pepper

dry or fresh oregano

or basil
Instructions
Wash and peel your eggplant.

Then, slice into thick slices and cut each slice into 4. If you want to deep fry them, you can keep your slices whole.

Put the cut vegetable in a large bowl and sprinkle with plenty of salt.

Fill the bowl with water till the top, and cover with a plate that fits into the bowl on top of the cut slices or triangles.

Then take a heavy object, like a can of lentils, and place it on top of the plate to apply pressure. That will help keep the slices submerged in the salted water to remove the bitterness as well as the excess water inside of the vegetable. Wait at least 40 minutes but preferably 1 to 2 hours.

When the allocated time has passed, proceed by draining the vegetables. You can use the plate to press the salted water out of the bowl. Then rinse the slices and squeeze any excess water out.

It's suggested to pat dry the slices so they cook crispier. Feel free to do this or skip it.

Next, add the eggplant to a pot or large pan, drizzle with a generous amount of extra virgin olive oil and put on the stove to cook at medium heat. Make sure to mix them from time to time so they don't stick to the bottom.

Alternatively, you can deep fry them into a medium large pan with more extra virgin olive oil. This will take a little longer as you need to leave enough space between each slice, plus it will have more calories.

While your aubergine cooks, you can slice your tomatoes.

Take a pan and grill your tomato slices for a few minutes. This way, they will be warm and a little crispy on the outside.

Don't forget to season your vegetables with salt and pepper, and mix well.

When your aubergines are nearly ready, grill your bread in the oven or in a pan on both sides.

It's now time to assemble your sandwiches.

Start with a slice or two of cheese at the bottom.

Then pack your roll with plenty of fried aubergines.

Follow with a generous sprinkle of dried oregano. You can use dry basil or fresh if you prefer.

Top with the sliced of tomatoes.

Season with salt and pepper.

Top with the last slice or two of cheese, and cover with the top of the bread roll.

Press the sandwich so that everything amalgamates and the cheese keeps melting.

Put yours on a plate, sit down, and start eating it. So delicious, right? Buon appetito!
Notes
The calories are for the pan fried version of this recipe, including two slices of cheese on a medium bread roll. You'll need to account for another 200 calories or more for the deep fried version. Once in a while, I'd say it's ok to indulge in the latter.
Variations of this recipe
Feel free to tweak this recipe as you like. Here are some common variations.
Baked eggplant sandwich with the vegetable baked in the oven instead of fried
Fried eggplant mozzarella panino with mozzarella instead of the sliced cheese
Vegan roasted eggplant sandwich using a vegan cheese
Fried eggplant tomato sauce panino parmigiana style
Other Sandwiches to Try
If you stumbled upon this recipe, it means that you adore sandwiches. Well, us Italians do too :).
Have a look at these other Italian sandwiches on the blog.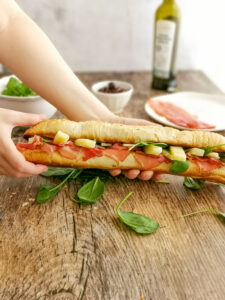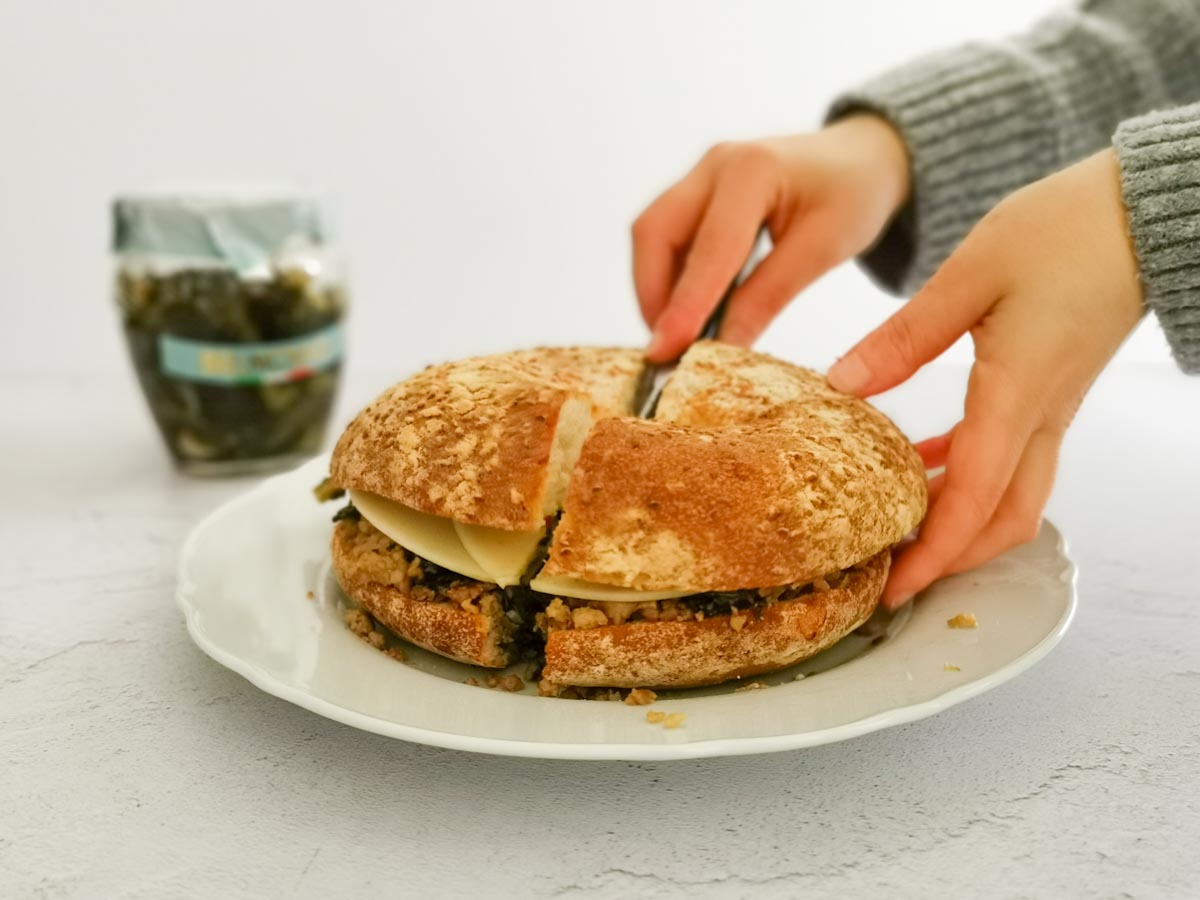 Is it worth salting aubergine? and other questions
What's the difference between aubergines and eggplant?
They are the same vegetable or fruit, as they actually belong to a family of flowering plants called nightshades. The Americans call them eggplants while the British call them Aubergines from their Arab name badinjan.
What does fried eggplant taste like?
Fried eggplant has a very interesting flavour, sweet yet slightly bitter but it's not a bad kind of bitter. It will also taste differently depending on how it is cooked. If it's grilled or roasted, it will take a slightly charcoal taste. It it's fried, it will become sweeter thanks to the oil.
Is fried eggplant bad for you?
If eaten in moderation and only occasionally fried eggplant is not bad for you. If you want to avoid using too much oil you can, just follow our recipe.
How to fry aubergine?
Frying aubergine to perfection has a whole process behind it. The latter includes 10 steps which we explain in detail inside this article.
What goes with aubergine?
A few of the top ingredients that pair the best with aubergine are tomatoes, basil, cheese, onions, peppers, bread, extra virgin olive oil, pasta. There are many more which we also mention.
Where does aubergine grow?
Aubergines prefer the heat, so they are better grown inside greenhouses or in climates with long and hot summers. That's why the Southern regions of Italy are perfect for growing this vegetable/fruit.
Should aubergine be peeled before cooking?
It's your call whether you choose to peel it or not. As a rule of thumb, you'll want to peel it if it's store bought, but if it's fresh and coming from your garden you can freely keep the peel on. Also consider whether you have indigestion issues, in which case you should go ahead and peel it.
Is it worth salting aubergines?
Yes, it is. Salting them can help remove some of their bitterness, extract some of their water, and make them crispier when fried or roasted. You can do it for just 40 minutes but we suggest doing it for at least 1 hour. Follow our steps from 1 to 10 for all the details.
What is the best oil for frying eggplant?
We suggest using extra virgin olive oil for frying eggplant because it's great at tolerating high temperatures while still maintaining its nutritional properties. Plus it's delicious and much healthier than lower quality oils like grapeseed oil.
What can I do with too many eggplants?
If you are lucky to have many eggplants around here are a few recipes you can cook in bulk: fried eggplant slices, parmigiana, add it to pasta with tomato sauce, use them to stuff bread or top pizza, make caponata, marinate them and preserve them in jars, add them to swordfish, stuff them with ground meat and so many more Italian and Mediterranean recipes.
How do you cook eggplant so it's not mushy?
Boiling or cooking eggplant with oil in a pan tends to make it mushy. If you don't like that, you should opt for deep frying it, grilling it on a grill, or roasting it in the oven.
What pairs with aubergine?
A few of the top ingredients that pair the best with aubergine are tomatoes, basil, cheese, onions, peppers, bread, extra virgin olive oil, and pasta.