Tuna Rice Salad is a classic Italian Summer dish that every household makes regularly during the warmer months. It's a staple for beach days as well as picnics in the countryside. And it's also a great one to prepare for work and school lunches.
The beauty of this dish lies in its simplicity, but that's only when your tuna rice salad turns out flavourful. My aim with this recipe is to show you how to turn your boring rice salad into a bowl full of flavour.
What to expect: Take the first bite, preferably out of the big bowl :). Wow will be your first thought. With so much flavour, you'll need to go for a second bite. Go ahead, plate yourself some and enjoy a lazy lunch or dinner that's healthy too.
Let's make it!
Rice Salad in Italian language
Insalata di riso is the term we use to call this dish.
Its main ingredient, rice, is known as riso in Italy.
Here are the Italian words for the other common ingredients you'll find in this recipe: uova (eggs), tonno (tuna), olive (olives), pomodori secchi (sundried tomatoes), carciofi (artichokes), cipolla lunga (spring onion), prezzemolo (parsley), parmigiano (parmesan), olio extra vergine di oliva (extra virgin olive oil), sale (salt), and pepe (pepper).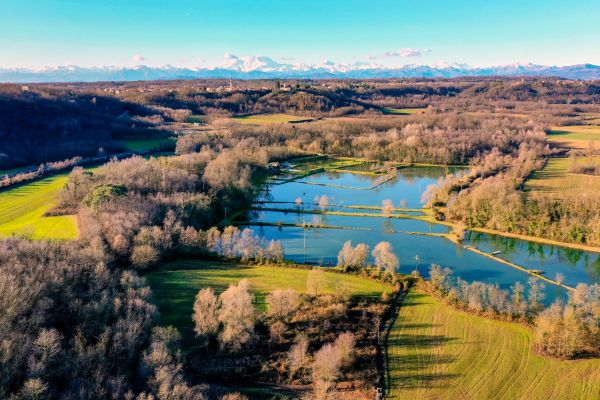 Italian Rice
Since rice is the base of this recipe, I think it's necessary we have a look at the different types of Italian rice.
Did you know that Italy is the largest rice producer in Europe?
Its production accounts for 50% of the total rice production in the continent. CBI under the Ministry of Foreign Affairs provides more details, if that interests you.
The type of rice produced in Italy is called Japonica rice, and includes these varieties:
Carnaroli
Arborio
Roma
S. Andrea
Baldo
Vialone Nano
Balilla
The first 5 varieties are the most popular and the ones being featured the most in Italian recipes, including rice salads and risotto.
These are all types of Japonica rice, which means Japanese rice.
Would you have ever guessed that Italy produces so much Japanese rice, and that those Italian dishes are made using a variety that's actually Japanese? I am surprised too.
But I guess it all comes down to the fact that rice is intrinsically an Asian food, that originates from that area.
Italy is simply using its resources to produce a food staple that's in high demand. The resources I am referring to include plenty of space for rice fields, the hot and humid climate, and an effective irrigation system.
Next time you're in Italy take a tour of a few rice fields. You'll find most of them in the Pianura Padana, which is a vast plain that expands throughout the Northern Italian regions from Piemonte to Emilia Romagna.
You'll be able to have a look at how your favourite risotto and salad rice is produced.
Which rice is best for risotto?
The Japonica rice varieties I mentioned previously are the best types of risotto rice. That's why Italy produces so much of them because they are required for domestic consumption and for both European and International exports.
Carnaroli, Arborio, Roma, Baldo, S. Andrea and Vialone Nano are all great options to make risotto. However, the most loved and used in Italy is Carnaroli rice.
Carnaroli rice is a longer grain rice that doesn't release too much starch while being cooked, but still enough to make a delicious risotto.
If you are looking for an even creamier and starchy result, opt for Arborio rice.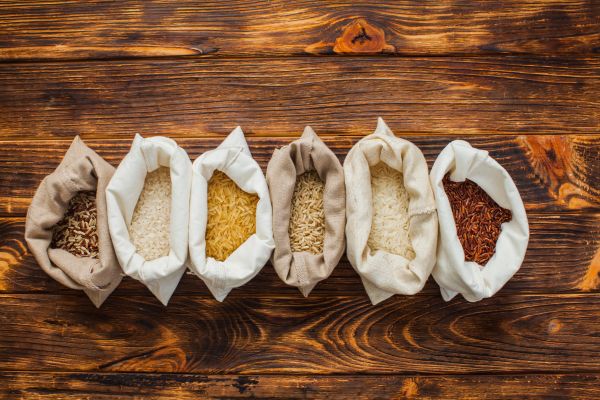 Which rice is used for rice salad?
Parboiled rice is the most used by Italians to make rice salads, followed by Roma and Arborio.
It's also the best to use in salads because it can't be overcooked and stays separated without sticking to the other ingredients.
It's not suitable for risotto because it doesn't allow the amalgamation necessary to make a creamy risotto that's only possible when the grain releases some starch.
Which rice is used for arancini, the famous Italian rice balls?
Arborio and Carnaroli tend to be used to make arancini because they are so popular and they can also release a good amount of starch which is fundamental for the success of this recipe. These types of rice can hold the shape, release enough starch for binding but not so much that it makes the required shaping difficult.
Italian Style Rice Salad
I'd like to share with you what's so special about an Italian cold rice salad, and how it differs from rice salads around the world.
The beauty of this dish lies in the use of a few simple high quality ingredients that are full of flavour.
This is in line with the philosophy behind all Italian cooking, and that's what makes it authentic.
While Spanish cuisine might feature beans and avocados, it's obvious that you'll find authentic Italian ingredients in our Italian version. Let's look at what these are.
Rice Salad Ingredients
The best ingredients for rice salad happen to include many of the ingredients you'll find on a classic Italian antipasti board.
The reason is that Italian simply love earthy, fresh, and juicy ingredients that come from nature.
An average rice salad will probably include a jar of mixed giardiniera, canned peas, eggs, cubed ham and cheese. To that you can add tuna and mayonnaise.
Even though that recipe is very common among Italian households, I'd say it feels more American than Italian.
Here are the ingredients we suggest putting into a rice salad if you truly want it to taste like Italy:
a high quality Italian rice
a high quality Italian olive
a high quality Italian tuna
artisan jarred vegetables, not mass produced supermarket ones
fresh herbs
optional: a small quantity of onion, garlic, or spring onion for that rustic tangy and pungent taste
a high quality extra virgin olive oil like Belmorso EVOO
just a touch of parmesan cheese, as I don't believe cheese is fundamental in this dish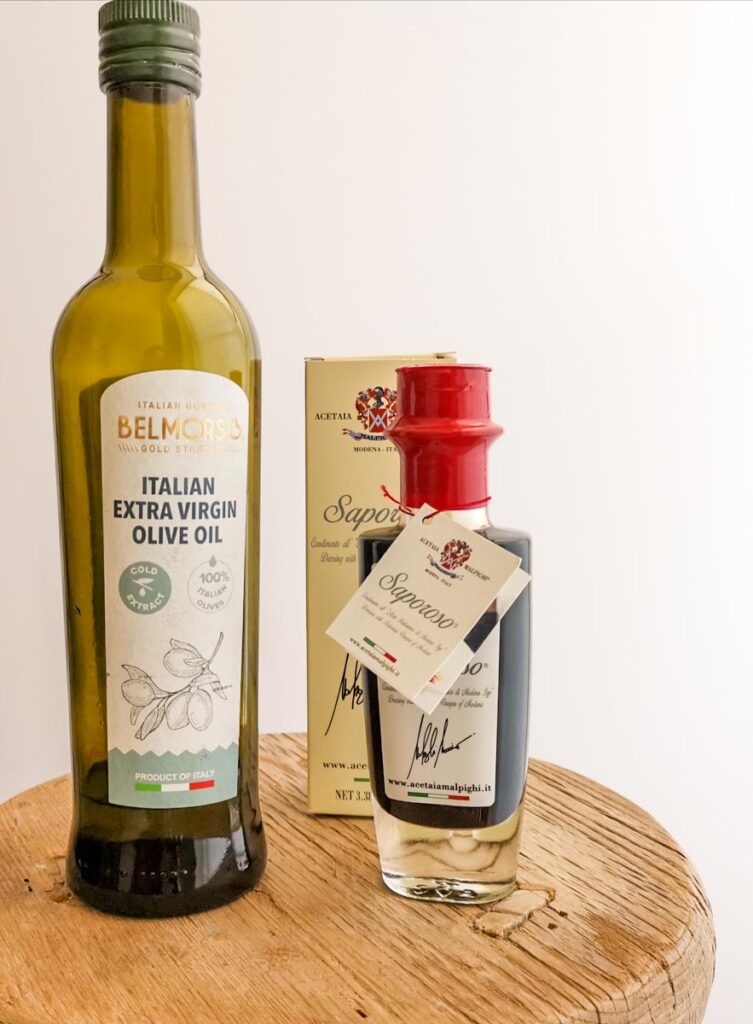 Dressing for Rice Salad
You would think that Italians put Italian dressing in their rice salads. Well, the reality is that extra virgin olive oil is all you need and it's also the most common dressing we use.
The dressing you should use highly depends on the type of recipe you are making.
If you want a zesty rice salad, and if your ingredients call for that, you can obviously put either balsamic or lemon juice to go with your EVOO.
Italian Rice Salad Ideas & Which Dressing to Use
The classic Italian dressing with olive oil and balsamic would pair amazingly with a rice salad that includes tuna, tomatoes, eggs, cucumbers, and carrots. For this type of recipe I suggest a dark balsamic vinegar of Modena like Saporoso Balsamic Condiment.
On the other hand, a lemon and extra virgin olive oil dressing would pair deliciously with a combination of these ingredients: rice, courgettes, tuna, eggs, peas, parsley and black olives.
Recipe for Rice Salad
Try our authentic Italian tuna and rice salad from Puglia featuring these ingredients from our region:
If you'd like, you can choose your olives from our Artisan Jarred Vegetables Range.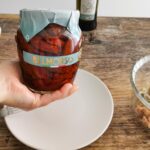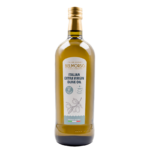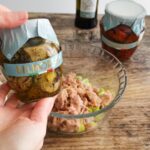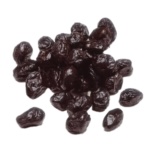 And as usual, feel free to follow the steps on your screen or print out the recipe card.
Happy cooking (or buona preparazione in Italian)!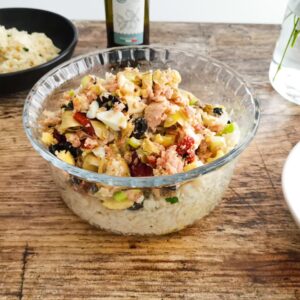 Italian Tuna Rice Salad
Tuna Rice Salad is a classic Italian Summer dish that every household makes regularly during the warmer months. Today we are making an authentic and flavourful Apulian rice salad.
Equipment
1 small pot

1 medium sized pot

1 large bowl

1 extra large bowl

1 chopping board

1 chopping knife

4 forks

1 for every vegetable jar, to avoid contamination and spoiling

1 spoon
Ingredients
300

gr

Parboiled Rice

2

cans

tuna in light extra virgin olive oil or in brine

2

boiled eggs

or more if you prefer

10

Belmorso sundried tomatoes

5

Belmorso whole artichokes

1/2

handful

black olives

or more if you prefer

1

medium

spring onion

or adjust according to your preference

1/2

handful

fresh or frozen parsley

salt and pepper to taste

3

tbsp

Belmorso extra virgin olive oil

parmesan shavings

as much as you like
Instructions
Weigh your rice; fill a pot with plenty of water and season with a good amount of salt. The correct amount of water is 900 ml to 1l.

Cook the eggs in a separate small pot to get them hard boiled. We suggest a cooking time of between 8 to 10 minutes.

When the water is boiling add your rice to cook, following the packaging instructions. Mix from time to time while it's cooking.

In the meantime, start preparing your ingredients.

Clean and chop the spring onions thinly.

Open the tuna, remove any excess water or oil if necessary, and add to the large bowl with the other ingredients.

Take the sundried tomatoes out of the jar and chop into smaller pieces. Add to the large bowl.

Repeat the previous step with the jarred artichokes. Add to the large bowl.

Do the same for the olives. Add to the large bowl.

Chop the eggs and add to the bowl.

When the rice is ready, drain any excess water although there shouldn't be any if you have used the right ratio, about 600 ml per every 200 grams. Transfer the rice to your extra large bowl.

Season the rice with salt and pepper, and add the extra virgin olive oil. Leave to cool for at least 20 minutes.

Once the rice has cooled, you can add the parsley and mix well.

Follow by adding all the ingredients you prepared in the other bowl, and mix well.

Finish with a few shavings of parmesan cheese.
Video
Notes
Store the remaining rice salad for up to 4 days. Feel free to make your rice salad the day before, especially if you need it for a special outing or for work/school lunches.
To turn this rice salad vegan, simply omit the tuna and use a vegan parmesan alternative.
Enjoy this Mediterranean rice salad for lunch or dinner, at home or on your next outdoor adventure.
Rice Salad Recipes to Try
Next time you are craving this dish, you should try one of our older recipes from the archives. They are old but still very tasty. You'll find a few that are unique and innovative, as well as good alternatives to the classic dish.
What is the best Italian rice? and other questions related to rice salad
Is rice salad healthy?
Rise salad can be enjoyed as part of a balanced healthy diet. As with anything, the key to it being healthy is to enjoy it in moderation. A medium-sized plate of our rice salad recipe has 400 calories.
How long does rice salad last in the fridge?
Rice salad should last well in the fridge for up to 4 days. To avoid it from going bad make sure you use a clean spoon whenever handling it.
What to put in rice salad?
The most common ingredients in rice salad are obviously rice, along with boiled eggs, tuna, olives, jarred vegetables, peas, carrots, ham, cheese, fresh herbs, salt and pepper, extra virgin olive oil, and mayonnaise.
What is the best Italian rice?
Carnaroli is the most popular and most loved Italian rice. It's great for risotto and arancini. It's an ideal rice because it can hold its shape while still releasing the necessary starch to make a creamy risotto or a sticky arancino.
Do you season rice before or after cooking?
You should season the water you are using to cook the rice, and then you should season the rice again. Consider the ingredients your recipe calls for before deciding on the amount of salt to add to the rice after cooking. If your ingredients are very salty, like sundried tomatoes and olives, keep the salt quantity low.
Are rice salads really that healthy or not?
Rice salads can be as healthy as you want them to be. Start with a base of rice, which is one of the healthiest ingredients out there, and add a variety of fresh vegetables. Then add a protein like tuna and eggs. Follow by adding a few ingredients that are high in flavour like sundried tomatoes and olives. Season, add some dry or fresh herbs, and dress with a high quality extra virgin olive oil. The result is a delicious and healthy rice salad full of nutritious ingredients.
What to do with jarred artichokes?
You can add jarred artichokes to rice salads, pasta salads, any other type of salads. You can also enjoy them as a side dish with a protein, you can use them as sandwich fillers, enjoy them as a snack or with antipasti.
What herbs can you eat in salad?
Feel free to add your favourite dry and fresh herbs to your salad. Fresh herbs like parsley, basil and cilantro are great to bring more flavour to a salad. And so are dry herbs like oregano, thyme and dill.
What parsley is used for salads?
We are using Italian parsley or flat leave parsley in our rice salad. You can use that or curly parsley, which is the most common variety. The other types of parsley are Japanese parsley and Hamburg parsley.
What is parboiled rice best used for?
Parboiled rice is best used for rice salads, and that's in fact the kind we are using in our recipe. It's also great to make fried rice and baked rice casseroles because of its ability to hold its shape and its low starch content.