Spicy Italian Chicken Wings are perfect when you are craving those restaurant-style wings that taste so good. They are rich, but healthy, oozing with spicy Italian sauce, and you can crisp them up as much as you want.
What to expect: bite into a saucy chicken wing made with our Apulian Cannonata spread. You'll first taste the earthy tomato sauce, but don't worry you'll quickly be met by the spiciness that's in it. If you like really spicy, this will probably be not that hot for you, in which case you can fill your side bowl and keep dipping.
Ingredients for Spicy Chicken Wings
The ingredients used to make spicy chicken wings differ based on the recipe you want to make. Do you want to make a Mediterranean-style spicy chicken wings or an Eastern-style dish? Do you want your wings to have tomato sauce or not?
If you answered Mediterranean-style and tomato sauce, then you'll love these Spicy Italian Wings.
Here are the ingredients you'll need to make them:
Chicken wings, of course
Belmorso Cannonata, for the spicy component
Garlic
Spring onions
Salt and pepper
Parsley for garnishing
Lemon for some freshness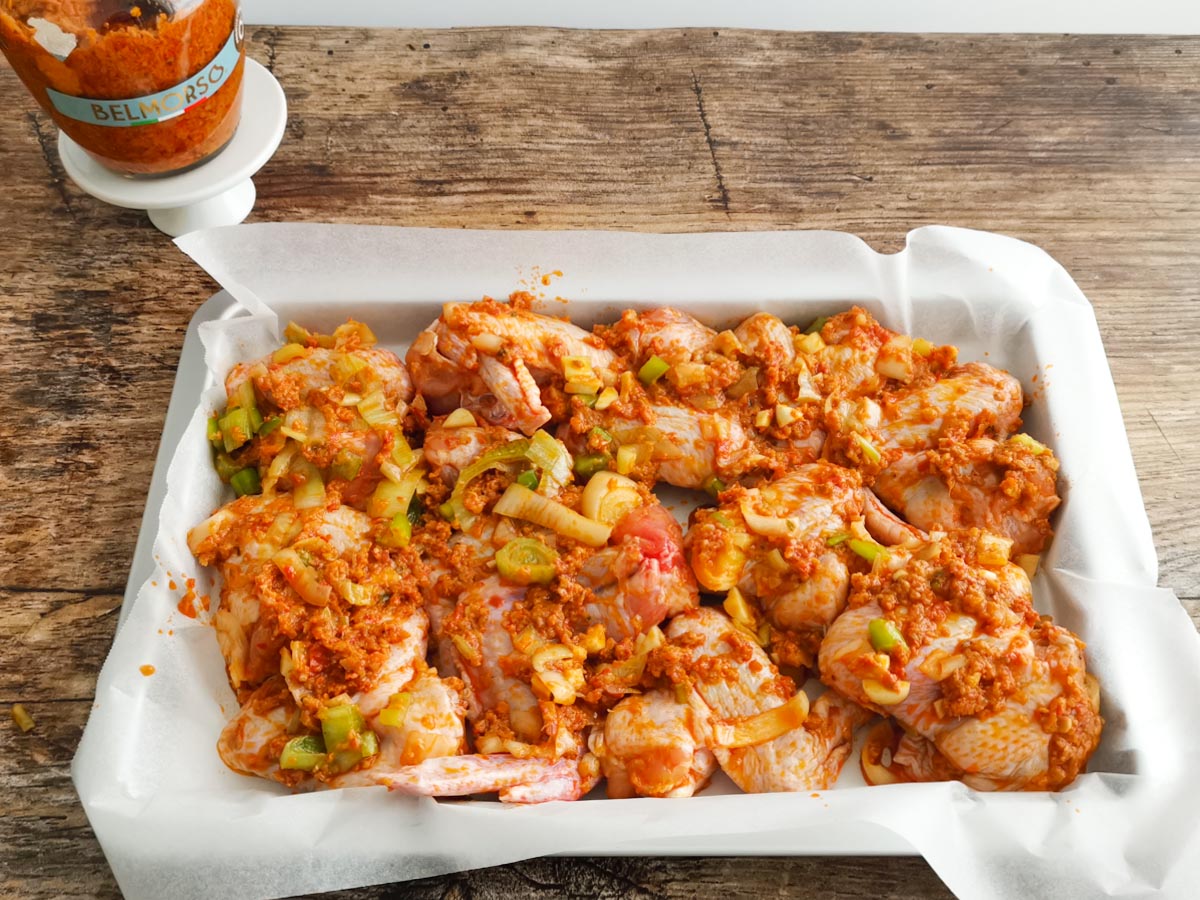 Spicy Chicken Wing Marinade for Oven
To make this simple but ultra tasty Italian spicy chicken wing marinade, you'll just need 3 ingredients. These are: Belmorso Cannonata, garlic and spring onions.
Chop and mix them with the wings, and your spicy marinade is ready to go.
Make sure to let the marinated wings rest in the fridge for at least 30 minutes, so they can soak up those flavours and be extra tasty.
We'll be adding the fresh parsley later, after the chicken wings have baked; that will give them some freshness.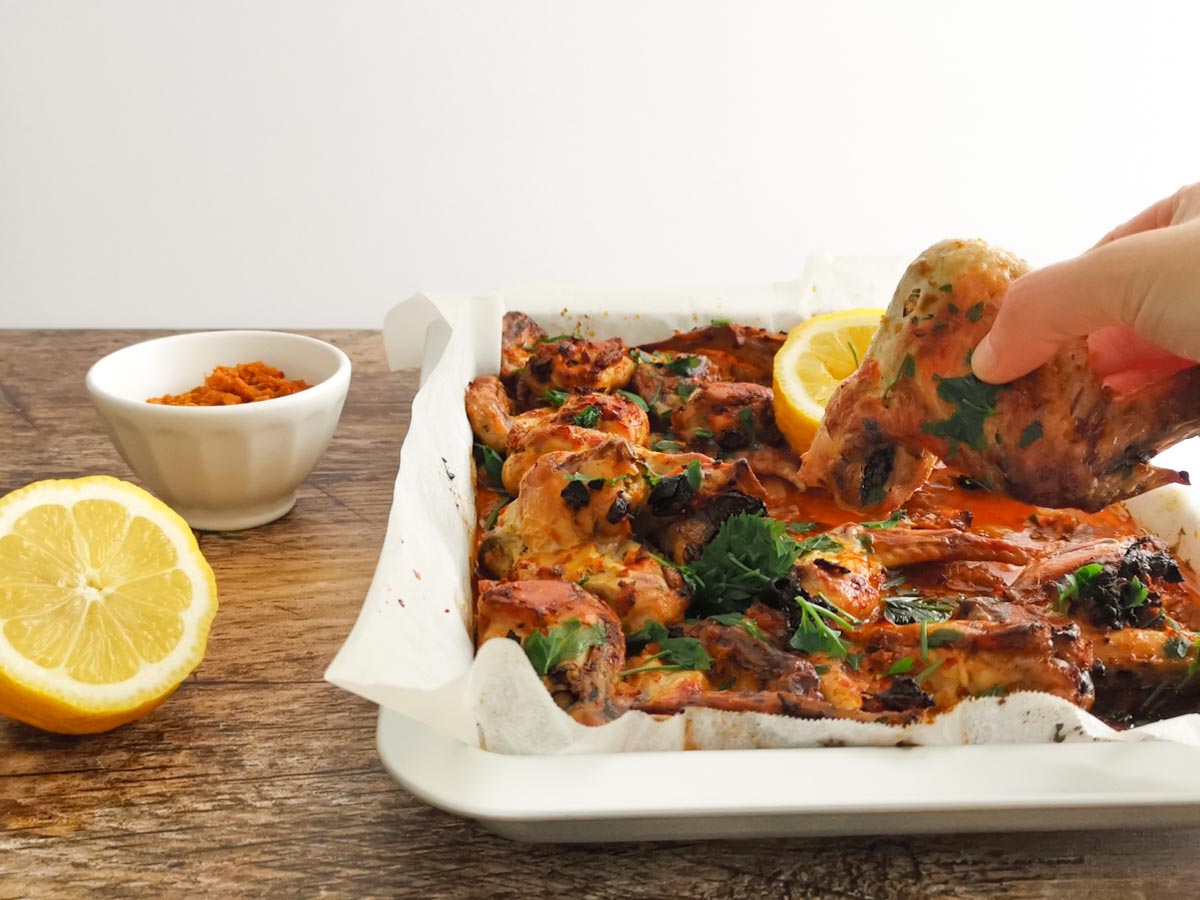 Chicken Wings Cooking Time
Chicken wings should stay in the oven for eat least 45 minutes, if you want them to be fully cooked on both sides.
However, we suggest leaving them for even longer, about 1 hour, and cooking them at a lower temperature. This makes them extra tasty.
Don't worry, if you like yours crispy, you can crisp them up at the end.
Here are the cooking time steps explained:
First, make sure to pre-heat your oven. I pre-heated mine to 180 degrees Celsius for about 10 minutes.
Then, proceed to put your chicken wings in the oven. Place them on the upper level of your oven so they can start taking some colour and cook well on top. You want to leave them there for about 20 minutes.
Next, transfer them to a lower level and let them bake slowly for another 20 minutes. This will allow them to get flavourful and cook at the same time, without risking them burning.
After that, you'll want to turn them on the other side, one by one and bake them for another 20 minutes. This time you'll place them at the top of your oven, so that the rear side can cook properly and get some colour.
Finally, if you want yours to be crispy, do this. Take them out of the oven, and transfer them on a clean dish with new parchment paper. Place them again in the oven, under the grill, for about 3 minutes on each side.
PS: If you have an air fryer, you can also try crisping them up in that, once they are fully cooked.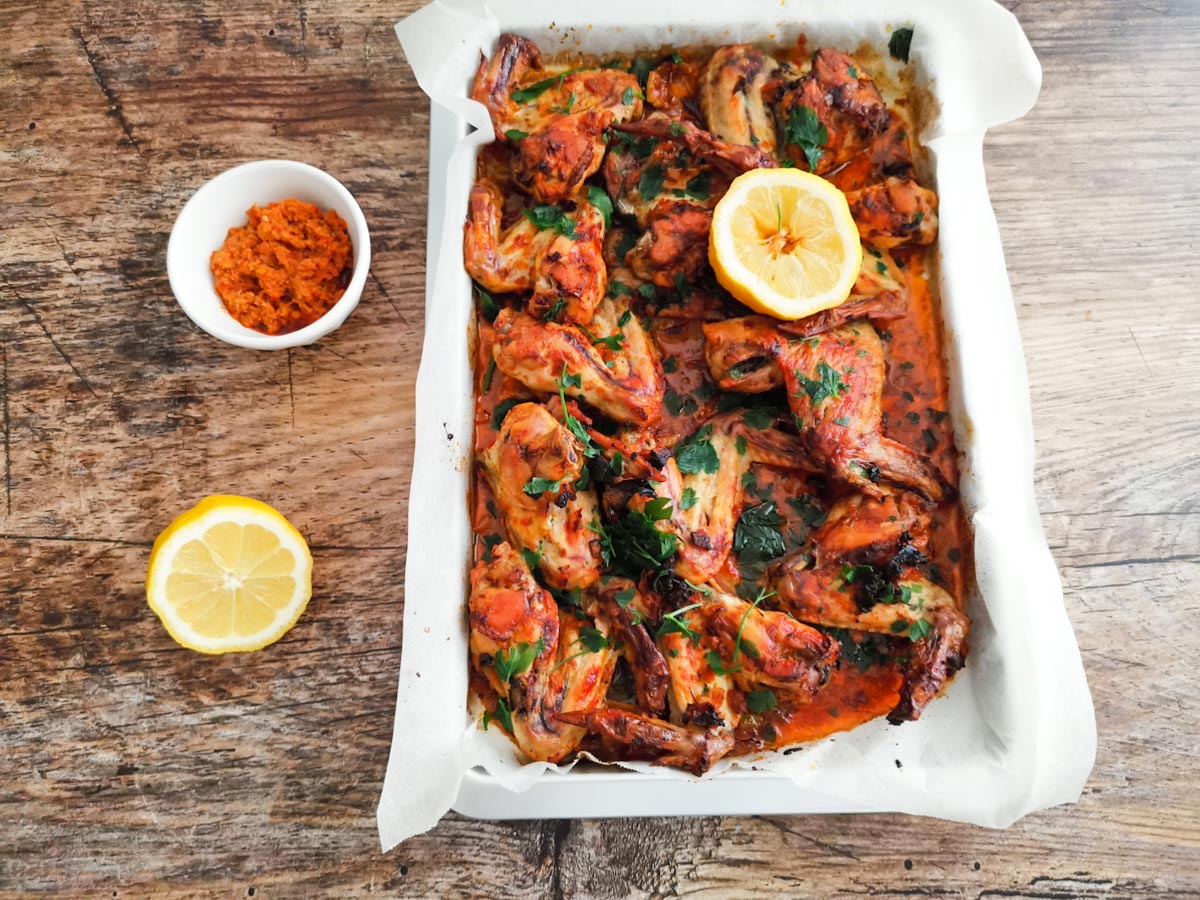 Italian Spicy Chicken Wings Recipe Easy
Here's a super easy spicy Italian chicken wings recipe that you'll love preparing during weekdays after work. Prep. time is short but it takes some time to marinate and cook. While that's happening, you can go ahead and do some chores around the home or get ready for the evening.
Follow the recipe on screen or feel free to print out the recipe card.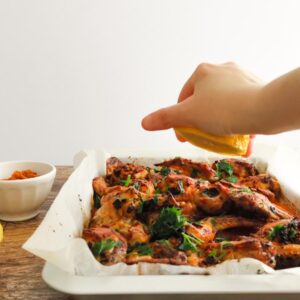 Spicy Italian Chicken Wings
Spicy Italian Chicken Wings are a one-dish kind of dinner you'll love for weekday evenings, easy to prepare and delicious.
Equipment
1 chopping board

1 chopping knife

1 large bowl

1 tablespoon

1 baking dish

parchment paper
Ingredients
12

chicken wings

5

tbsp

Belmorso Cannonata

4

cloves

garlic

1

small bowl

chopped spring onions

salt and pepper

fresh parsley

1

medium

lemon
Instructions
First thing, clean your wings from any excess fat, if your butcher hasn't done that for you.

When you are done, put them into a large bowl and set them aside.

Take your chopping board and knife and cut your garlic cloves into small medium pieces. Alternatively, you can also use a mincer.

Next, chop your spring onions until you fill up a small bowl, with about 3 handfuls, if you have small hands like mine. Feel free to adjust according to your taste.

Add the chopped garlic and onions to the chicken wings in the bowl.

Take your jar of Cannonata, open it, and spoon out 5 large tablespoons of the spicy spread. Add that on top of the chicken wings.

Then use your spoon or your hands to massage the sauce into the chicken wings, as well as mix the other ingredients we added.

Let the chicken wings rest for 30 minutes in the fridge so they can marinate in the spicy sauce.

Pre-heat your oven and set it to 180 degrees Celsius.

Transfer the marinated wings on a dish with parchment paper, and lay them one next to each other, not overlapping.

Spoon any extra sauce and onions on top of the chicken, and bake in the oven for 20 minutes on the upper level.

After 20 minutes, move the dish to the lower level of the oven, and bake for another 20 minutes.

Then, take out the wings and turn them one by one. Put the dish back in the oven , this time on the higher level, and bake for another 20 minutes.

If you want your chicken wings to be very crispy, transfer them to a clean dish with clean parchment paper, and put under the grill for 3 to 5 minutes on each side.

Take out the wings, let them cool for 2 minutes, and then sprinkle the chopped parsley on top.

Finally, squeeze the juice of a lemon, and serve.
Video
Notes
Feel free to share this dish or enjoy the leftovers the next day.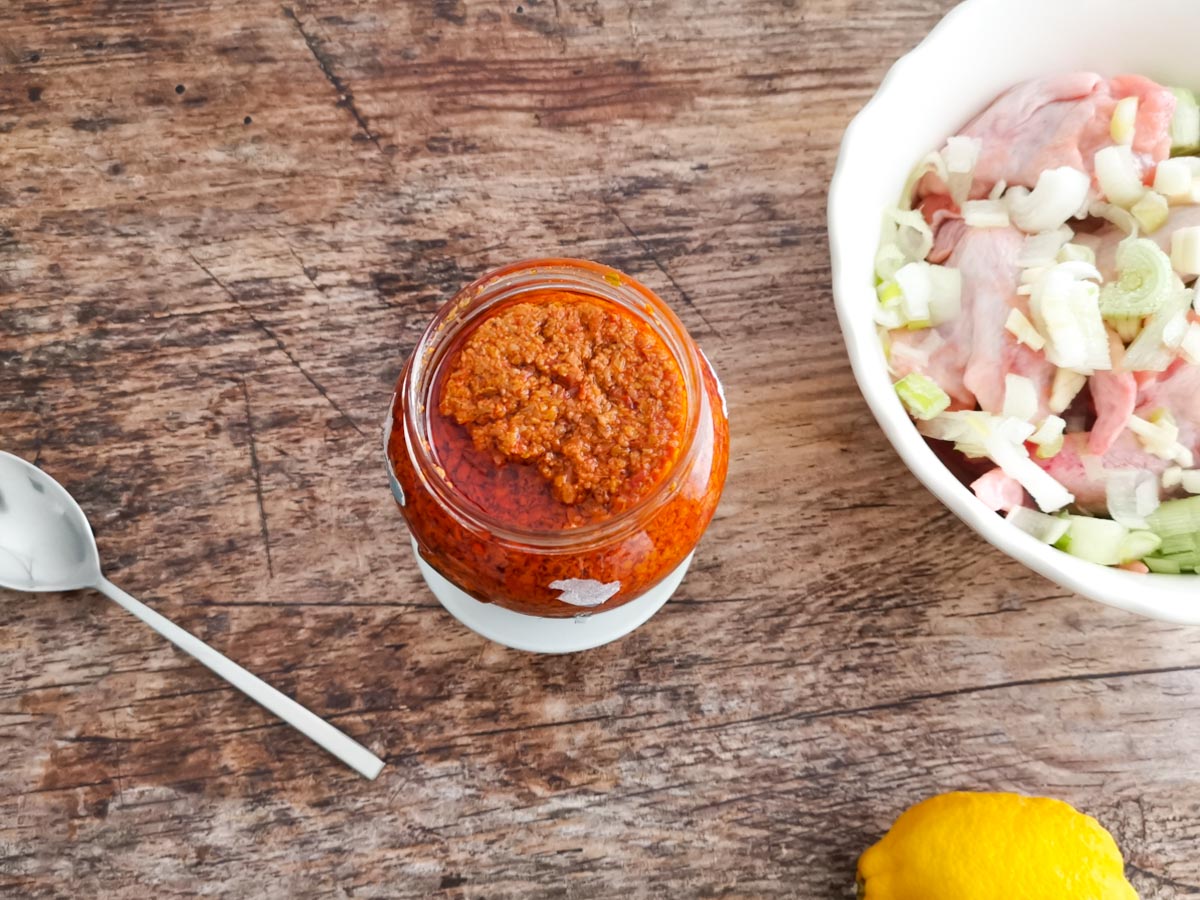 Dipping Sauce for Spicy Chicken Wings
Do you like dipping your chicken wings in more sauce?
If so, no problem, simply add a few spoons of Cannonata to a dipping bowl, and place it next to your plate.
Enjoy dipping your Italian chicken wings into a delicious and slightly spicy tomato goodness.
You can also use Cannonata as your dipping sauce if you opt to make your chicken wings super simple, and cook them in the oven with just some seasoning and extra virgin olive oil.
3 Best Side Dishes for Italian Chicken Wings
It's likely that you might also be looking for a great side dish to pair with your wings. If so, here's a round-up of the three side dishes we suggest.
A healthy Italian salad with the classic balsamic and extra virgin olive oil dressing. See recipe.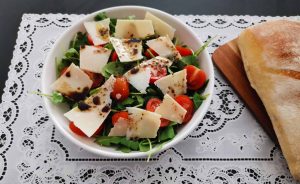 Roasted Balsamic Vegetables pair perfectly with the wings. See recipe.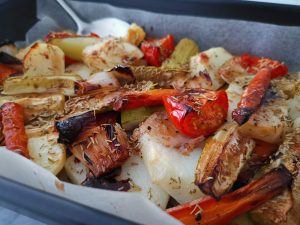 A scrumptious Italian Potato Gratin is the way to go if you want to indulge yourself. See recipe.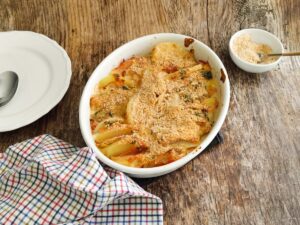 More Recipe Ideas for Italian Chicken Wings
If you love the simplicity and tastiness of this dish, don't stop here.
You can try different flavours of Italian chicken wings by just switching up your sauce.
Here are all the other sauces you can try:
You may also like this Balsamic Grilled Chicken Marinade recipe I made a few months ago. Simply switch up the chicken thighs for chicken wings.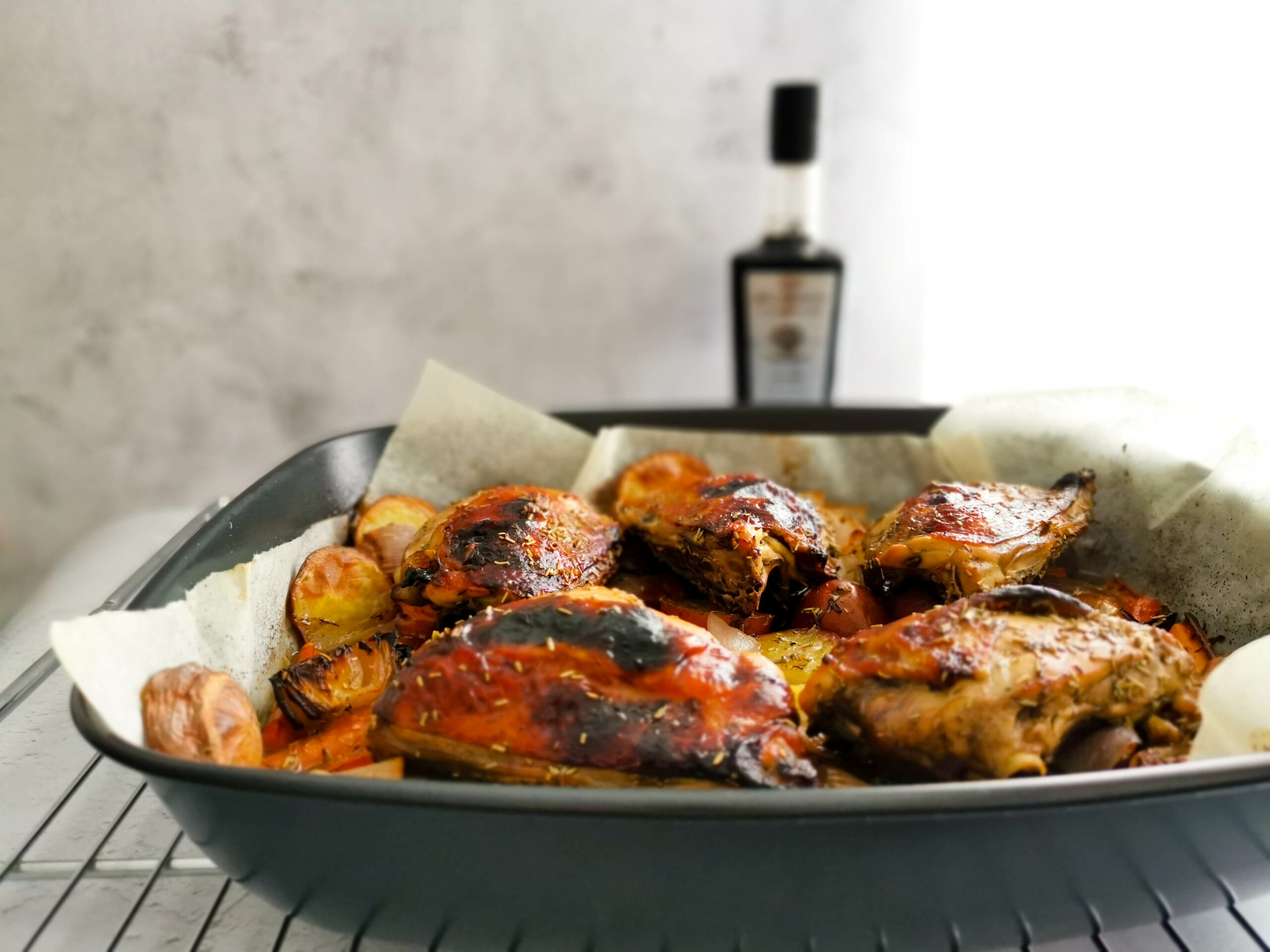 Are Chicken Wings Popular in Europe and Italy?
In this section, I will answer all the common questions about chicken wings. Feel free to ask more questions in the comments, should you not find the answer you are looking for.
How many chicken wings in a kilo?
There are about 8 to 10 chicken wings into a kilo, but this could easily vary depending on how large they are.
When to sauce chicken wings?
You should sauce chicken wings right after you've cleaned them, washed them and seasoned them. Add your sauce, for example Cannonata, along with any additional ingredients like garlic and onions.
How many chicken wings per person?
6 chicken wings per person are a good sized portion, that can fill you up and keep the calories under 500, depending on the sauce you use.
Are chicken wings keto?
Yes, chicken wings can be considered a keto dish, as they are high in protein, have a good amount of fats, but are also low in carbohydrates. You'll want to serve them with a keto side dish, to keep your meal keto friendly.
Can chicken wings be reheated?
Yes, chicken wings can be reheated either in the microwave, if you don't mind losing the crispiness, or in the oven. You can also reheat them in the pan but that might take a little longer. And you can crisp them up in an air fryer.
How to cook chicken wings in the oven?
Cook chicken wings in the oven following these simple steps:
clean your chicken wings
chop any ingredients you want to add
add the sauce and the other ingredients
let them marinate for at least 30 minutes with your sauce and other ingredients
transfer to a dish and bake
towards the end, don't forget to turn them so they can fully cook
How to make Italian Chicken Wings?
You can make Italian chicken wings just the same way you would make any other type. The key difference is using an Italian sauce to marinate, like spicy Cannonata. Alternatively, you can marinate them in Italian extra virgin olive oil and balsamic, chop some garlic, and bake.
How to say chicken wings in Italian?
Chicken wings are called ale di pollo in Italian. When they are really small, the diminutive alette di pollo is used to refer to them. Ale means wings and pollo means chicken, while alette translates to small wings.
What is a good side dish for chicken wings?
A healthy leafy salad is a great side dish for chicken wings, especially if you add chopped onions and cherry tomatoes, and dress it with a high quality extra virgin olive oil. Other options include roasted vegetables, crispy baked potatoes, oven chips, potato gratin, or even a bowl of peas.
What spices go well with chicken?
Chicken can take a lot of different spices. Which spice you use depends on the type of dish you are making. For a Mediterranean-style chicken recipe, use oregano, thyme or rosemary; for an Eastern chicken dish use cumin, saffron, ginger, and turmeric.
Are chicken wings popular in Europe?
Chicken wings are also popular in Europe, although probably not as much as they are in the US. Europeans like to enjoy them as a cheeky takeaway, but also prepare them at home. Barbecue chicken wings, plain chicken wings and crispy fried wings are the most eaten.