Want to give your next barbecue bacon burger a touch of Italian flavours?
If so, this recipe will show you how to do that very easily, just by swapping a few key ingredients.
Keep reading and I will show you exactly how.
Here's what to expect: bite into an elevated barbecue bacon burger with sweet and woody notes. The balsamic barbecue sauce will greet you first, until you'll meet the perfectly cooked crispy bacon and the delicious melted provolone cheese. But that's not it.., you still need to bite into that thick juicy homemade burger we flavoured with balsamic barbecue sauce.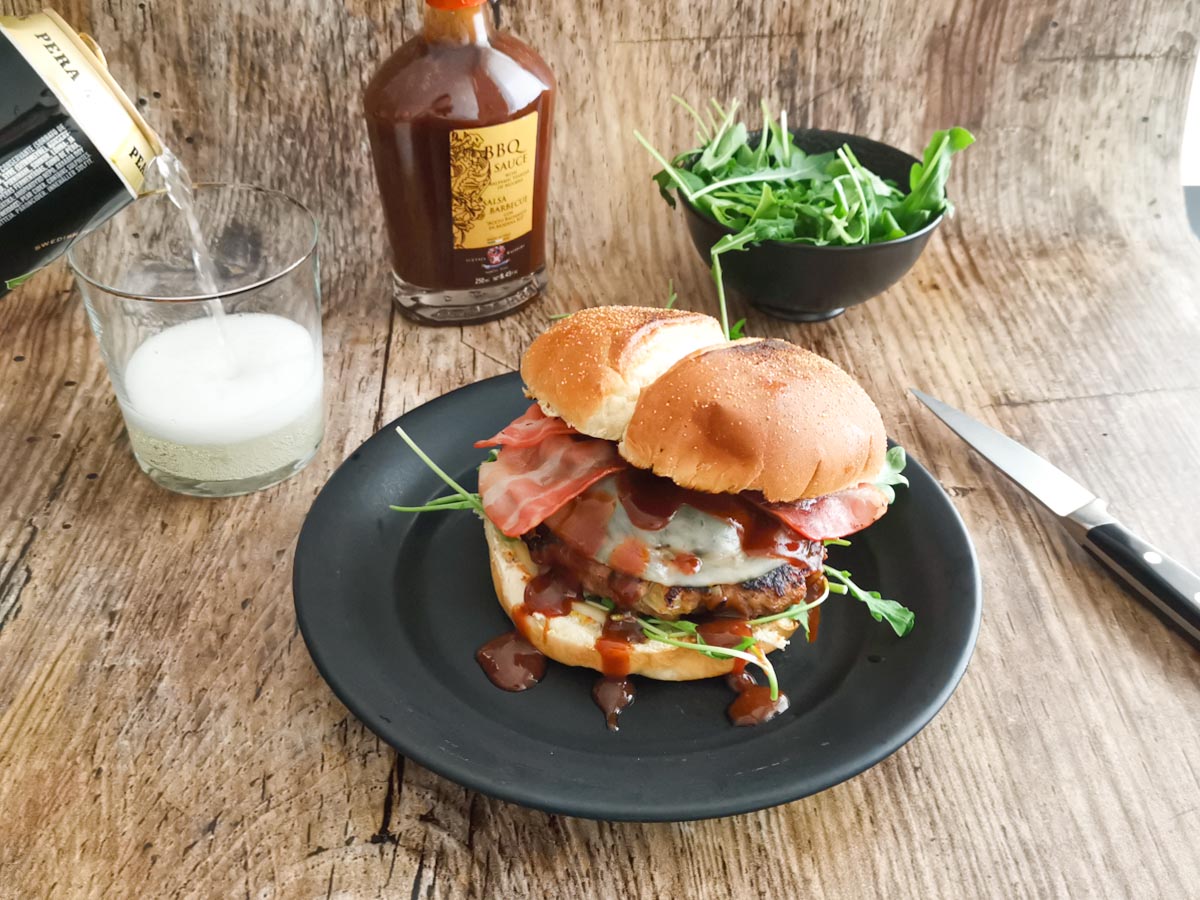 Best Barbecue Sauce from the city of Modena in Italy
To make a mean barbecue bacon burger you need a key ingredient: barbecue sauce.
We suggest you try this Balsamic Barbecue Sauce if you want something truly special.
Not only will this add a touch of Italy with its balsamic flavours, but it will also make your bacon burger more delicious with added sweetness and smokiness.
The best thing is that once you get your hands on this balsamic barbecue sauce, you can use it for all your barbecue meats, including chicken, ribs, steaks and even tofu and seitan.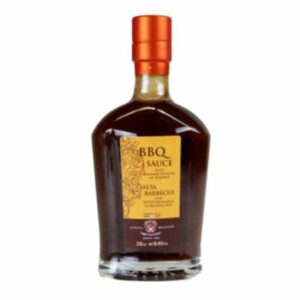 Barbecue Bacon Burger Recipe from Italy
Balsamic Barbecue Bacon Burger
Elevate your barbecue bacon burger by adding flavours from the Italian cuisine. The result is a sweet and woody scrumptious burger.
Equipment
1 chopping board

1 chopping knife

1 large bowl

1 spoon

1 fork

1 pan

1 baking dish
Ingredients
200

gr

beef mince

half

medium

yellow onion

salt and pepper to taste

1

tbsp

Balsamic Barbecue Sauce

1

handful

fresh or frozen chopped parsley

1

small

egg

1.5

tbsp

breadcrumbs

4

slices

bacon

4

slices

provolone cheese

I am using pre sliced round slices

1

box

rucola

2

bistro burger buns

Belmorso Extra Virgin Olive Oil
Instructions
Most of the recipe involves making and cooking the burger patties, so that's where we are starting. Take your bowl and add the minced meat; season well.

Proceed by adding the balsamic barbecue sauce.

Then, chop your onion and add that too.

Crack the egg in the same bowl.

Mix everything well before adding the breadcrumbs; that way, you can determine how much you are going to need.

Add the breadcrumbs in and mix again. Feel free to add more but be careful not to make your burger patties to dry. It's ok if the mixture is still wet.

Take half of the beef mixture and form a flat burger patty using your hands. Repeat to make the second one.

Place each of the burgers into a pan to cook on each side. At this point, you just need to give the sides some colour and firmness, so leave them only a couple minutes on each side.

Transfer the pan grilled burgers on a dish with parchment paper and finish cooking in a preheated oven for 20 minutes. I heated mine at 180 degrees Celsius.

In the meantime, slice your burger buns into half.

Next, crisp up your bacon into the same pan you cooked your patties.

Prepare your rucola salad by seasoning with salt and pepper.

Toast your bread in the same pan and then add a slice of provolone cheese so it can melt on the warm bread.

Top the lower half of the bun with a handful of rucola and drizzle some Belmorso EVOO.

Don't forget to add a drizzle of Belmorso EVOO to the rest of your salad.

Once the burgers are out of the oven, quickly add a slice of provolone cheese on top of each one so the cheese can melt.

Add the burger patty with cheese on top of the bun.

Then add a generous amount of Balsamic Barbecue Sauce.

Top with 2 slices of crispy bacon.

Cover with the top half of the bun, and enjoy with your side salad. Buon appetito!
Video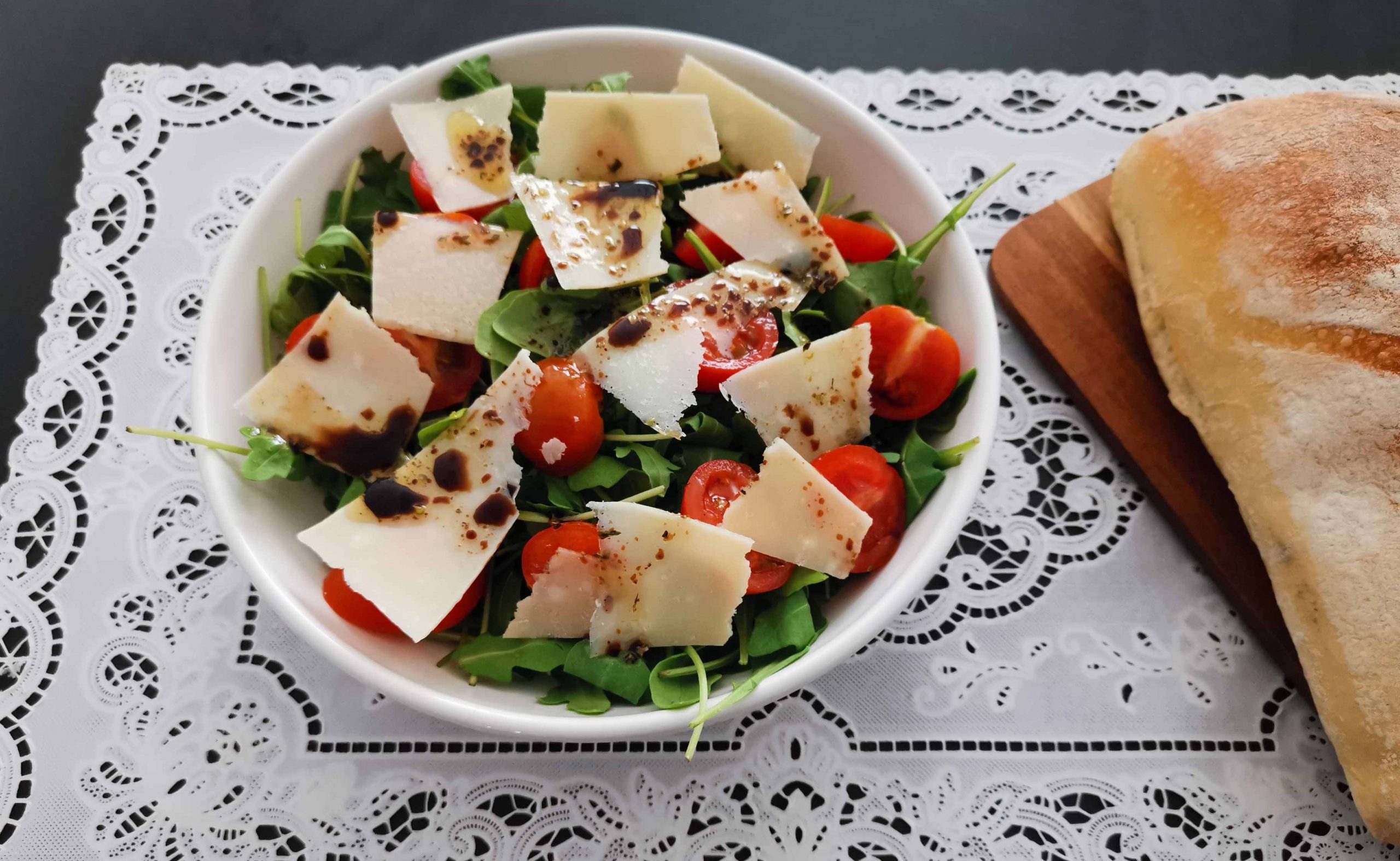 Barbecue Bacon Burger Sides
A large portion of chips is the most classic side for a burger, but it doesn't have to be the only option.
For a healthier side, I suggest serving your Italian balsamic barbecue bacon burger with a serving of rucola. You can also add chopped onions, cherry tomatoes, and parmesan flakes.
Don't worry, it won't be boring if you season it well with salt and pepper and dress it with a generous amount of Belmorso extra virgin olive oil. For added taste, you can also drizzle this Gold Balsamic to tie in with the balsamic flavours of your burger.
Check our]t the full salad recipe here.
Dessert to go with burgers
If you are having a cheeky barbecue bacon burger, you'll probably want to finish your meal with a delicious dessert.
Since this burger has all the Italian flavours, an Italian dessert will tie in perfectly.
Here's a list of incredible Italian desserts that go with burgers.
Do you cook burger or bacon first?
If you want your bacon to be warm and crispy when you bite into it, cook the burgers first and then 5 minutes before they are done, you can crisp up your bacon into a pan or the oven. Then quickly assemble your burger and enjoy while everything is still warm and delicious.