How about a 15 minute spicy pasta recipe for those busy nights when all you want to do is stop and do nothing?
If that sounds like a great plan, keep reading.
What to expect: a creamy and spicy pasta dish that's quick and full of flavour. Bite into the aldente rigatoni covered in a creamy burrata sauce that is flavoured with Cannonata and enriched with tuna for the added protein and taste.
PS: if you don't like tuna or are vegetarian/vegan, simply leave it out.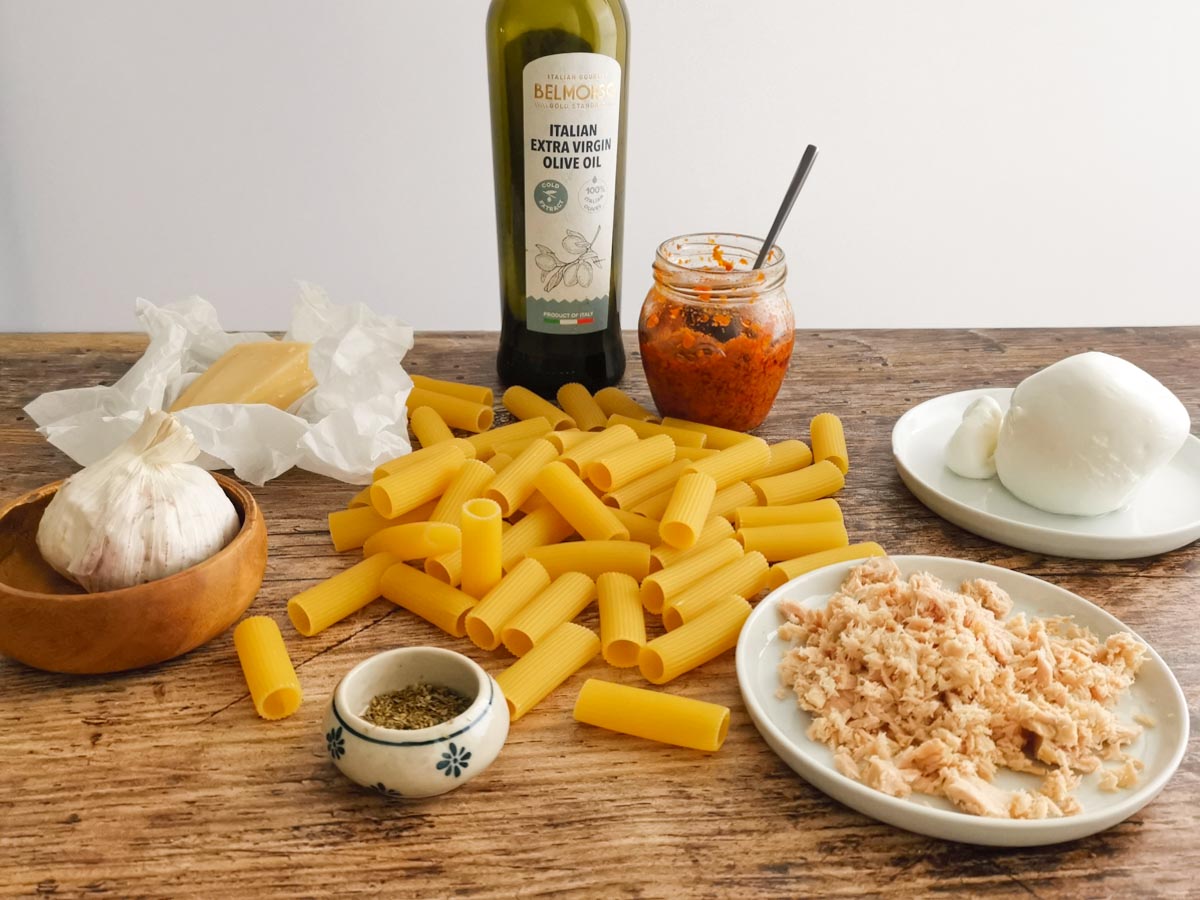 A delicious and Quick Spicy Pasta Recipe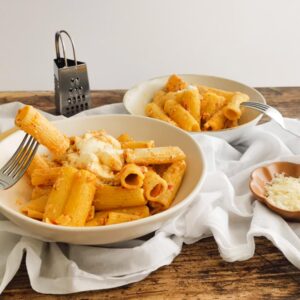 15 Minute Spicy Pasta Recipe
Take your weekday pasta dinner to the next level with this authentic spicy pasta, that's ready in just 15 minutes.
Equipment
1 garlic press

1 medium large pot

1 cooking spoon

1 tablespoon
Ingredients
300

gr

Italian Artisan Rigatoni

1

clove

garlic

Belmorso Extra Virgin Olive Oil

1

can

Tuna

small or large, whichever you prefer

4

tbsp

Belmorso Cannonata

a spicy tomato spread/sauce/dip

1

large

burrata cheese

about 300 gr

salt and pepper

to taste

oregano

about 1/3 of a teaspoon

parmesan cheese

about 1 tablespoon per bowl
Instructions
Boil the pasta in plenty of water and salt.

In the meantime, prepare your ingredients so you can quickly put together this dish once the pasta has cooked.

When it's ready, drain the pasta and save some cooking water. Put the pasta into a bowl for a few moments.

Press the garlic and add it to your empty pasta pot. Add a generous drizzle of Belmorso EVOO and let the garlic sauté.

Proceed by adding your tuna and mix it in with the garlic and oil so everything gets more aromatic.

Then add the pasta back in the same pot.

Season and add the oregano, and mix.

Next, you want to add the Cannonata and the cooking water.

Slice your burrata into smaller pieces, but first cut it into half and enjoy looking at its creaminess for just a moment.

Add the burrata onto the pasta and mix over heat, until it melts. It's ok if a few pieces of burrata remain whole.

Take off the heat and serve with a sprinkle of parmesan cheese. Buon appetito.
Video
Notes
This is a caloric dish because of the large portion of pasta and the burrata which is a rich ingredient. To reduce the calories you can use less buratta or replace with mozzarella, and you can enjoy a smaller portion.
Spicy Italian Pasta Sauce
If you like a spicy pasta, you can of course take most of the popular Italian pasta dishes and make it spicy by simply adding some chilli powder or flakes, either in the sauce when cooking or on top of your serving.
Try Spicing Up These
Add spice to your pasta sauces plus a ton of flavour with these sauces:
Belmorso Pronto Spaghetti  is great to dress your plain spaghetti and instantly give it a nice rich tomato sauce that's also a little spicy.
Belmorso Cannonata can be used on its own mixed in pasta, or along a cream or cheese. It's spicier than Pronto Spaghetti but not extremely spicy. (This is what we are using in this recipe).
What's the difference between penne and rigatoni?
The main difference between penne and rigatoni is that penne is smaller in diameter and also shorter than rigatoni, plus penne is cut diagonally whereas rigatoni has a straight cut.
If you don't have rigatoni, go ahead and use penne instead. Tortiglioni is also another great alternative.
We suggest rigatoni over the other two because its large diameter makes it especially delicious when the creamy burrata gets inside the hole.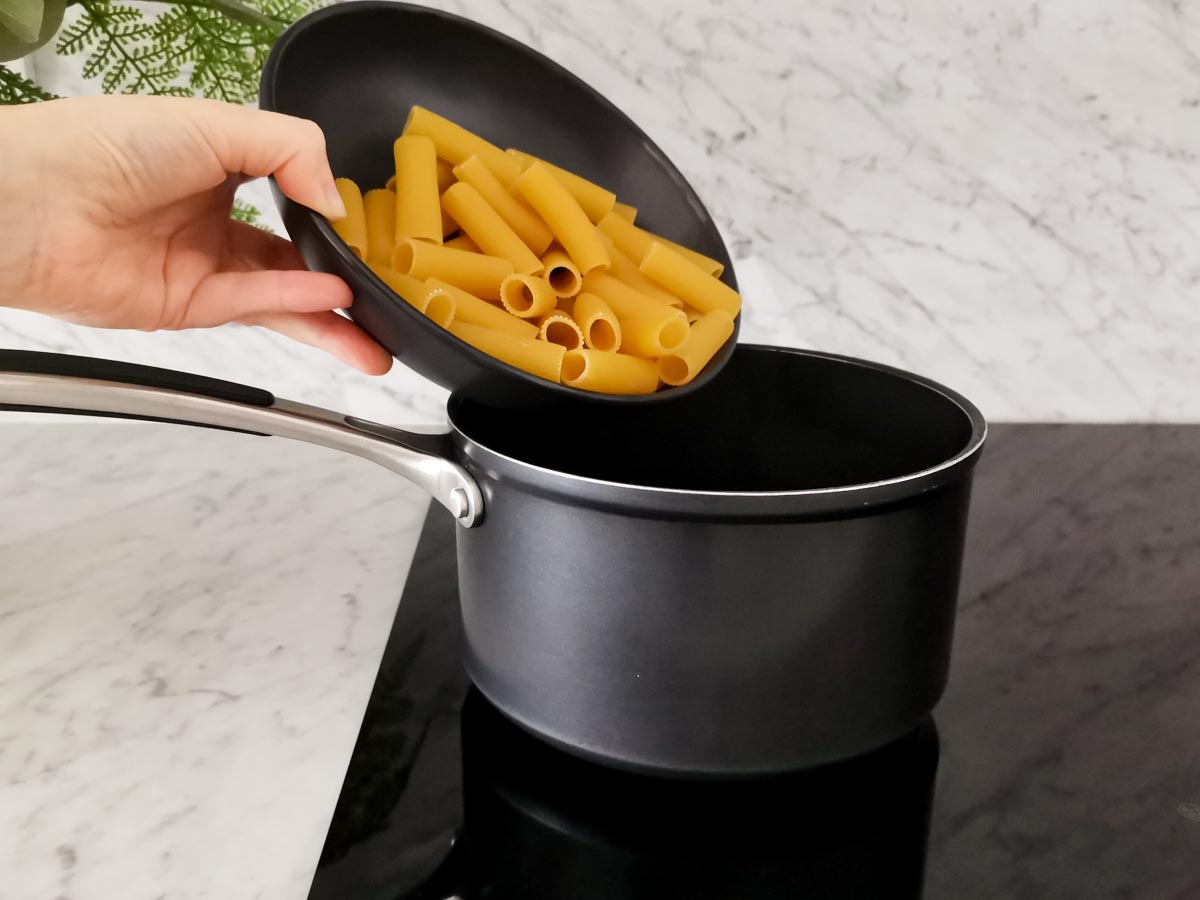 How Much Rigatoni is Enough For One Person?
I always suggest the following pasta portions:
100 grams if you are on a diet, don't feel to hungry, or you are a small eater
125 grams for a medium portion
150 grams for a large portion
The above portions of pasta are only suitable for dry pasta.
As a general rule, you always need to cook more fresh pasta than dry because it weighs more.
Here is the Artisan Rigatoni we are using for this spicy pasta recipe. It's made in Italy by a small producer in Puglia.
How to Make Pasta Extra Tasty?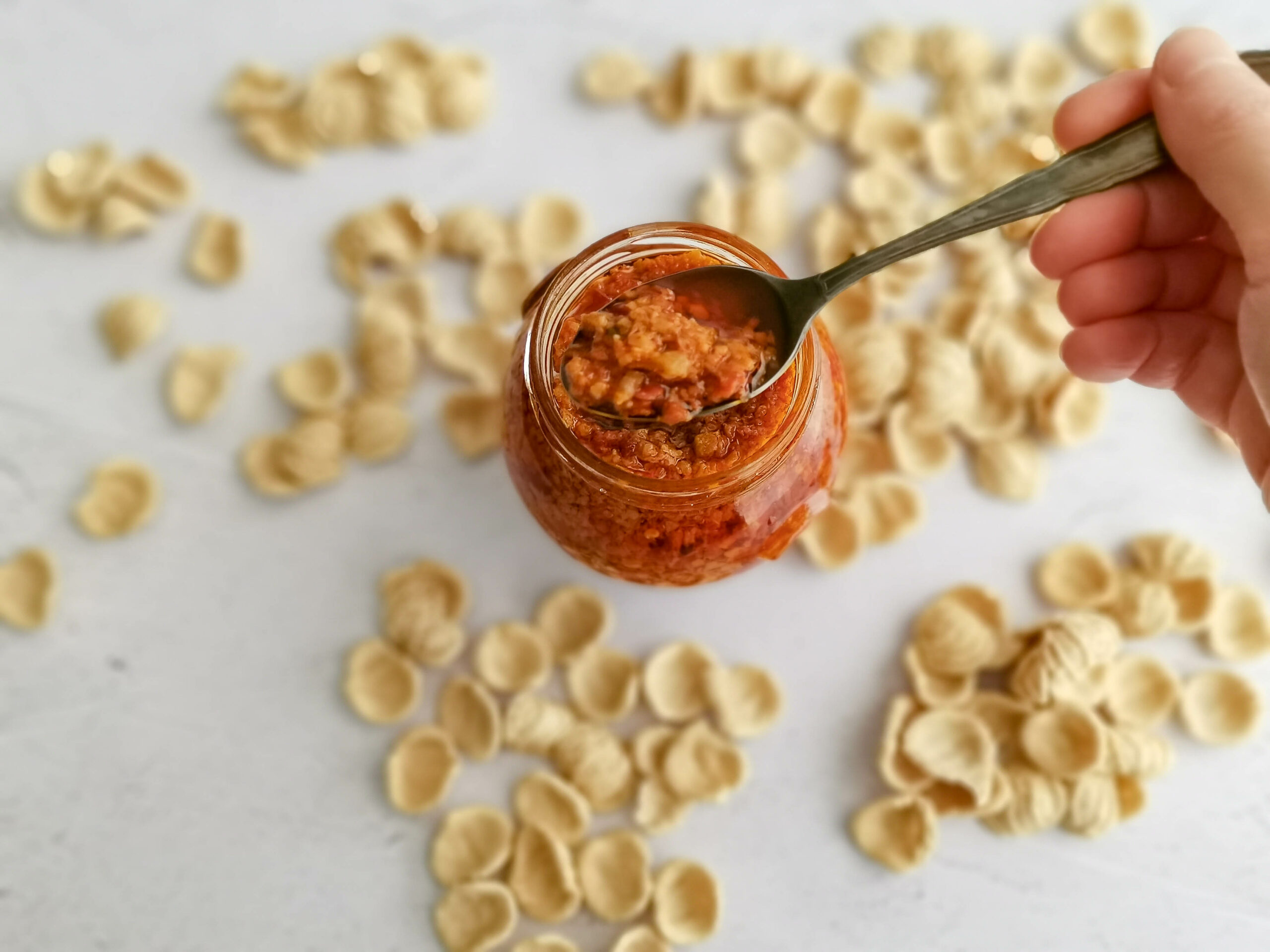 What can I add to plain boiled pasta?
Plain boiled pasta needs a pasta sauce to turn into a delicious meal. You can make your sauce from scratch or you can use a ready bought sauce; these usually come in jars and can be stored in your pantry for months.
How to make pasta extra tasty?
Try adding one of these to make pasta extra tasty:
grated cheese like parmesan or pecorino
burrata or mascarpone for a creamy texture and a lot of flavour
a drizzle of extra virgin olive oil and a crack of black pepper to enhance the taste of your pasta sauce.
What is the secret to good pasta?
These are the 5 things we suggest to make your pasta not only good but super tasty.
Use a high quality artisan brand from Italy;
Boil it in plenty of water and salt;
Cook it al dente following the package instructions;
Make a delicious Italian sauce from scratch, or a use an authentic sauce in a jar that's made in Italy;
Don't forget to season, drizzle some EVOO and pair it with the right cheese.